Recognizing and celebrating the achievements of employees is an important part of building a positive and productive workplace. One way to do this is- to nominate for the award as the employee of the month. However, writing an effective award or employee of the month nomination can be a challenge.
It's important to check the employee of the month nomination example for showcasing the achievements and personality in a way that is memorable and impactful.
To nominate for an award needs reasons for nomination. That can be managed with wording for award nomination with writing. Writing an effective employee of the month nomination email can be a challenging task. 
However, with a little bit of preparation, example nomination communicative strategy, the right approach & writing of award nomination examples you can create a nomination that stands out from the rest and showcases the achievements of the nominee.  It can create a huge difference in your nomination writing.
If you are one who wants to create an amazing note for recognizing someone and wanted to get employee of the month recommendation then this guide will help you to get the tips and reason for nomination examples. It can help you to consider recommendation letter for award & create a nomination that is unique from the rest and recognizes the hard work and achievements of your nominee.
What Is Award Nomination?
Award nomination refers to the process of putting forth an individual's name or candidacy for an award or recognition program. This can involve writing a formal letter or statement outlining the individual's qualifications, achievements, and reasons why they deserve recognition.
The purpose of nomination for awards is to recognize and nominize the achievements and contributions of an individual, whether it's for their work, community service, or personal achievements.
The award nomination process often involves,
Researching the criteria for the award,
Collecting information about the nominee's accomplishments, and
Writing a compelling and persuasive case for why they should be recognized.
The outcome of the award nomination process can result in the individual being awarded the recognition or honor, which can bring recognition, prestige, and potential career benefits to the recipient.
Difference Between Formal & Informal Communication? – Which Is Better?
Major Types Of Award Nomination In Organization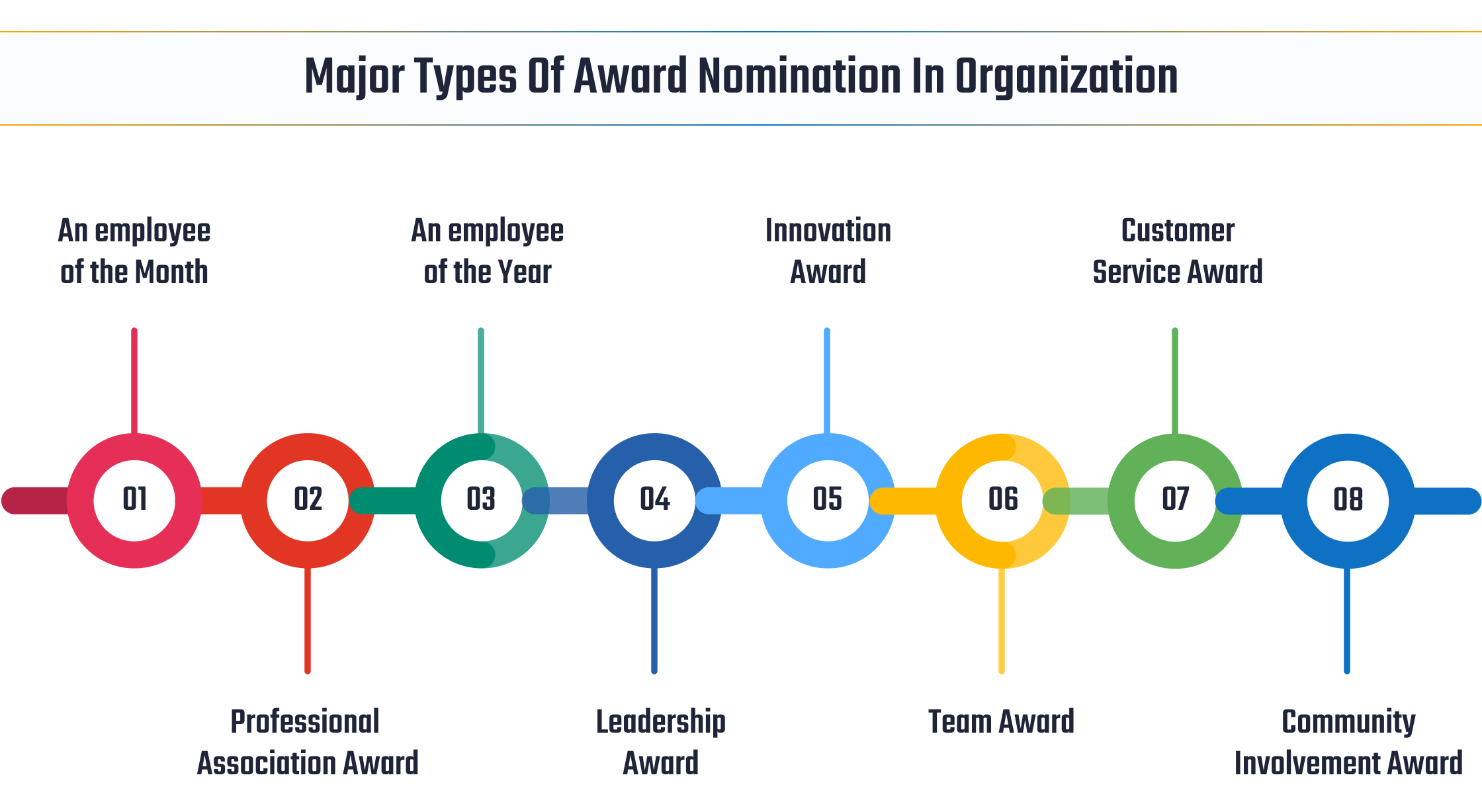 Understanding the different types of awards can help you make informed decisions about which awards to nominate employees for and what criteria to use when making your nominations. Here are some of the major types of award nominations in organizations.
There are many different types of award nominations in the corporate world, including these employees of the month award names but not limited to:
An employee of the Month: This type of award is given to a deserving employee each month and is often based on performance, attitude, and contribution to the organization. It is for nominating someone for an award who achieves any milestone in the job.  Take note of his countless hours, positive work ethic, timely manner, thoughtful approach, cheerful attitude, and many more other qualities.
Professional Association Award: Professional associations often have awards programs to recognize members who have made significant contributions to their field or to the association.
An employee of the Year Award: This award is given to an outstanding employee who has made significant contributions to the organization throughout the year. A person who worked as a calm person in difficult situations, worked timely on regular basis, took initiative to find creative ways, successfully passed many barriers, and could be an excellent role model can be the right person. You can consider this nomination for award for the best performance.
Leadership Award: This award recognizes individuals who have demonstrated exceptional leadership skills, such as strategic thinking, effective communication, and team building. You can consider the office manager, lead, chief manager, etc who can be a positive role model.
Innovation Award:

This award is given to individuals or teams who have developed innovative solutions or ideas that have had a positive impact on the organization.

You can

nominate your boss for an award, too.
Team Award: This award is given to teams with faculty members that have demonstrated outstanding performance, teamwork, and collaboration in achieving organizational goals.
If you need to know more then you need to search and learn from the team nomination award example.
Customer Service Award: This award recognizes employees who have gone above and beyond in providing excellent customer service to clients or customers.
Community Involvement Award: This award recognizes individuals or organizations that have made significant contributions to the community through volunteer work or other forms of community service.
These are just a few examples of the many types of award nominations in the corporate world. Check the employee of the quarter nomination examples for the specific type of award will depend on the individual's achievements, the company culture, and the criteria established by the organization.
Tips for Writing a Winning Award or Employee Nomination
Writing a winning award or employee nomination requires careful consideration and attention to detail. For that, you can check some employee award nomination examples.
Whether you're highlighting the achievements of a coworker or nominating yourself for an award, you need to make sure that you effectively communicate the person's contributions and impact.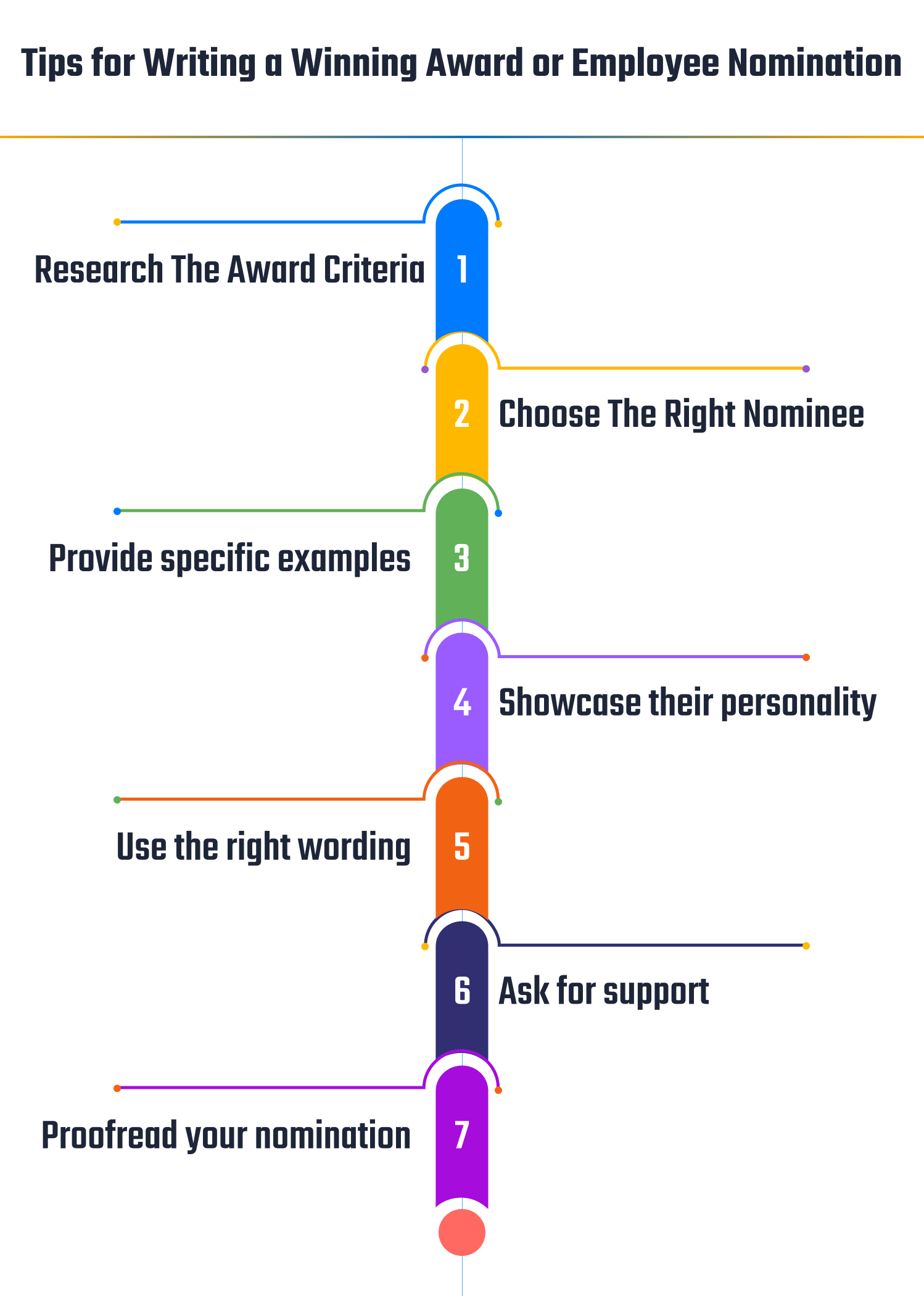 Good award write-up examples set the stage for recognition and can lead to increased visibility, professional growth opportunities, and overall career advancement. To help you craft a winning nomination, here are some tips to keep in mind.
Research The Award Criteria: Before you start writing, make sure you have a clear understanding of the award criteria and what the selection panel is looking for. This will help you to focus your nomination and ensure that you highlight the most relevant achievements of the nominee.
Choose The Right Nominee: When nominating someone for an award, it's important to choose someone who truly deserves recognition from the staff members. Think about their strengths, achievements, and contributions to the team or company, and how they align with the award criteria.
Provide specific examples: The more specific you can be about the employee's achievements, the more impactful your nomination will be. In this case, consider specific details of employees, and use real-life examples to demonstrate their impact, and how they have gone above and beyond in their role.
For example: 
If you're nominating a salesperson for an award, you could mention a specific instance where they exceeded their sales targets by a large margin.You could describe the marketing and connecting strategies they used to achieve this success, such as developing new business relationships, offering innovative solutions to clients, and continuously seeking out new sales opportunities.By providing specific and concrete examples, and reasons for nomination examples – you can demonstrate the nominee's achievements and impact in a clear and convincing manner.
Similarly, if you're nominating a software engineer for an employee recognition award, you could highlight a specific project they led that resulted in a significant improvement in the company's product or process.You could describe the challenges they faced and how they used their technical expertise and problem-solving skills to overcome them. By providing specific examples, you can show how the nominee has gone above and beyond in their role and made a lasting impact on the company.
Showcase their personality: Awards are not just about recognizing achievements, but also about recognizing individuals who are a positive influence on their colleagues and contribute to the overall culture of the organization.

In this case

writing a nomination for a colleague

is the best way and you can

Highlight the nominee's personality traits, leadership skills, and positive attitude to give the selection panel a well-rounded view of the nominee. By defining their positive points.

Use the right wording: When considering wording for award nomination, choose your words carefully. Avoid using vague or generic terms, and instead, use descriptive and impactful language. This will help to bring your nomination to life and showcase the nominee's achievements in a memorable way.
Ask for support: If you're unsure about what to include in your nomination, consider reaching out to colleagues for input. They may have valuable insights or anecdotes that can strengthen your nomination. You can take award nomination examples from valuable blogs or websites.
Proofread your nomination: Before you submit your nomination, make sure you proofread it thoroughly. Check for spelling and grammar errors, and make sure that your nomination flows smoothly and is easy to understand.
These could be complete processes to consider nominees for the event.
13 Best Employee Engagement Fun Friday Activities to Break the Boredom
Here Are Some Samples Of the Award Nomination To Help You Get Started:
Sample 1: Employee Of The Month Nomination Examples
"I would like to nominate [Nominee Name] for Employee of the Month. [Nominee Name] has consistently demonstrated exceptional performance in their role as [Job Description] in this [Department]. Their hard work, dedication, and attitude have made a significant impact on the team and have contributed to the company's achievement.

One example of [Nominee Name]'s exceptional performance on the [Nominee's position] is [provide specific example]. This achievement is a result of  [Nominee Name]'s drive, creativity, and commitment to excellence.

In addition to their technical skills, [Nominee Name] is also a great team player. He/she always goes out of their way to help others, and his/her positive attitude and sense of humor have made a real difference in the workplace.

I believe [Nominee Name] deserves recognition for their achievements and their contribution to the team. They are a true asset to our organization, and I am confident that they will continue to make a positive impact in their role."
Sample 2:  Winning Award Nomination Example
"I would like to nominate [Nominee Name] for the [Award Name]. [Nominee's Name] who has been working as [Nominee's position] an integral part of our team for [time period], and their dedication and commitment to their work have been nothing short of exceptional.

One of the key reasons I am nominating [ Nominee Name] from [Department Name] is [provide specific reason] as he or she is a huge asset to the company. This project was a huge success and could not have been completed without [Name]'s efforts, hard work, and creative problem-solving skills.

[Name] has also demonstrated a deep commitment to [Company Name]'s values and mission by working many hours on particular projects. They are always willing to go the extra mile on daily basis to help others, and their positive attitude toward specific details of projects and unwavering support has been a true inspiration to everyone on the team.

I cannot tell enough how much [Nominee Name] deserves recognition for their achievements and their contributions to the organization. I believe they are a truly deserving candidate for the [Award Name], and I am confident that they will continue to make a positive impact in their role."
Sample 3: Award For Team Nomination Example
"As a team lead, I would like to nominate our team, [Team Name], for the [Award Name]. Over the past year, this team has shown remarkable collaboration, creativity, and dedication in their work.

Their contributions have not only helped us with the successful completion of the project, but they have also set a new standard for teamwork in our organization.

One of the key reasons I am nominating our team is [provide specific example]. This project required the collective effort of each team member, and their seamless coordination and effective communication made it a huge success.

They either got the training, and resources group work or not. But their approach to doing extra work, and sitting many hours to fulfilling goals makes it the best team. I actually say that the members are very good students and they actually hope for this achievement.

In addition to their technical expertise for the specific department, our team has also demonstrated a deep commitment to our company's values and mission. They have worked hard to fulfill every goal related to [Project Name].

I believe that our team is deserving of recognition for their achievements and their unwavering commitment to excellence. They have set a high bar for future teams, and I am confident that they will continue to make a positive impact in all of their future endeavors."
Winding Up,
Finally, don't be afraid to let your passion and enthusiasm for the nominee shine through in your writing. By doing so, you'll create a nomination that truly captures the essence of their exceptional performance and makes a lasting impression on the selection committee.
So take the time to check award-winning nomination examples & craft a thoughtful as a well well-written award or employee of the month nomination, and give your nominee the recognition they deserve!
UBS has vast data regarding these kinds of data, and you can check HR Toolkit for access to this kind of data, just check and make your nomination more powerful. Moreover, you can track employee performance through UBS – project management system & choose who can be an employee of the month in your organization easily.
Let's take a collaborative approach to give rewards & awards to the best employee in the office!
Read Related Article:
How to Fix Stressful and Time Consuming Payroll in your Company?
Metrics To Measure Employee Development & Improve Their Skills
The Ultimate Cycle Of Payroll Processing Through Software
Employee Nomination Letter – Format, Sample, Example, and Write a Nomination Letter
Delay in Salary Payment? How to Manage it?
Stepwise Guide To Payroll Software For Small Business
A Definitive Guide to Task Management
Introducing Your Employees To The Time Tracking System!
The A, B, C, & D of Productivity at Work