As per Forbes- start-ups or small business faces several challenges, and many of them are regarding employee management! –hire the right talent, employee work-life balance, etc!
Regarding this report, Small enterprises may not have all the resources or budget to hire a full HR team or buy fully-fledged HR software!
So they often turn to HR software or services to save cost, but with terms and conditions.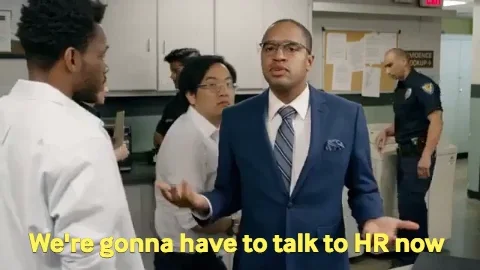 The best HR software for start-ups and small enterprises can handle various HR tasks, such as hiring, payroll benefits, employee management, expense management, and feedback & evaluation management, for HR and employee benefits.
In addition, It can be an all-in-one system or separate solutions that can be purchased individually.
Some HR management software providers even offer professional employer organization (PEO) services for small companies that need assistance with daily HR tasks.
Challenges Small Business Face In Terms of Human Resouces
Attracting and retaining quality employees:

With limited resources, small companies may struggle to compete with larger companies for top talent. In that case, the right ATS is important to add to the company.

Compliance with labor laws and regulations:

Keeping up with changing laws and regulations can be challenging for small industries with limited HR resources.

Managing employee health benefits:

Offering benefits such as health insurance, paid time off, and retirement plans can be expensive and complicated for small enterprises. They mostly lack in opening health savings accounts, health insurance administration, and advisory services.

In solution, you can collaborate with a good health insurance company for employee health benefits.

Maintaining accurate and up-to-date HR records:

Keeping track of employee information, such as tax forms and performance evaluations, can be time-consuming and challenging for small organizations.

Managing payroll and taxes:

Small firms may struggle with processing payroll and complying with tax laws.

Providing employee training and development:

Small companies may not have the resources to provide comprehensive training and development programs for their employees.

Implementing HR technologies:

Adopting and implementing HR technology solutions can be challenging for small industries with limited technical expertise and resources.
Getting Started With HRMS Software For Small Business
Today, HR is no longer just a back-office function, but a crucial partner in ensuring the company remains competitive in the face of a talent shortage that has tripled over the past decade.
So, hiring the right talent with an applicant tracking system and managing them is essential.
As employees are a company's most valuable asset, it is crucial for businesses to find the best hr software for SMEs owner to manage timesheets, payroll, benefits, workforce analytics, and performance analytics, and to help in the hiring and onboarding of the most suitable candidates.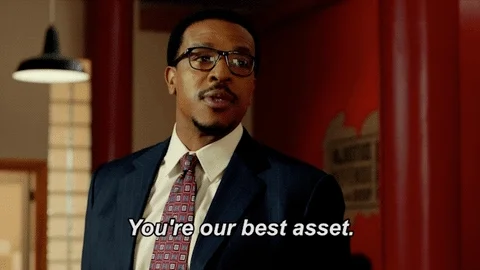 This guide outlines the best HR software that can handle HRIS functions, either by itself or in combination with other HR-related apps.
Each company may have different HR priorities, so the choice of software will depend on the processes that are given the most weight, such as payroll processing, time tracking, training, or other HR goals.
10 Methods To Improve Human Resource Management With HR Software
How HR Software Is Beneficial For Small Businesses?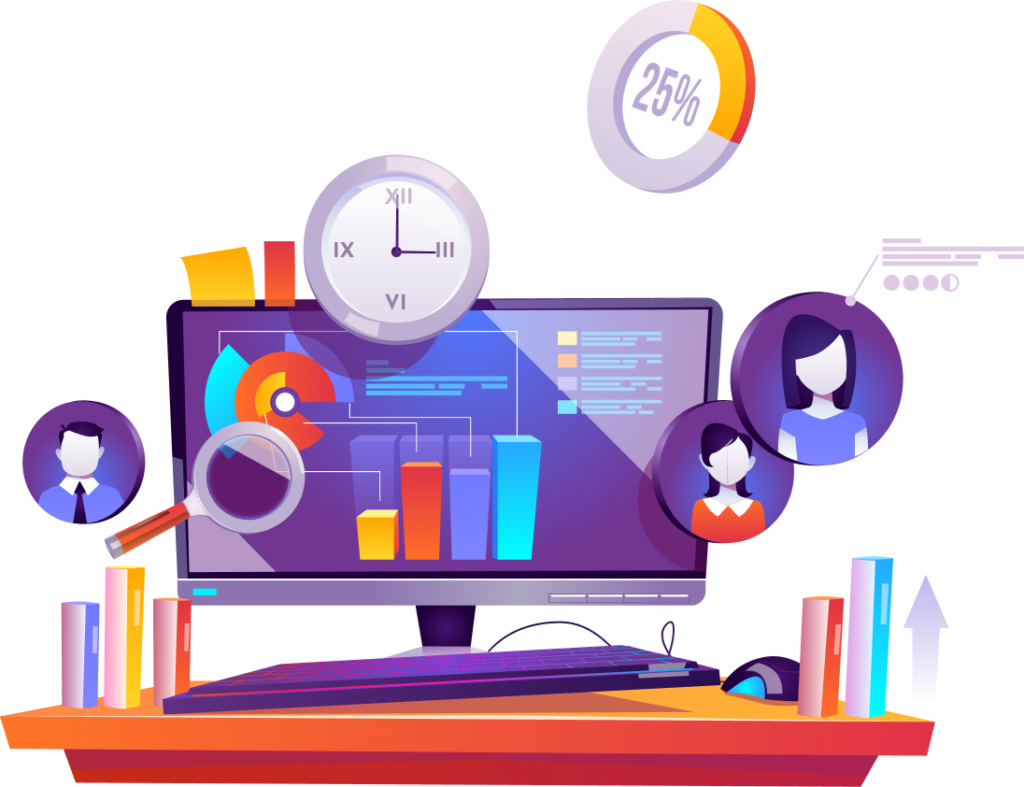 Human resource management software for small business has become an indispensable tool for companies of all sizes, particularly for small firms that require an efficient, cost-effective, and flexible solution for managing their HR processes.
From employee management to streamlining benefits management and performance evaluation, HR software can help small organizations effectively manage their HR tasks, freeing up time and resources to focus on growth and productivity.
One of the most important Human resource management software features is – admin tasks, applicant tracking & payroll for start-ups.
Top Human Resource Management (HRM) Functions and Objectives for a Better Workplace
HR software that supports admin tasks can help small ventures handle most of the daunting tasks that small business owners have to handle.
Just like handling employee information, saving in a centralized system, retrieving as per authentication, onboarding & offboarding, etc.
An applicant tracking system (ATS) streamlines the hiring process by automatically organizing resumes and job applications, making it easier for HR managers and teams to quickly identify the best candidates for a given position applicant tracking process.
It saves lots of time for HR managers and helps small enterprises to utilize the time for productive work.
Payroll is very crucial for every company as well as employees of the company. Though your business is small and has few employees managing full service payroll timely is quite difficult.
As it contains several activities such as – payroll calculation, compliances, and pay employees on time in every employee's accounts.However, as per the small companies' limitation, employers or HR managers can't buy payroll software separately. It's beneficial to get HRMS integrated with payroll.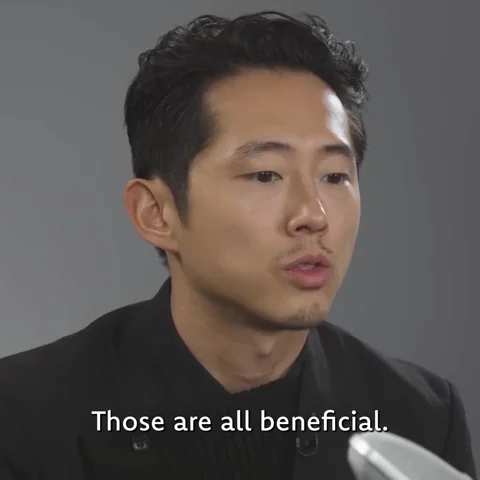 When it comes to benefits, the best HR software for small businesses should provide a range of options for employee management, including health insurance, flexible spending accounts, and commuter benefits. The software should also simplify the process of managing taxes and other tax-related requirements, such as new hire reporting.
Top 7 HR Metrics that Startups and Small Businesses Must Track
Major 5 Aspects Of HR Software For Startups
There are several aspects of HR software to install in small enterprises or start-ups. Here we mentioned them, check them before you consider the HR software for your business.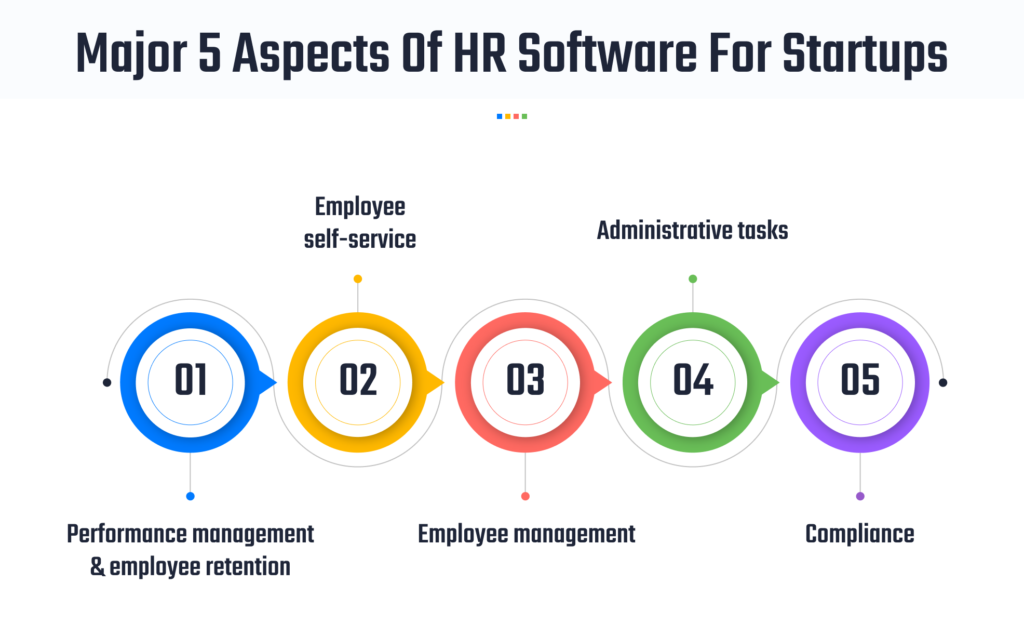 One of the most important aspects of HR management for small businesses is performance management & employee retention. Considering, this software enables HR professionals to evaluate employee performance and provide regular feedback, helping to ensure that employees are meeting expectations and contributing to the success of the business.
Performance management features are also helpful for employee retention.
Another key aspect of HR management software is employee self-service. This HR tool allows employees to easily access and update the employee database, view their information, and pay slips, and enroll in employee benefits management, freeing up time for management of the admin or HR system.
It helps for reducing the administrative burden of managing HR tasks.
Employee management is another key aspect of HR solutions for small businesses. This includes HR tools for employee management schedules and time tracking, as well as employee onboarding and engagement.
Employee onboarding features help to ensure that new hires are properly introduced to the company culture and policies, while engagement tools help to promote a positive and productive workplace environment.
The right HR management software can be the difference between an HR team that is bogged down by administrative tasks in the HR system and one that is free to focus on the strategic goals of the business.When selecting HR software for small business, it's important to consider your business needs and choose software that provides the features and tools you need to be successful.Whether it's employee data management, full service payroll processing, talent management, performance evaluation, or benefits administration, the best HRMS for small businesses can help you to improve HR processes, boost employee engagement, and ultimately, drive business growth.
HRMS software can also help small businesses manage payroll, including paying employees and handling taxes with compliance.Payroll software provides a comprehensive solution for managing payroll, including automating payroll processing, payroll tax filings, and tracking employee time and expenses.
As small businesses continue to grow and expand globally, the demand for efficient and effective HR solutions has never been greater.
In this fast-paced business world, HR software can provide a centralized platform for managing all HR-related tasks, freeing up HR teams to focus on more strategic initiatives.
Key Qualities To Look In HR Software For Small business
Customizability:
The software should be customizable, allowing small businesses to tailor the solution to meet their specific HR needs and requirements.
This includes the ability to configure workflows, set up custom fields, and create reports.
User-Friendly Interface:
The best HR software should have a user-friendly interface that is intuitive and easy to navigate and allows everyone to access the employee database and tools they need quickly and efficiently without having an HR team in your business.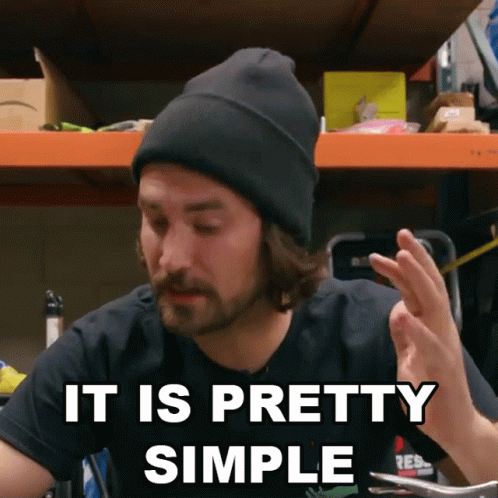 People would always prefer to consider the easy-to-use and user-friendly interface for any kind of software. There will be no waste of time using the software if it is complex.
Benefits Administration:
The software should include features for managing employee benefits, such as enrolling employees in benefits, tracking benefits utilization, and administering flexible spending accounts.
This will help HR professionals to effectively manage benefits and improve employee satisfaction.
Employee Data Accessibility Portal:
An employee self-service portal is a valuable feature that allows employees to access their HR information, update their personal information, and manage their benefits online.
This can reduce the workload for HR admins and improve employee satisfaction.
Performance Management:
The software should include tools for managing employee performance, such as performance reviews, goal setting, and performance tracking.
These HR tools will help HR admins to effectively evaluate and manage employee performance, drive employee engagement, and improve business results.
Time Tracking:
The software for small business should include HR tools for time tracking of employees, such as time and attendance tracking, scheduling, and time off requests.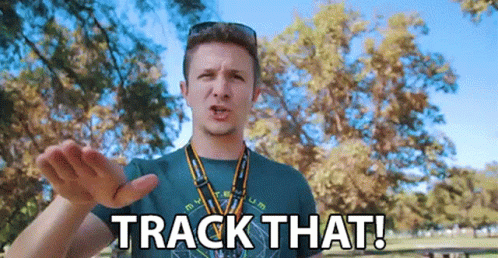 This will help HR managers to manage employee time more effectively and ensure accurate payroll processing.
Payroll Management:
The software should include features to manage payroll, such as calculate payroll taxes, processing payroll, pay employees on time and generate payroll reports.
This will help HR teams to manage payroll more efficiently and accurately, freeing up time to focus on more strategic initiatives.
Reporting and Analytics:
The software for small business should include robust reporting and analytics capabilities, allowing HR teams to gain insights into HR data and track key metrics, such as employee turnover, benefits utilization, and more.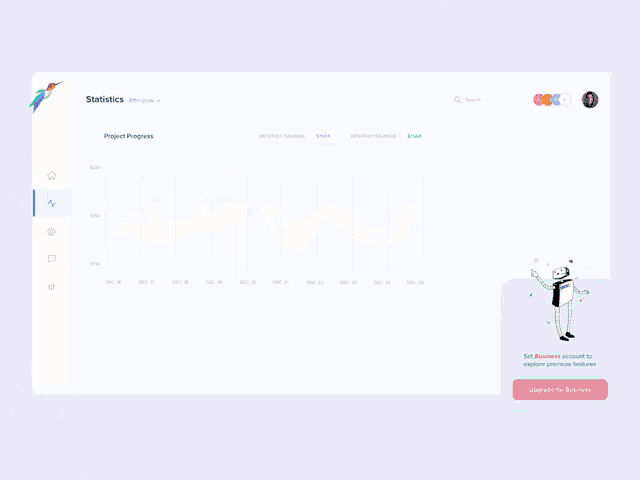 Analytics and reports are proof of anything, and they can help businesses to understand positive and improvement points.
Scalability:
The software should be scalable, allowing small businesses to add users and HR features as they grow. This will ensure that the solution continues to meet their HR needs as the business evolves.
These are the key qualities to look for in HRMS software for small businesses. By selecting a solution that meets these requirements, small businesses can improve HR efficiency, boost workforce engagement, and achieve their business goals.
Small Business HR Software: Essential Features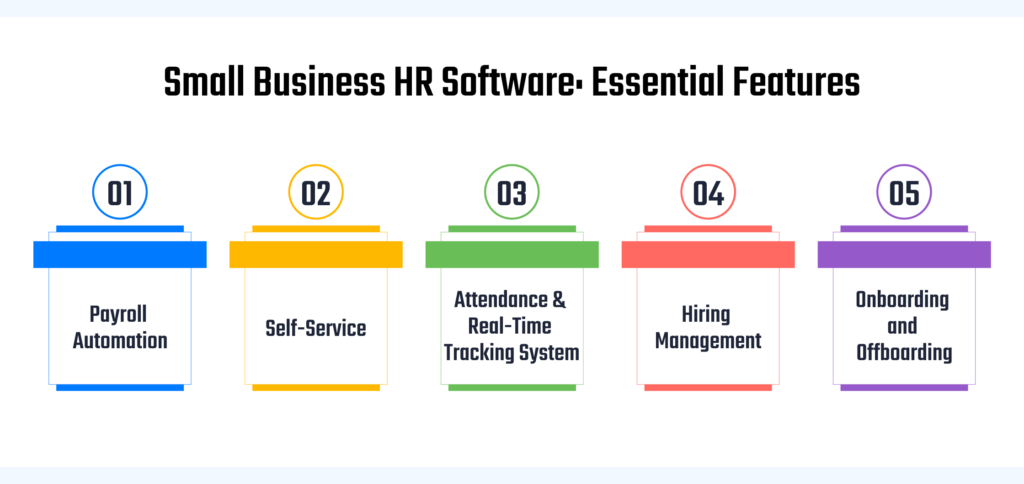 Small businesses don't necessarily require a comprehensive set of advanced human resources capabilities.
When selecting the right HR software for your company, consider your business needs and choose a tool that excels in these areas to get the workforce management features you need without paying for extra unnecessary features.
1. Payroll Automation:
Payroll is a vital HR function that every business must deal with. Payroll automation key features allow you to set up processes that gather information on worked hours and then process employee payroll with just one click.
2. Self-Service:
Self-service functionality gives your employees the ability to carry out simple tasks independently. For instance, they can generate pay stubs without contacting anyone at the company, helping your team members quickly get what they need while reducing the amount of time you spend on these tasks.
3. Attendance & Real-Time Tracking System:
Attendance management helps you monitor with time tracking of availability and also time tracking of projects. It helps to know more about who works and when providing insight into potential staffing problems and linking up with payroll features to automate payments.
It includes holidays, working days, working hours, shift scheduling, etc. These are the best key features for new hires who wanted to work in hybrid or remote teams.
4. Hiring Management:
If your small business is growing rapidly, then the hiring process or recruitment features are a must-have. These allow you to create job advertisements to post on job boards or social media, collect applications, and manage job candidates.
5. Onboarding and Offboarding:
Automated onboarding and offboarding workflows for new employees are other helpful features for small but growing companies.
Simply create a list of all the tasks employees need to complete before starting, send them a link to the HR solutions, and they can work through the tasks independently.
The Top 10 HR Software Solutions For Small Businesses Globally In 2023:
1. UBS ( Ultimate Business System)
UBS- HRMS stands for Human Resource Management System. It is a software solution designed to help small businesses manage various HR-related tasks such as admin tasks, payroll, benefits management, and performance reviews.

This HRMS for small businesses can automate many manual processes and streamline HR functions, making it easier and more efficient for small businesses to manage their workforce.
These solutions can be standalone or integrated with other HR-related software and come in different forms, such as cloud-based, on-premise, or hybrid systems.
The goal of HRMS for small businesses is to help companies manage HR processes more effectively, save time, and reduce the workload on HR staff.
Features:
Automated HR Related tasks
Easy onboarding
Employee lifecycle management
Shift scheduling
Employee Payroll management
Compliance management
Offboarding
FnF calculation
Communication channel
Project time tracking
Document management
Employee management tools
Employee scheduling tools
Talent management
Employee directory
Leave disbursement
Loan management
Employee work history
2. Gusto
Gusto is a full-service solution that integrates with a variety of HR software tools. This cloud-based platform provides a range of features for managing payroll taxes, employee benefits, and other HR-related tasks.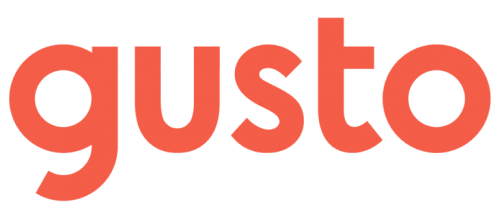 With its user-friendly interface and robust features, Gusto is a top choice as HR software for small businesses that are looking for an HRMS as well as payroll solution.
Features:
Payroll tax administration
Time tracking
Employee onboarding
Compliance management
Customizable forms
Reporting & Analytics
3. BambooHR
BambooHR is a cloud-based HR software for small and medium businesses that provides a range of features for managing employee data, benefits administration, performance evaluation, and more.

With its user-friendly interface and customizable features, BambooHR is a popular choice for small businesses looking for a comprehensive HR solution.
Features:
Employee data management
Time off and attendance management
Performance management
Payroll integration
Employee self-service portal
4. Zenefits
Zenefits is automated, cloud-based HR software for small and medium businesses that provides a range of features for managing employee benefits, payroll, and HR processes.

With its intuitive interface and robust features, Zenefits is a popular choice for small businesses looking for a comprehensive HR solution that can be customized to meet their specific needs.
Features:
Payroll management
Employee Benefits Administration
Time tracking Software
Compliance management
Onboarding and offboarding
Performance management
Reporting and analytics
Customizable forms and workflows
5. ADP
ADP is known as the best payroll software and HR software solutions, offering a range of features for managing employee data, payroll, and benefits administration.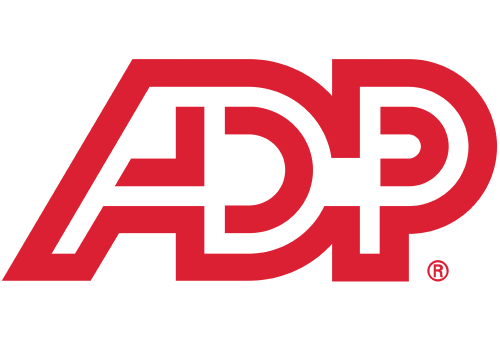 With its robust features and customizable interface, ADP is a top choice for small business looking for a comprehensive HR solution that can be adapted to meet their specific needs including applicant tracking, onboarding, life cycle management & payroll.
Features:
Payroll management
Time and attendance tracking
Benefits administration
Talent management
Compliance support
Reporting and analytics
Onboarding and offboarding
Recruiting and applicant tracking Tools
Performance management
6. Namely
This is an all-in-one HR platform that provides small businesses with core HR, payroll, benefits administration, and performance management capabilities.

Key features include customizable performance evaluations, flexible benefits options, and an intuitive interface.
Features:
Payroll and tax management
Time and attendance tracking
Benefits administration
Employee self-service portals
Compliance management
Reporting and analytics
Customizable HR forms and documents
Integrations with other HR tools
Mobile app for employees
7. Workday
Workday offers small companies a cloud-based HR and financial management platform. Key features include mobile access, intuitive workflows, and robust analytics capabilities.

Features:
Self-Service Portal
Payroll Management
Time and Attendance Tracking
Recruitment and Onboarding
Talent Management and Performance Appraisal
Succession and Career Development Planning
Benefits Administration
Global HR
Reporting and Analytics
Mobile Application.
8. Rippling
Rippling is a modern HR software solution that integrates with your existing systems, making it easy to manage employee data, payroll, and benefits.

Key features include one-click onboarding, automatic payroll tax calculations, and integration with popular tools like Slack and G Suite.
Features:
Payroll and Benefits Management
Time Tracking and Expense Management
HRIS and Compliance
Onboarding and Offboarding
Company Directory and org charts
IT Automation and Management
Employee Surveys
Integrations with other tools and platforms
9. Oracle HCM Cloud
Oracle HCM (Human Capital Management) Cloud is a comprehensive HR software solution designed to help businesses manage their workforce effectively.

This cloud-based platform provides a range of features to streamline HR processes and improve HR management.
Features:
Talent Management
Workforce Management
Core HR
Payroll
Absence Management
Time and Labor Management
Recruiting
Onboarding
Succession and Development
Performance and Goals
Compensation
Learning Management
Analytics and Reporting
10. SAP SuccessFactors
SAP SuccessFactors is a cloud-based Human Capital Management (HCM) solution designed for businesses of all sizes.

It offers a comprehensive suite of HR tools to help organizations manage their workforce from hire to retire.
Features:
Employee Central
Recruiting
Onboarding
Performance & Goals
Succession & Development
Learning Management
Compensation
SuccessFactors Reporting
SuccessFactors Mobile
Integration & APIs.
Wrapping Up,
Small businesses globally are turning to the best HR software to streamline HR processes and improve HR efficiency.
From managing employee information to managing taxes and benefits administration, these best hr software provide small businesses with the HR tools, they need some important key features to succeed in today's fast-paced business environment.
Choosing the right HRMS solution is crucial to meet the specific needs of a business and can help streamline HR processes, reduce administrative burden, and improve employee satisfaction. The cost of HRMS solutions varies depending on the features and vendor, and it's essential to consider the cost against the benefits it brings to the business.
It's recommended to research and compare different HRMS solutions to determine which one is the best fit for a small business.
UBS software provides small enterprises with a comprehensive solution to handle various HR routine tasks efficiently. The software offers a range of features such as,
Payroll calculation,
Time tracking,
Benefits administration,
and project management.
With the right HR software, small businesses can free up HR teams to focus on more strategic initiatives, drive employee engagement, and ultimately, achieve their business goals.
Read Realated Article:
Small Businesses Require HR and Payroll Management Software- Read to Know Why!
Payroll Software for Small Businesses: Importance, Tips, and More