Let's say you are eager to run payroll software for your small business. So, let's begin here. When it comes to payroll software, it isn't just something built for small businesses. All the aspects of business management software include features that can help you understand the ins and outs of the payroll system. Your craving for an idealistic approach to run hassle-free payroll processing has brought you here. And, we can help you accommodate several pieces of information and knowledge. It will only help you understand payroll management software, which is most of the time actually a part of HRMS.
Moreover, in this article, we have tried to cover all the different queries you can research regarding a payroll platform. It is better to know thoroughly about any software or even a product before we start investing in it. In the end, you may realize how effective a payroll system is, and if at all, it is suitable for your business. You can also evaluate how suitable the product is for your company.
What Is Payroll?
The term payroll itself is associated with several different prospects. Out of these, one of the most important ones is the calculation and organization of the earnings of employees of your company. Payroll processing is basically an operation that includes a certain number of tasks starting from onboarding to establishing and discussing payment policies. It also includes gathering different payment options, calculating and verifying payout, processing salary and distributing payslips. Moreover, tax filing and accounting are also included in the payroll processing.
What Is Payroll In HR Software?
When it comes to HR software, payroll is used to manage your employee's financial records. It is simple and works in an automated fashion. The payroll management system in HR software manages employees' salaries, deductions, other conveyances, overtime, bonuses and payslip generation.
A Payroll system with HR software eases the hassle of managing vast data of incoming and outgoing employees. It helps you keep track of the billable hours. As the employee work hours are easily tracked you can streamline the payroll-related operation. Moreover, it enables the administrator to pay salary on time and make sure no calculation mistakes are made. 
Types of Payroll System?
Even before you start investing in payroll management you need to know all there is to know about such a business management system. You can undertake any method described below that suits your business. Nevertheless, you need to know there are various aspects to choose from to ensure smoother time tracking. Consider your convenience at the utmost. This shifting between different types of payroll systems, actually shows how they are the best fit for your business.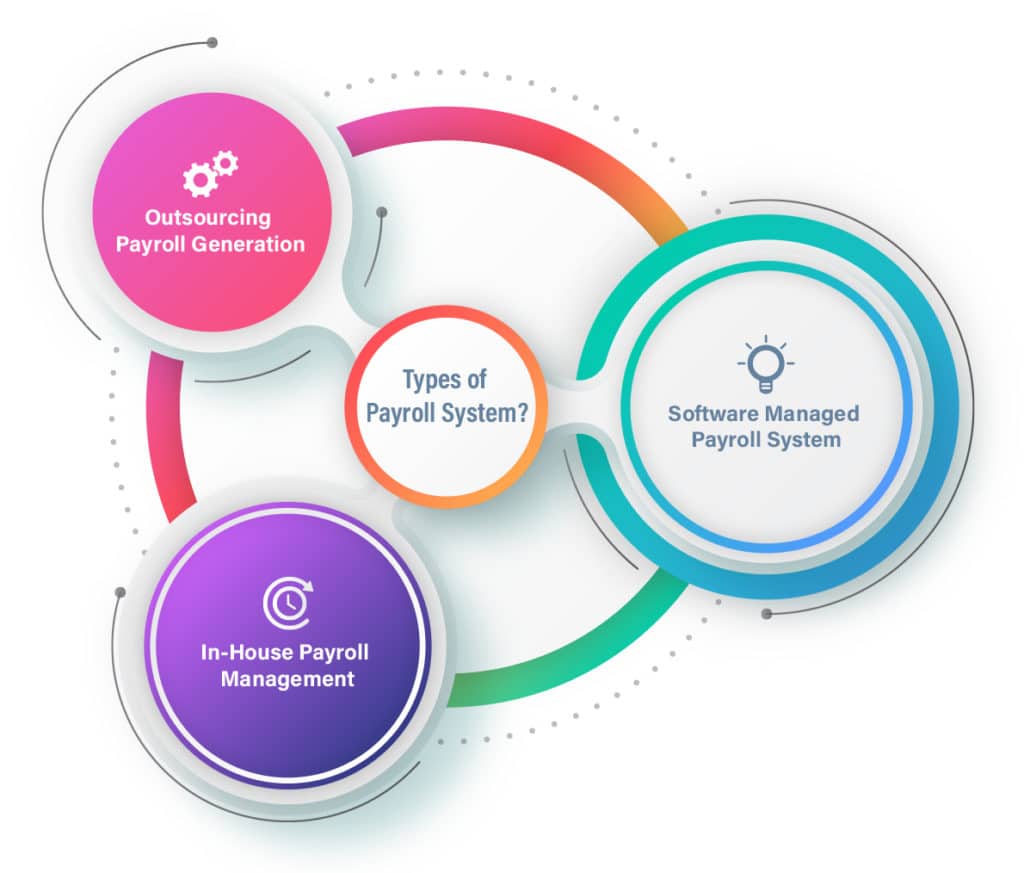 Outsourcing Payroll 
An outsourced payroll system is one of the options being discovered by various industries as they look forward to a team of experienced payroll professionals. This payroll system gives you access to the latest technologies. It puts all your processes in the hands of some well-trained professionals. Most of the outsourced payroll systems offer more than standard payrolls like a time clock, attendance management and disbursement. Moreover, it can also be used in any large or small company.
In-House Payroll Management
Using Payroll software is one of the common solutions for businesses. It's most suitable for managing data with new ages and reporting complaints with the employees. It is a task full of dedication. If you're looking to do it manually, you need to have proper training in payroll practices and modern reporting functions. In short, the members should also initiate proper training and detailed oriented work. If you don't comply with the laws, it can result in a hefty fine.
Software Managed Payroll System 
These are not widely used payroll management systems, however with technology advancing, you'll see that they are gaining popularity slowly. Many software and online portals are available for you to manage your payroll without going through the tedious process of calculating anything manually. You simply need to add the details and then the software will keep maintaining the salary slips for you.
What Are The Different Stages of Payroll Processing Software?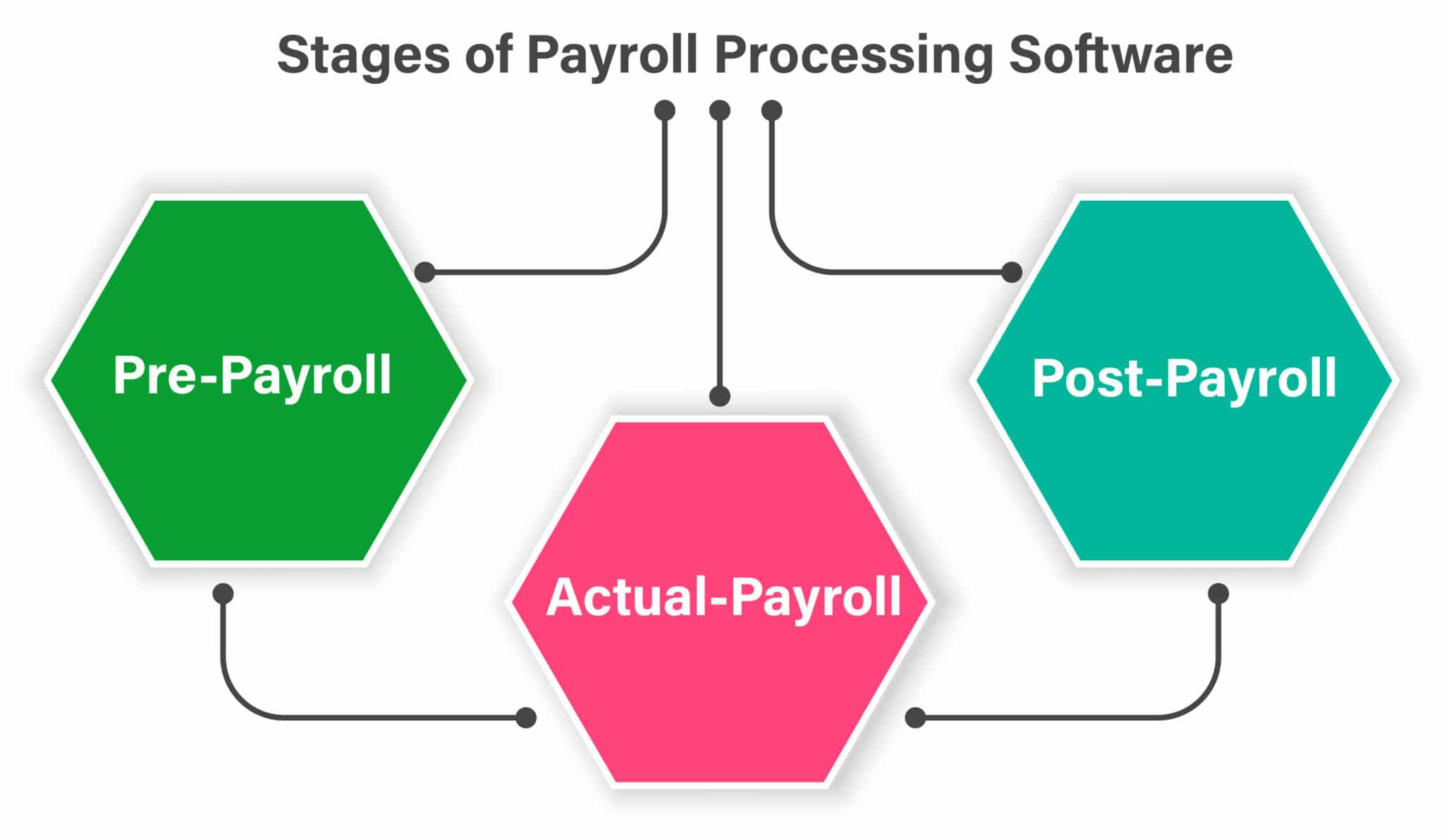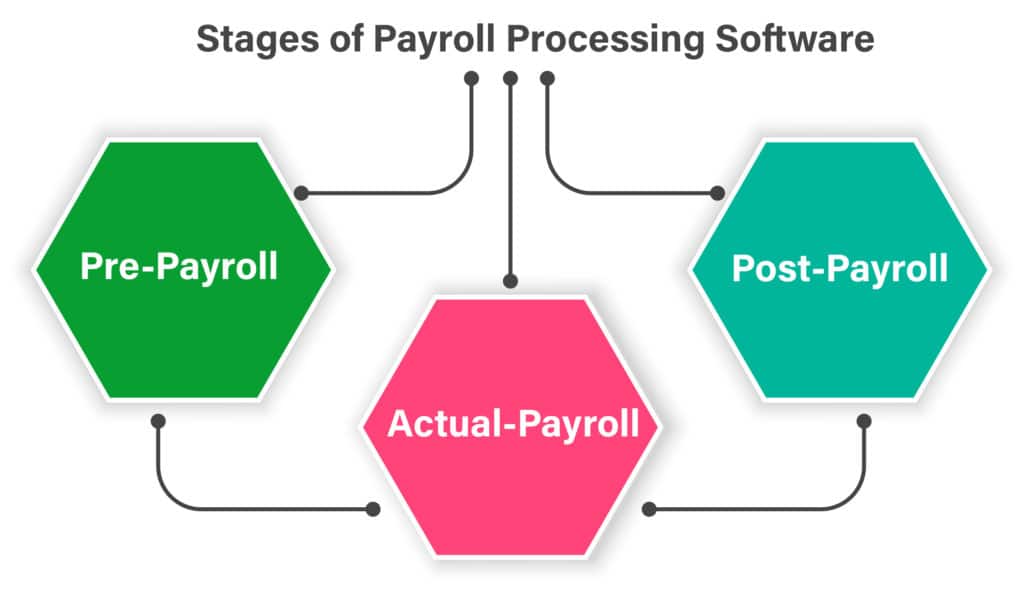 The payroll management process basically has three different stages. They are performed in the same order every month. In other words, you can say that the payroll process is a cycle. It is all about arriving at what is due for the employees, making necessary tax adjustments and then processing the amount.
Pre-Payroll Steps To Consider 
The final amount that is to be paid to any employee is dependent on various factors. The company's different policies have to be considered at the time of payout. These policies need to be clearly defined right from the beginning and approved by the management. It will only ensure standard payroll processing and administration. The primary company policies include:
You will need to collect the relevant data from various departments and professionals with whom the employee interacts. In larger companies, the process of gathering data can be overwhelming. However, when it comes to SMEs it becomes easier. If you start using payroll software with integrated features to handle attendance management and self-service to the employees, your task will only get easier. Some salary features that need prior attention:
Once you have the data ready with you, you'll have to ensure that adherence to all these policies is carried out. Verify investment declaration and reimbursement proofs. The most important thing is to ensure that all the new joining employees are included in the payroll cycle.  
Actual payroll calculations are the real deal. You will see that the first thing that hits your mind is how to validate the data that is to be fed into the payroll system. After evaluating all the components including EPF, PT, bonuses, bindings and applicable taxes, the salary is computed. The final amount is the net pay or net take-home salary. Once the payroll process is over, it is advised to reconcile with exact data verification to prevent errors.
This is the key process in maintaining and verifying the payroll records of every employee. Payroll reconciliation ensures that you can stay clear of piled-up paperwork at the time of submitting periodic tax deposits and tax forms and ultimately prevent legal troubles.
Most of the organizations provide their employees with a salary bank account. However, you can also pay in checks or cash. Once the payroll is complete, you will need to ensure the company bank account has sufficient funds for salary payment. Details such as name, ID, bank account number and PF details are sent to the concerned branch. 
All the deductions that you make must be submitted to the respective agencies. The payment is usually made with challans. The quarterly/yearly or annual returns are to be filed and submitted to respective government bodies. In order to perform analytics on the payroll processing, take decisions, and forecast the business future. After you lock and run payroll for a month, reports such as department-wise and location-wise employee costs are analyzed to plan for the next month and submitted to the finance and senior management team
What are the components of Payroll?
As we discussed above, the flow of different processes included in the payroll management system, we must take into consideration that there are different components in payroll processing. The monthly disbursement of salary and employee wages depends on their components. Between the gross salary and the net salary, these collectible components are absolutely necessary. 
CTC

: When new recruits join the company, a total salary package is offered to them. It is called CTC (Cost to company). It is a term used to describe an overall expense that an employer spends on the employee.

Basic salary

: The base pay is defined as the government that every working professional is expected to earn. And this is prior to including benefits, bonuses, profits, compensation, tax deduction and penalty payments. 

Gross Salary

: Gross Salary is the monthly wages including salary, allowances, rent and another form of earning you are providing your employee with. It is before tax or any other kind of deductions are made. 

Take-Home Salary

: The net pay is the actual take-home salary. It is calculated by subtracting any deductions that an employee's salary has to go through like Income Tax, Employee PF, Deductions from late arrival or PWL, etc.

Dearness Allowance

: This is an intrinsic component of the payroll process. It is a calculation of the amount paid to the government employees, pensioners or public sector employees. It is an allowance calculated on the basis of the basic salary of the individual.

Other Allowances

: There are some other types of allowances that are variable in nature. There are different categories of special allowances for house rent, child education, hostel expenditure, etc.

Deductions

: There are different types of deductions made on the gross salary of an employee. They are done on the basis of the income of the individual and the labor laws. Some of the deductions are EPF, LWF, Professional Taxes and TDS.

Reimbursement

: It is the act of compensating an employee's business-related expenses. It is generally a practice followed by companies to help employees get a refund of any amount spent on Travel, Medical Expenses or Business Management.
How to create a payslip? 
A payslip or a salary slip is a stamped document that brings in the details of monthly payout, employee id and net payable amount. It is concerned with the amount deposited in the employee's account. A Payslip is used to keep a record of the employee's salary information including Basic pay, Dearness Allowances, Bonus, Gross Pay and Net Pay. It is also proof of the employment of the individual.
Here's how the Payroll software dashboard at UBS will look like.
As you have already understood the basic definition of payroll, its importance in HR and its components, let's find out how a payslip on UBS HRMS will look like.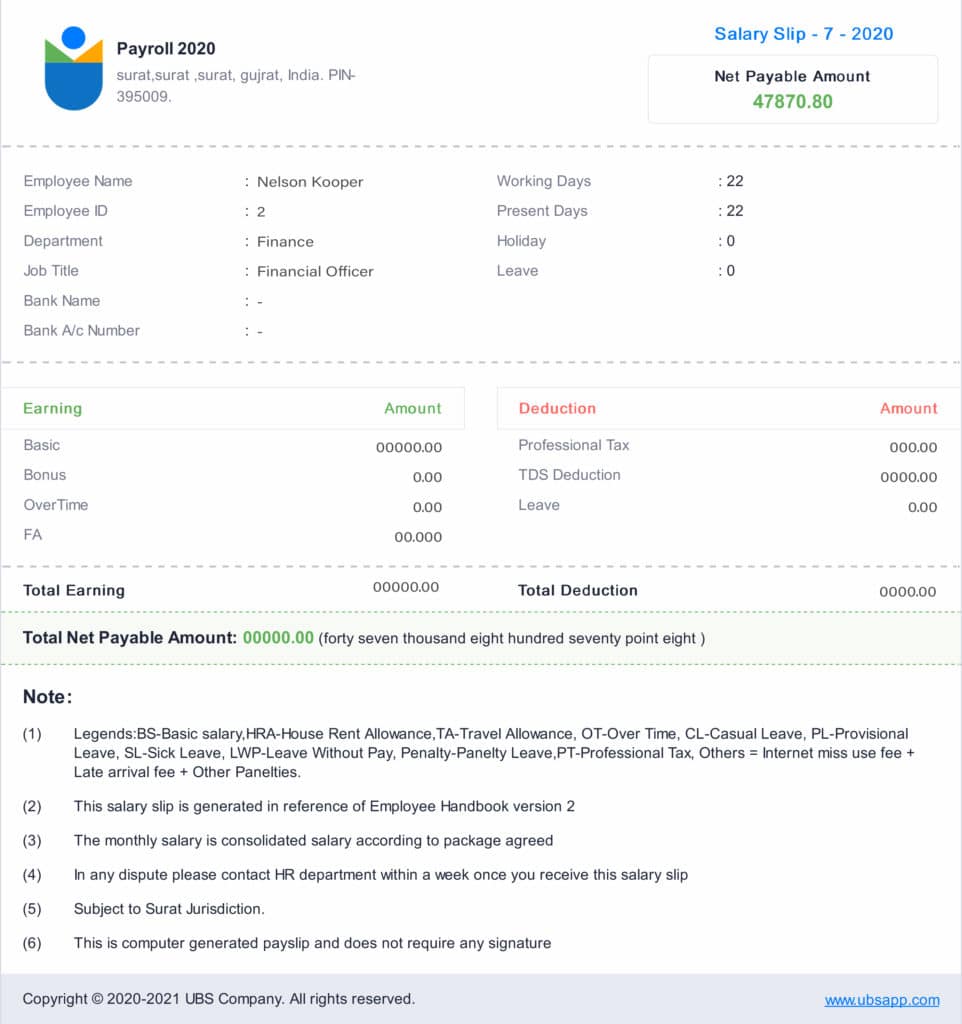 The payslip in HRMS can be downloaded in a pdf. The number of components and breakdown of each element can be seen easily. Companies can have advanced HR automation systems for the payroll process. 
Benefits of the Payroll Management System
To help reduce manual labor and increase the efficiency of the existing employees, an automated payroll system can help in a lot of ways. Payroll software can help you streamline your payroll process and make sure you have your payment on time and accurately. However, you need to make sure you find the right payroll software that fits your business. Here are some of the benefits of payroll software.
As it automates your calculations and date configuration, you will see that the system can perform all types of payments. It can be hourly wages or even add in overtime. A payroll management software will reduce the risk of errors and allow you to make salary payments on time.
Payroll generation and the whole process of data accommodation can be completed in a shorter period of time. The number of resources required for this process also reduces. This can be helpful in freeing your HR from manual administrative tasks.
Personal details that may include your Aadhar card number, PAN number, bank account details, etc can be stored securely within the system. It will not be authorized by any other people outside the organization. A payroll management system and security to the data and information.
With all payroll management-related processes happening in one place, you will have a securely stored system to process your payroll. You can find all the documents to comply with the latest payroll legislation. This will make it easier and thus, the chances of missing out on compliances reduces.
Payroll software reduces the number of errors in the calculation process. Like we discussed earlier, it also ensures that accurate payslips are generated and thus, keeps your employees away from any kind of hassle.
The tracking and management of all the records are in a single system. Thus, you are able to save time when it comes to an end-of-the-year payroll task. You will easily find it convenient to carry out the processes.
When you automate your payroll management system with HRMs, you can improve the collaboration within both the software. Thus, all the sensitive data is stored in a single place and is interconnected.
Even with all the benefits that come with such an integrated payroll management system in an HRMS, you will have some challenges. Let's understand those in brief.
Challenges In Handling Payroll Management Process
User Friendliness And Ease Of Use
A user-friendly system helps you increase the quality of the experience. It enhances the ease of useability. As an entrepreneur, be it for a large-scale industry or a small-scale one, you obviously do not prefer a complex system that will be very time-consuming.
Moreover, after you introduce such a payroll system, you will need to train your employees to operate it. Try to find user-friendly software, that brings you no need to face any extra hassle, and you can easily manage the entire system.   
Simple Configuration Of System
The best payroll software management service offers a simple configuration, and there is no need for any additional requirement to set up the entire system. 
If you introduce software that has a data importing system, it will be very convenient for you because you can import your necessary data from your previous software. Make it as simple as possible for your employees to understand.  
Affordable For All Kind Of Businesses
Price is the main controller when you introduce new software to your company. It helps you decide upon the purchase intention. Sometimes the higher price is responsible for decreasing sales of such a system in a company even though the software has a lot of exclusive features. 
As a beginner entrepreneur, you may not want to invest at a higher price. The reason is, it may create a negative impact on your business. This might be a challenge in itself.         
Security Of Data And Management
Any payroll generation software that you use may help you handle various sensitive information such as account details, social security records, salary structure, and more. 
Thus, you will need to make sure your data is safe. This is one of the features and essential aspects of any reliable system.   
Processing & Calculation Of Payroll
Calculation and processing are useful features that can produce an accurate calculation. This feature can allow you to understand the net pay, bonus records, holiday pay, overtime, and more. 
So, effective payroll software can assist you to reduce the time spent on spreadsheets and making strategic decisions and forecasting budgets.    
Maintaining Tax Compliance
The best payroll software has an excellent feature, which is namely a tax compliance system. This feature can allow you to calculate and deduct payroll taxes accurately. There are several types of payroll taxes that will be deductible from remuneration. 
When you manually handle this process, it'll be very complicated for you. But payroll management software can perform the process quickly and efficiently. 
Reporting System Of Employee Performance
Reports can help to visually represent your business performance and activities. But it's not an easy task to prepare the overall reports precisely. To make the entire report of your business's activities and performance, you definitely need several employees.
But if you choose an effective payroll system that is capable of preparing accurate reports, it will be very fruitful for your business success.
 Tracker For Projects And Tasks
With this feature, you can get enough flexibility for time tracking about your projects and tasks by employees. Moreover, this feature can ensure a detail-oriented payroll processing system. 
Also, you can track the time and the employee's clock in until they clock out. This feature can help you to evaluate how effectively your workforce can utilize their time.  
  Time Tracking Of Employees
Time tracking is one of the most remarkable features of any payroll software system. The payroll software can allow you to track each and every time of your employees. 
It helps to increase your productivity and enhance your business revenue. So, you must be conscious of this feature before purchasing.  
Sustainability Of A Software
Before selecting the payroll processing software, you need to be sure that you will get this feature. This feature can assist in boosting up your business and enhancing the experience of both users and employees. 
Moreover, this feature can allow you to provide real-time access to get any data or information.    
Fair Ways to Reduce Payroll Management Costs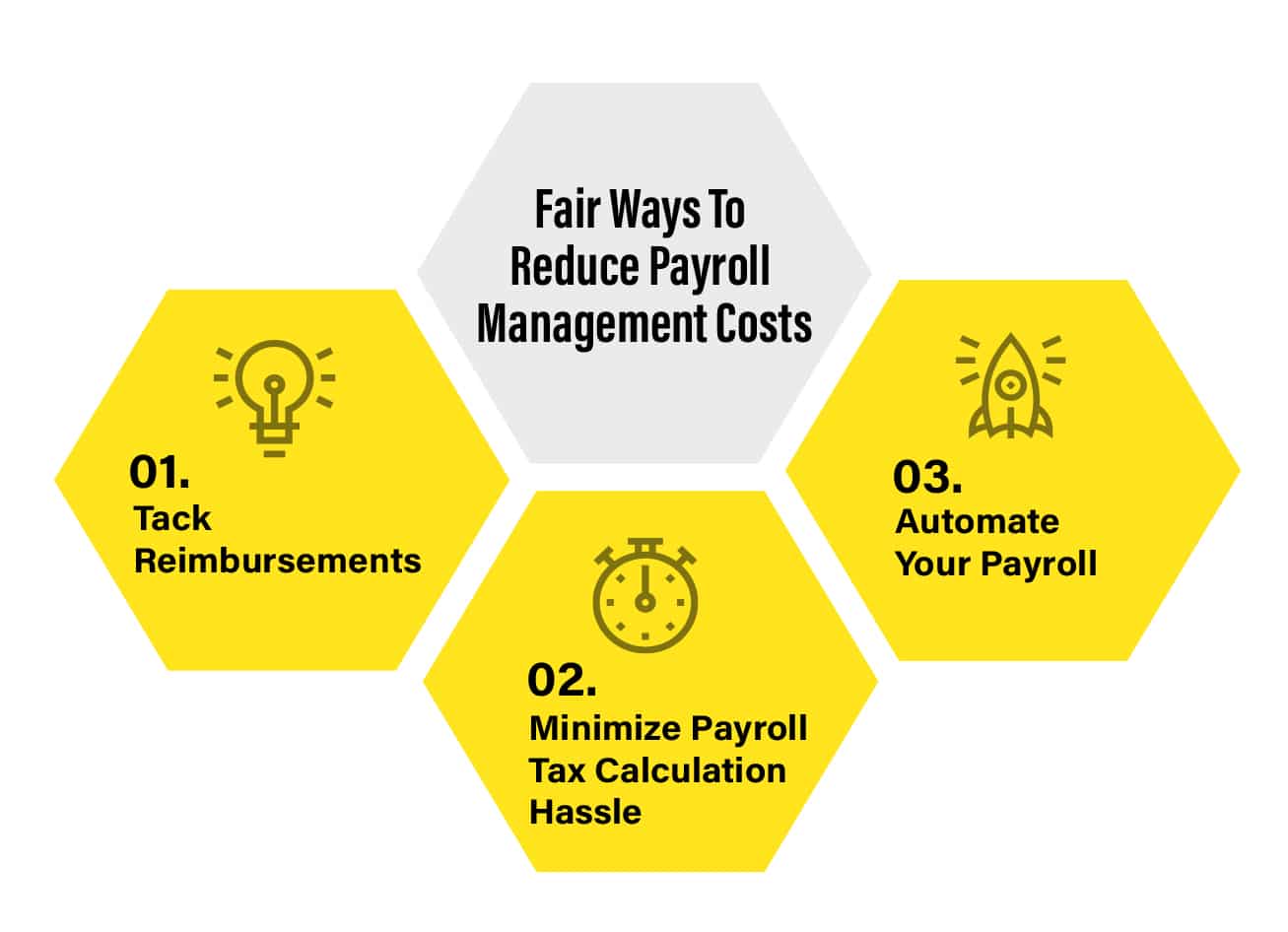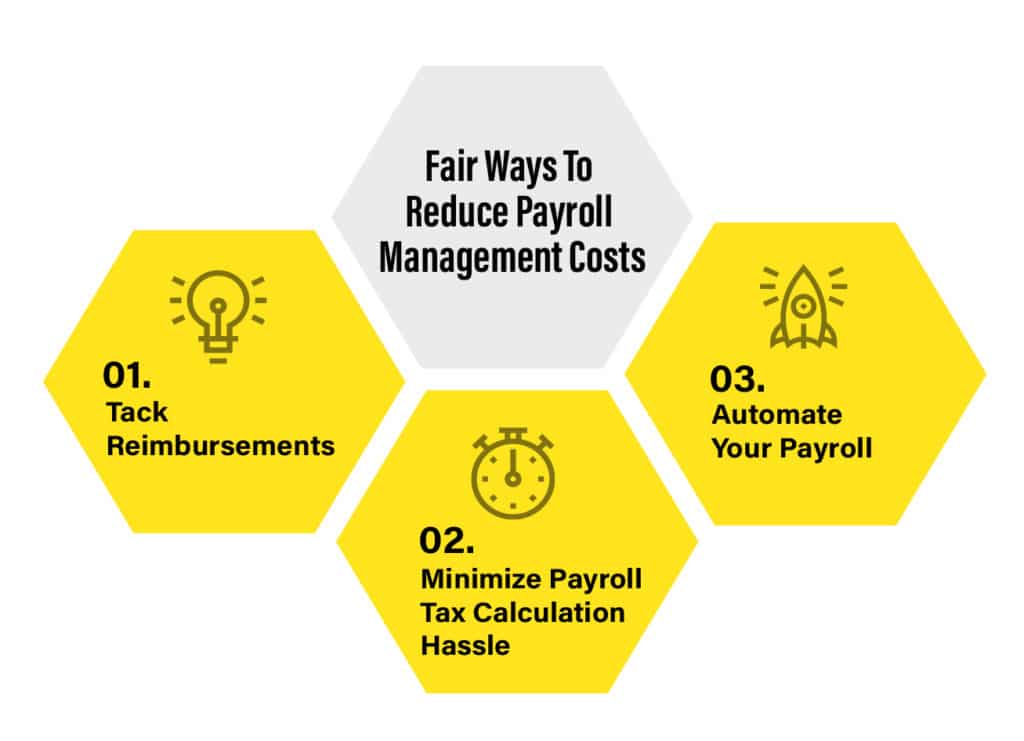 Tack Reimbursements 
Most of the travelers, when they do it on a personal or professional level, forget to follow the company's policy. This means that they may book their tickets outside of referred airlines or trains and join lounges or expensive hotels. And under such situations, they might even expect you to reimburse them. 
When your employees use company funds, make sure it is properly used and invested for company-related purposes only. Review and receipts and make sure they follow the company business policy Most businesses reimburse directly through payroll. 
Minimize Payroll Tax Calculation Hassle
There are certain taxes applicable to employee wages. These deductions may include medical insurance, social security, etc. Some of the criteria that you can exempt while calculating the gross income are as follows. 
An expense that is business-related or paid "while performing services as an employee" of your organization.

The employee documents the amount, time, place, and purpose of the expense and submits them to you within a reasonable amount of time.

The employee returns any excess reimbursement to you within the time limit.
All of these processes can be managed efficiently with a Payroll management system.
If you process payroll by hand, the various laws and regulations can quickly become complicated. Payroll errors aren't uncommon and they can be expensive to fix. If you use payroll software, though, you don't need to worry about payroll errors, penalties, and other potential expenses. Payroll software uses automated tools to help ensure accuracy and compliance with each pay period. 
Automating payroll reduces manual paycheck errors, which can then reduce costs related to payroll by as much as 80%. Automation is one of the easiest ways to reduce payroll costs since it saves you money and time.
FAQ: 
What is the average payroll software cost per month?
You can manage your payroll d\generation with a single software. It can be as low as 50 rs/month. Depending on the features you need to integrate into your software, the prices may vary.
How much does payroll software cost for small businesses?
This all depends on how many employees you have at your organization. If you want to manage it yourself it is financially the cheapest. However, it takes minimum charges per employee per pay period for every employee.
What is a payroll cost calculator?
Each employee costs the sum of his or her gross wages. This is in addition to other employee-related expenses which include payroll taxes, reimbursement and medical expenses and the cost of benefits.
Conclusion
Paying an employee literally means it is the compensation an employee gets paid, no matter how much they value their job role. Apart from the salary, employees want recognition for the hard work they do every day.
"A person who feels appreciated will always do more than what is expected."
Compensation for the true value of work done by employees is a great thing to be considered by every organization. If an employee is rewarded for their extra effort or new initiatives, they feel valued and honored in the organization. To add to it, flexible payroll suggests that your workforce is paid accordingly.
Therefore, it is quite obvious now that payroll teams are significant contributors to positive company culture. If you don't have an efficient payroll team by your side, chances are, you will face the threat of a bad reputation and lack of employee engagement. 
Are you looking for a great payroll system? A single system that can help you attend, leave and payroll management? Well, get a demo with us at UBS HRMS and redefine your payroll processes!