As an employer or the HR Manager of the company, have you ever observed the poor performance of any of your employees? Have you ever got a complaint about a particular employee not meeting the standard requirements of the job role? Poor performance at work examples are includes in warning letter
Well, what do you do in such cases? Thought about, emotional conversation or performance improvement plan? Even after so many repeated verbal warnings, the option is to issue a written warning letter or send Employee Poor performance warning letter. Doing this might scare the employee and make him/her afraid of losing the job or suspending from job. Doing this might scare the employee and make him/her afraid of losing the job. This would lead them to pay serious attention to match performance expectations.
There are several kind of warning letters such as behavior warning letter, attendance warning letter, duty negligence warning letter, insubordination warning letter and many more. One of the important warning letters is- poor performance warning letter.
So, what are the poor performance warning letters and how are they written?
What is a Poor Performance Warning Letter?
If an employee's performance isn't up to pace, a employee not meeting expectations letter is the most common type of disciplinary action a company could take. Writing a formal warning letter for performance issues is the first step in any disciplinary procedure.
Many managers provide many verbal warnings to their employees in order to draw their attention to the employee's behaviour towards work. If verbal warnings and conversations are ineffective, the supervisor may issue a written warning letter.
The objective of creating the warning letter is to ensure that the employees take it seriously and that they are more likely to improve after understanding performance key metrics.

How to Write a Formal Written Warning for Poor Performance?
If you are on this page, I can assume that you have tried talking to your employee beforehand. Despite several warnings, if there's no performance improvement in the employee, it is time to write a warning letter.
Consider the below points before considering writing a sample reprimand letter for poor performance for employee's unsatisfactory performance:
Identify the reason behind the poor performance.

Cross-check if training and support are required to achieve minimum required standards.

Communicate the consequences to the employee and also the steps involved behavior after issuing the warning letter.

Ensure that the steps and effects are clearly understood by the employee.

Ensure to make two copies of the warning letter and ask for a signed copy from the employee for future reference.
Poor Performance Warning Letter Format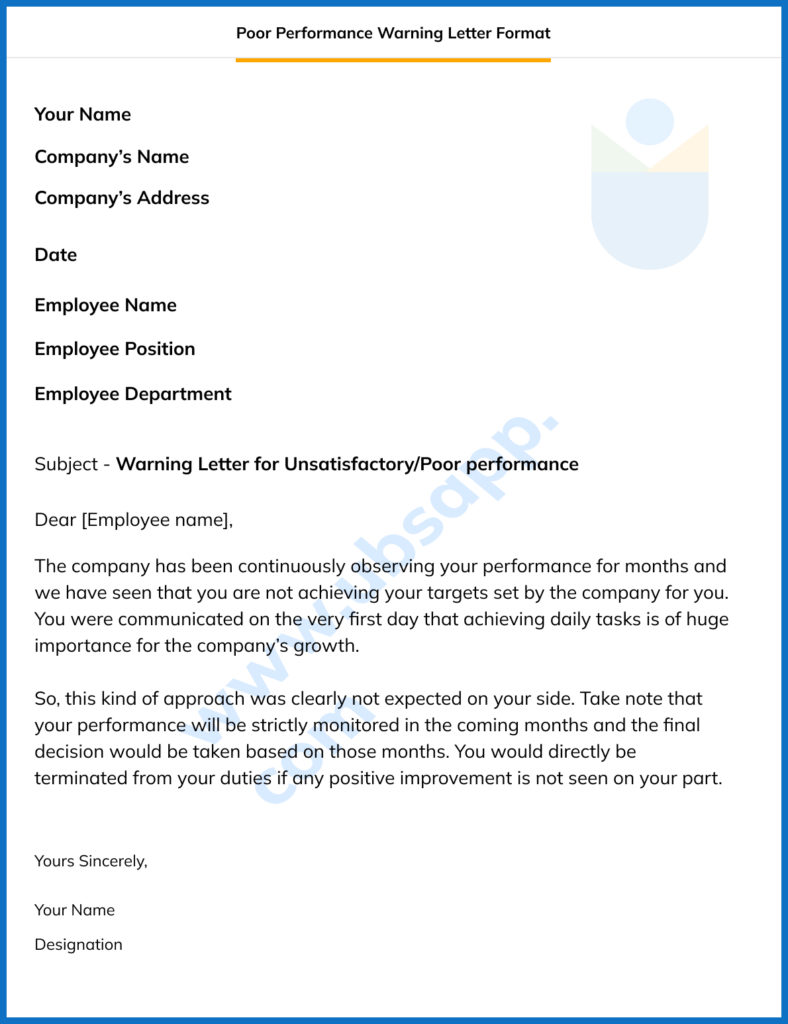 Example of Underperforming Employee Warning Letter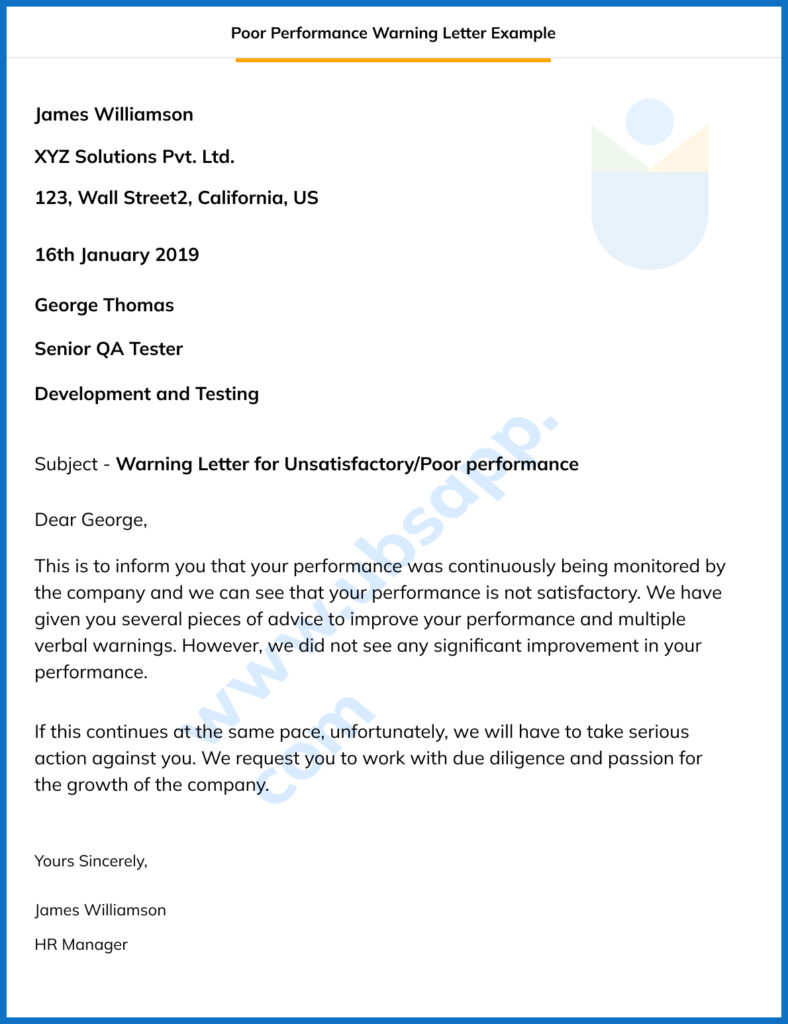 Wrapping Up
The name "Warning Letter" says it all. It's a letter from the employer to the employee to inform him/her about the breach in company policies. This internal escalation email sample acts as a warning to the employee for his actions, as well as a list of the repercussions. If this will be not followed correctly , employee may face demotion.
If you're bored of writing letters over and over again, UBS has a solution for you. We are a leading HRMS Software in India, and we can provide you with ready-to-use HR letters to help you avoid the hassle of recurrent writing. Not only the HR letters, but we also help you manage your payroll and projects with the best PMS and Payroll Management software. 
It is very simple, just simply search for the letter that meets your requirements, and you will be presented with a letter that you can edit in real-time within the software with the live edit feature; you do not need to download insubordinate warning letter the document. Book a live demo for integrating the best HRMS Software into your organization for smoother human resource information system. We are providing HR related Glossary that will helpfull to streamline business and processes.