When you run a business or an organization where you have multiple people reporting to you, you will always have to stand on your toes to manage them. People management becomes the most difficult task if you do not know that art. Either leaving them free or handling them too hard will lead to employee performance issues. Then what is the correct way to manage people?
Warning Letter for Negligence of Duty
How to manage the productivity of your employees? How should you make an individual know his/her responsibility? How do I deal with individuals in urgent situations? For any query, there is just one possible response: You must communicate with them. If you don't let them know your thoughts, your people will suffer along with your business.
What should I say to them next? Spend a few minutes speaking with them verbally once a week to learn about their workplace worries. Why did they perform poorly? This will give them the confidence to fix any mistakes they make. Mistakes are rarely made out of ignorance. Therefore, it is your moral obligation to inform people of their errors.
But will that actually solve the problem for everyone? Actually not. Exceptional cases will still continue to exist. How to deal with such people?
The next step after oral communication is the show cause notice. Here, you need to give the employee an opportunity to explain his/her position. If the employee fails in this too, then the only option remaining is Issuing a Warning Letter for Negligence of duty.
Let us give you a basic explanation of warning letters for duty neglect in this article. Additionally, give you model letters that you may copy-paste to formally warn anyone. Finally, we invite you to download sample templates, alter them, and then use them for employees who are underperforming or whose behavior has been poor for a while.

What is a Warning Letter for Negligence of Duty?
You must first understand what a warning letter for negligence of duty is. So, this letter is issued to an employee to warn him/her about his/her non-performance, carelessness, misbehavior, misconduct, or ignorance on the job. However, as per the employment law, no employee has the right to directly terminate the employee without any prior notice.
What could be the Possible Reasons to Issue a Warning Letter for Negligence?
There could be many reasons for issuing a negligence warning letter to your employee. Some of these are mentioned below:
If someone continuously neglects work and fails to give justification for the same.

Not taking due care to deliver duties and spending time carelessly during work hours.

Failing to own the responsibility and blaming others for any misconduct.

Frequent Absenteeism.

Getting involved in the malpractices that are against the company's processes.

Harassing other employees.

If one fails to understand the work and deliver it properly. No company can take ignorance as a reason for non-performance.

Showing inappropriate behavior to superiors or co-workers at work.

When an employee fails to follow the company's existing rules and regulations.

Delay in completing an assigned task without any valid reason.
Employee Service Agreement – Format, Meaning, Importance, Examples, and More
Basic Components of a Warning Letter for Negligence of Duty
It is a good practice to issue a formal warning letter to employees who are not able to properly perform their duties. Given below are the components that a standard warning letter for negligence of duty must contain in order to give it a professional tone.
1. Date
Always mention the date on which you issue the letter.
2. Letter Issuer
Mention the name, designation, and company address of the person who is issuing the letter. Always write the details of a senior authority who issues a letter to the junior for any misconduct or ignorance.
3. Letter Recipient
Here mention the details of the person who is receiving the warning. Details include name, designation, and address.
4. Reason for the Warning
Remember to provide a one-liner before explaining the exact reason for issuing the letter.
5. Action taken as part of warning
In this section elaborate on the details. Firstly, tell why you are issuing the warning letter. Next, mention your observations on the same in a particular period. This is necessary to justify your actions against the employee. Then mention what the employee will go through if he/she fails to make the necessary changes after receiving the letter. Finally, provide the specific period to measure the improvements.
6. Signature and Seal
Attest with the company seal, sign, and mention the designation. If you send the letter on business letterhead, the seal is no longer necessary.
Do you want to have the warning letter for negligence of duty template? Here you go!!
Warning Letter for Negligence of Duty Example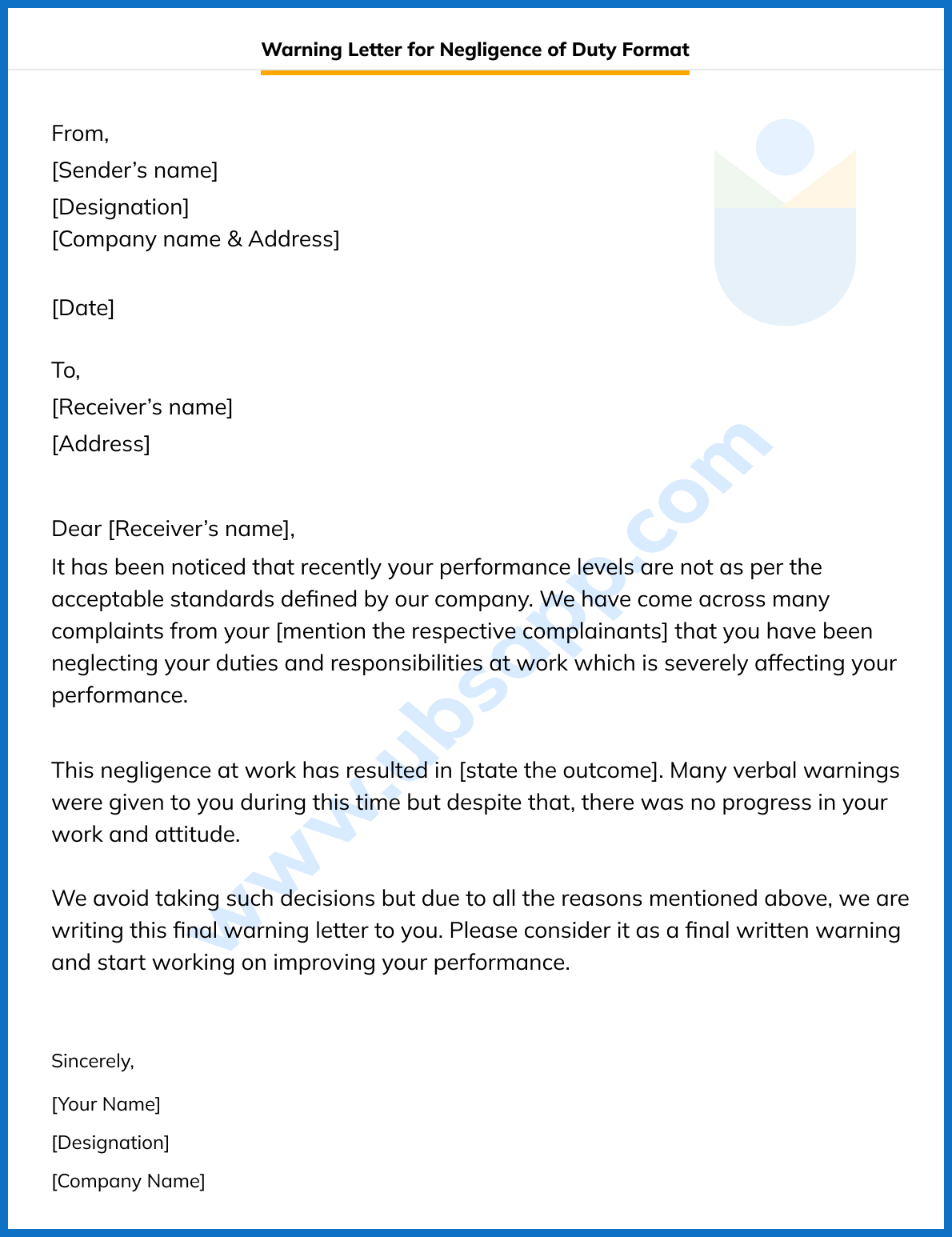 Warning Letter for Negligence of Duty Example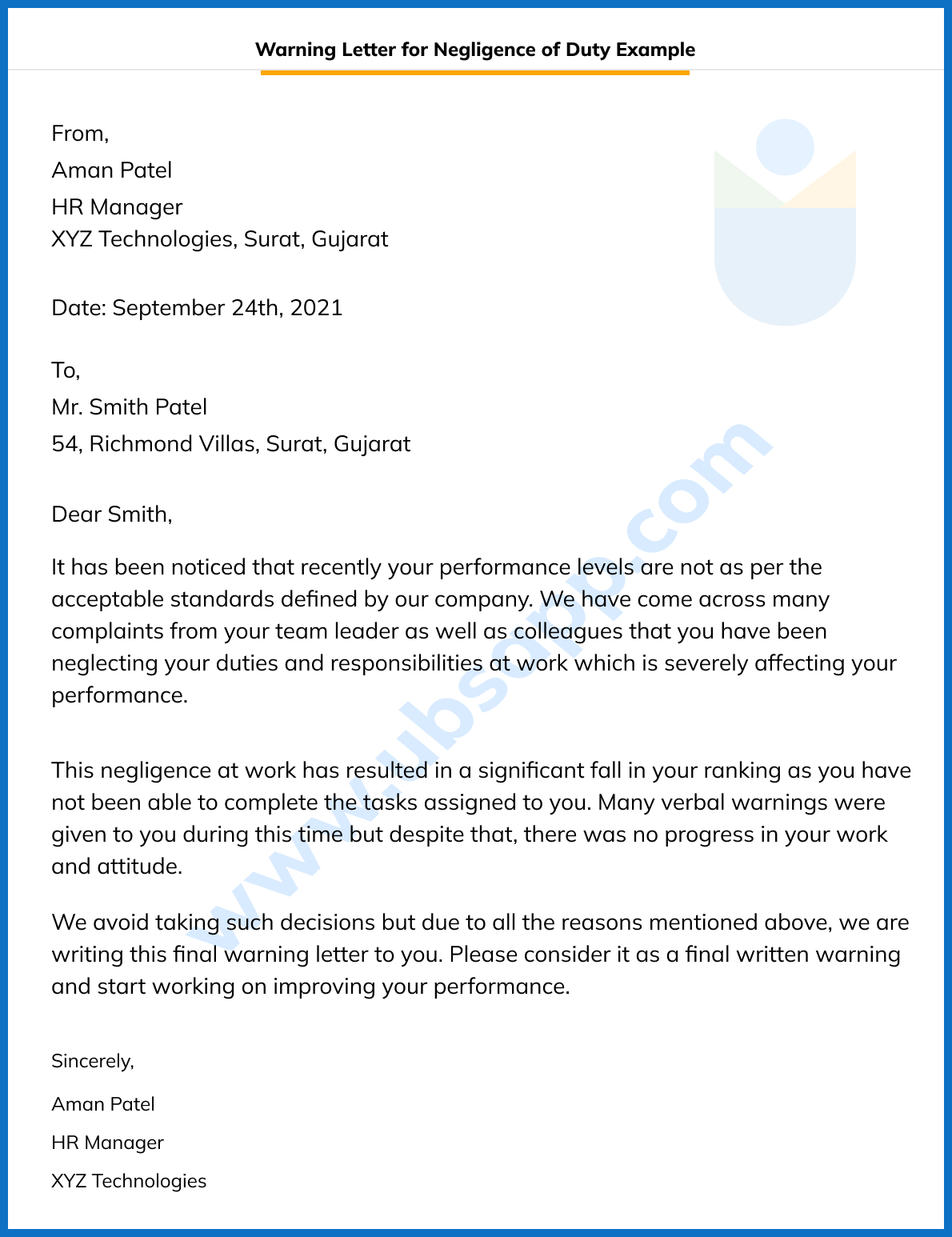 Warning Letter to Employee – Write an Effective One
While working in a company, employees someday happen to make a mistake. Here, the very first step of an HR manager or an employer is to give a verbal warning for the mistake or misconduct done. Also, the HRs need to suggest corrective measures to rectify the mistake.
If the employee is not performing well his/her duties, fails to meet the deadlines or does any such misconduct, even after multiple verbal warnings, the management needs to issue a warning letter for negligence of duty.
Get a free editable template for negligence warning letters at UBS HR Toolkit. You can also download and edit other readymade HR documents like HR letters, HR forms, emails, policies, and more. Get in touch with UBS HRMS Software to know more.