Do you face issues in tracking your employees' working hours?
Are your employees spending a lot of time on mundane tasks? Is it affecting the overall business productivity?
"Time and tide wait for none."
This axiom perfectly suits businesses that work hard day and night to achieve success. It's no secret that businesses struggle with employee productivity these days and are looking for some great tools to monitor employee productivity.
But can employee productivity be effectively measured by time tracking software? Do employee time tracking systems help to boost employee productivity? These are some of the major concerns that business owners have about a productive workplace.
As a small business, you need to understand that tracking employees' time is important to know where they are spending their work hours. However, with so much software available, how can you opt for the perfect one?
No matter whether you are a small business or a big enterprise with hundreds of employees, this article will help you filter a time tracker according to your business requirements.
What is time tracking?
Time tracking refers to how organizations track the working hours of their employees and ensure that they are compensated for their work accurately. It serves as an additional source of information during the employees' productivity measurement.
Time tracking is usually done using software that provides handy tools for not only time recording but also analytics and reports that help organizations gain insights into personal and team productivity, time distribution across tasks and projects, costs and profits, and more.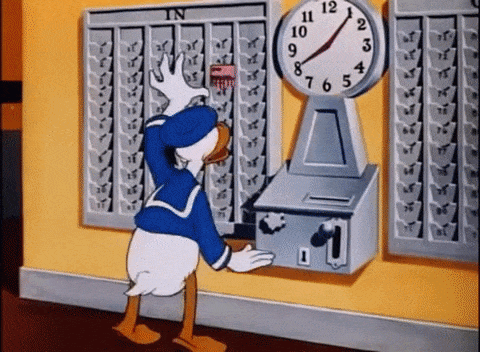 Why do you need time tracking software?
Time tracking software is a must-have for any company as it can be used to increase efficiency and productivity while decreasing costs.
Want to know how?
An efficient time tracking software:
Can help you understand how you can use the work hours for enhancing productivity.

Help you to keep an eye on and examine what your employees do during work hours.

Enhances transparency and accountability

Shows you how you can utilize your resources efficiently.

Automated repetitive tasks like maintaining records in timesheets and processing payroll.
But how do you know which one to choose when you have a lot of options to choose from?
In this blog post, we will list the best time tracking software with its features. This list will help you make an informed decision on which time tracking tool will work best for your business.
Let's start!!

12 Time Tracking Software for Small Businesses
1. UBS Time Tracking
As you plan your tasks and prioritize them, an ultimate employee time tracking system will help you monitor the progress of the projects and the productivity of your employees. It will help you avoid any overlaps or wastage of time and effort. UBS is an all-in-one time tracking and business management tool that provides you with a built-in time tracker for every task and sub-task, and you can manage projects efficiently. Additionally, you can keep a record of time spent on each task after completion.
Key Features
UBS Time tracking software provides manual and automatic time tracking of employees.
For the manual tracking mode:
Create a task under the relevant project

Push the start button when you start the task.

Push the stop button when you wish to go on a break or end the tracking of that task.
While an automatic time tracker runs silently in the background as soon as you log in to the software. This tracks the working hours of the employees.
This feature helps you to track the time when an employee's system is idle. Here idle time tracking means tracking the time in minutes spent by an employee without any mouse or keyboard activity.
The screenshot-capturing feature helps you to know whether your employees are working or not. UBS time tracking tool does this by taking screenshots of the user's PC at regular intervals. When your employees are aware that their screens are being monitored, they avoid spending time on unnecessary activities. Hence, it improves productivity. 
Detailed Productivity Reports
UBS time tracker offers you comprehensive time reports that help you gain insights into your team's productivity. You can access various types of reports like hours tracked reports, total tasks, total activities, and more.
For more details on UBS Time tracking software, book a demo.
Pricing: 15 days free trial. The paid version starts at $4.84/user per month.
Best For: UBS Time tracking software is best for Small and Mid-sized organizations, large enterprises, and non-profit organizations due to its affordable prices and lots of features.
2. Time Doctor
Time Doctor is an all-in-one time tracking and performance management tool. The system is designed to be customized according to your business workflows and you can use it to increase employee productivity while decreasing costs.
Key Features:
Pricing: 14 days free trial. Paid plan – starts at $7/user per month.
Best For: Time Doctor is best for Mid and large-sized organizations. Its application is difficult to be used by freelancers without support.
3. Toggl Track
Toggl Track is one of the most popular time tracking software available in the market. Using this software, you can track your employee's time spent on each project, completed tasks, ongoing tasks, and more.
Key Features:
Easy-to-use manual time tracker

Timesheets with integrated google calendar

You can export time tracking data on any accounting software for invoicing

Integration with popular apps like Github and Evernote
Pricing: Free limited plan. The Paid version – starts from $10/user per month.
Best For: Toggl Track is best for Small and non-profit organizations.
4. Timesheets.com
Timesheet.com is a time tracking and timesheet software that can be used for both hourly and salaried employees.
Key Features:
Easy-to-use time tracking software for payroll, billing, and job costing

Helps you track time-off balances and review usage history

Accurate billing reports for processing payroll and timesheet approval

Integration with accounting software such as Sage and QuickBooks.
Pricing: Offers Free version. Paid plan – starts from $4.50/user per month.
Best For: Timesheets.com is best for freelancers and non-profit organizations due to its great customer support team.
5. QuickBooks Time
QuickBooks Time is the best software, particularly for QuickBooks users who need to monitor the working hours and track billable hours for their hourly workforce. It is a robust employee scheduling and time tracking software for small businesses.
Key Features:
Offers income and expense forecasting for a period of 30 to 90 days.

You can create custom and professional invoices and sales receipts. 

Automatically tracks billable working hours and adds them to invoices using QuickBooks online app. 

Integration with payroll management solutions like Gusto, Square Payroll, ADP, etc.
Pricing: Free trial for 30 days. The paid plan price starts from $10/user per month.
Best For: QuickBooks Time is the best solution for SMEs looking for time tracking and payroll management solutions.
6. Harvest
Harvest is a free time tracking system for small businesses and freelancers looking for free invoicing, time tracking, and expensing tools.
Key Features:

 
Helps you to track employees' time using automated reminders

Enables you to track expenses and automatically converts them into invoices

Visual time tracking reports that help you know how your team is spending time on each project.

Integration with various productivity apps like Jira and Zendesk to help you streamline your workflow.
Pricing: Free limited plan for a single user. Paid plan – starts from $12/user per month.
Best For: Harvest tracking software is best for freelancers and small organizations due to its affordable prices and lots of features.
7. Hubstaff
Hubstaff has been specially created for remote teams, agencies, and freelancers. It provides real-time time monitoring so you can watch the progress of your team's work on your screen in real-time. Additionally, you have the choice between automatic logging and manual entry for creating projects and tracking billable hours.
Key Features:
Offers a manual timer to assist your team in keeping track of the time spent on each activity and project.

Hubstaff clicks screenshots from the employee screen to keep track of their productivity.

Provides job sites, commonly referred to as geofencing, that enable your team to monitor time from a predetermined location.

provides 17 distinct customized reports to help you assess the productivity levels of your staff.
Pricing: Free plan for a single user. Paid plan – starts from $7/user per month.
Best For: Hubstaff is best for Small and mid-sized organizations having remote teams as this software promotes a remote-first culture
8. Buddy Punch
Buddy Punch is a web-based punch clock tool for keeping track of team members' working hours. The app offers cloud-based scheduling in addition to having an easy drag-and-drop user interface.
Key Features:
Provides you with a cloud-based time clock that pre-populates reports for payroll

It supports paid time-off tracking

Integration with other payroll features like QuickBooks, ADP, SurePayroll, and Paychex

Employees can clock in and clock out using a web browser, Android, or iOS app.
Pricing: a free trial with all its paid plans. Paid plans – start at $2.99/user per month.
Best For: Buddy Punch is best for small, mid-sized, and large organizations due to its affordable prices.
9. TimeCamp
TimeCamp is robust tracking software that is designed to help small businesses track and optimize their team's efficiency. This software allows you to track employee working hours, break time, and employee's productivity.
Key Features:
Automated time tracking 

GPS tracking to monitor remote employees 

Payroll Management functionality 

Integration with tools like ClickUp and Google calendar.
Pricing: Free limited plan. Paid plan – starts from $7/user per month.
Best For: TimeCamp is best for freelancers, small and mid-sized organizations, and businesses. However, it has numerous integration options that can be useful for larger organizations as well. 
10. My Hours
My Hours is one of the best time tracking tools which can provide accurate records of employees' working hours. These records help the employer during payroll processing. It is an employee time tracking software designed for small businesses and freelancers.
Key Features:
Time tracking using a simple timer or you can manually add time in a timesheet. 

You can classify tasks as billable or non-billable 

You can set hourly rates per project, task, and employee. 

Helps you decide a particular amount of time you can spend on a task by project budgeting.
Pricing: Free plan with limited functionality. Paid plan – starts from $7/user per month.
Best For: My Hours is a flexible time tracking tool best suited for all types of organizations. 
11. Clockify
Clockify is a free time tracking and timesheet management tool that offers forever free features for small businesses across various tasks and projects. It also offers four paid versions for upgrades. You can use this software for keeping a bird's eye view of employee activities.
Key Features:
Time tracking with a stopwatch. You can also manually enter and edit hours.

Allows you to set hourly rates for projects, tasks, and employees 

Lets you create tasks and projects for employees and categorize them by clients 

Detailed billing reports that you can export as Excel, PDF, or CSV files.
Pricing: Free plan with unlimited projects and users. Paid plan starts from $4.99/user per month.
Best For: Clockify is best for freelancers, and SMEs due to its free version along with paid upgrade plans.
12. nTask
nTask is one of the great time tracking software used to monitor the progress of employees in their daily tasks. The software includes features like project management, adding notes to tasks, and more.
Key Features:
Time tracking and timesheet management 

Task management and project management 

Kanban boarding and Gantt charts 

Risk management to have a close eye on scope creeps and other risks
Pricing: Free limited plan for a single user. Paid plan – starts from $3/user per month.
Best For: nTask is the ultimate time tracking software for businesses of all types as it has very affordable prices and pricing plans. You can choose accordingly.
5 Things to Look at While Choosing a Time Tracking Software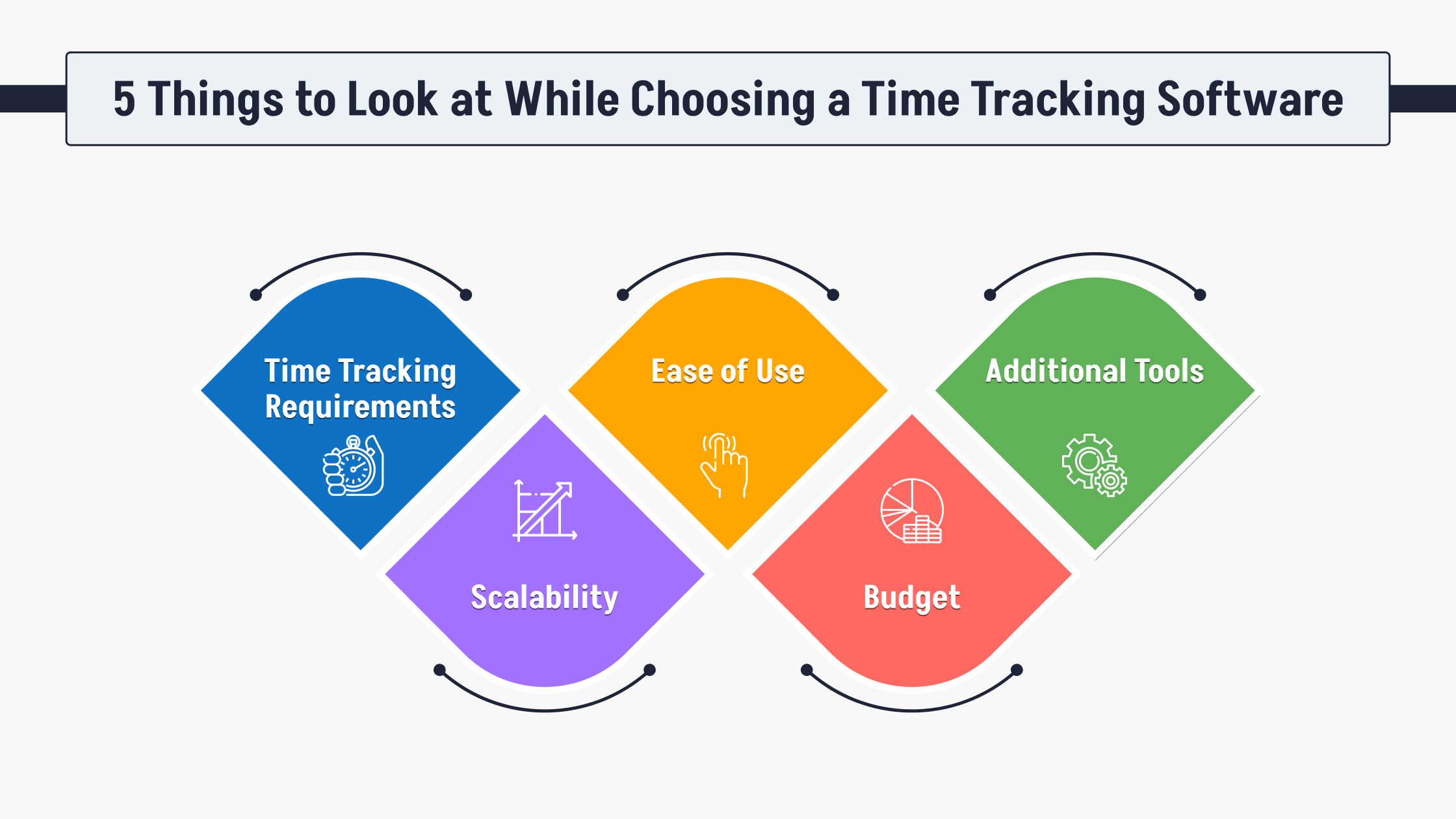 Time Tracking Requirements:

Your needs for time monitoring should be met by a time tracking tool that has all the necessary functionality. This may involve recording your time manually, automatically, or while you're just sitting around.

Ease of Use:

It is crucial that the interface be simple to use and intuitive so that every team member can pick it up fast.

Additional Tools:

If you wish to closely track staff productivity, additional features like thorough productivity reports and screenshots can be useful.

Scalability:

To support larger teams if you intend to scale in the near future, think about making a time tracking tool investment.

Budget:

You should also look for time-monitoring software that is reasonably priced. This will allow you to monitor staff productivity without significantly increasing the cost to the business.
Why Time Tracking Software is Important for You & Your Organization
Choose The Time Tracking Software Wisely
Time Tracking software is the best alternative to manual timesheets, which organizations can use to keep a track of employees' efficiency and productivity. An efficient time tracking system translates to a productive workforce, accurate data insights, and a profitable business.
Now that you know all the time tracking systems for small businesses available in the market, you can analyze your requirements and choose software according to your business.
If you are looking for an ideal time tracking tool along with some other additional tools for effective business management, book a demo with UBS.