At some time, every company expects to deal with employee resignations. While it's difficult to even in the best of circumstances, it's critical to handle a resignation gracefully, tactfully, and professionally.
When an employee submits a letter of resignation, you can acknowledge receipt of the letter and confirm their last date of employment in writing by responding with a formal written resignation acceptance letter with immediate effect. It also allows you to convey good wishes and other information, such as expectations during their notice period or details about the company's resignation policy. Understanding the important elements that should be included in a resignation letter approval sample might make the process of writing one go more smoothly.
In this blog, we will discuss what a accept resignation letter actually is, the Importance of this letter, Why it is important to respond to a resignation letter, does resignation need approval? tips to write one, the format, paperless project management and examples.
So, let's get started!!
What is a Resignation Acceptance Letter?
A resignation acceptance letter is a formal letter in which you indicate that you have accepted your employee's resignation request. The resignation acceptance letter enables the employer to thank the employee for their contributions to the organization and to wish them well in their future pursuits.
Why is a Resignation Acceptance Letter Important?
The employee's experience and contributions to the company's success are acknowledged in the letter of resignation acceptance mail to employee. The management wishes him the best of luck in his future efforts. This letter is a formal manner of accepting the employee's resignation and removing him or her from the organization's services.
This letter is proof that the employee has been relieved from the current organization and helps the future employer know about the candidate's experience with the previous employer.

Why is it Crucial to Respond to a Letter of Acceptance of Resignation?
For a variety of reasons, having these measures in place and confirmed is critical. Employees frequently tender their resignations only to later change their views. If the employer hasn't acknowledged the resignation in writing, the employee may claim that it was never accepted or that it never happened.
The employee might even claim that the resignation was a firing and ask for unemployment benefits. As a result, it's critical for an employer to respond formally in a timely manner. By doing this, you will achieve the following:
Keep a record of the employee's resignation and the employer's acceptance for future reference.

Outline the offboarding procedure so that the employee is aware of what to expect on their last day.

Determine dates for chores like returning a building key, ID badge, or laptop.
Of course, employers can be adamant about keeping your employee. Many businesses respond to employee resignations by making a more tempting offer to persuade them to stay. It's always a good idea to run the letter of response by the company's counsel before giving it to the employee, regardless of how you plan to react. Specific language may be required by the state's employment regulations.
Recommendation Letter -Example, Format, Meaning, Need, and More
Tips to Write a Letter of Resignation Acceptance
Here are some pointers on how to write a formal resignation acceptance letter:
Keep the letter to a minimum
Make your letter succinct and to the point. Your letter should properly recognize the employee's resignation, confirm their last day of work, and express your best wishes for them. You should also express any expectations for what they should expect before leaving, as well as any next steps or clear deadlines for offboarding tasks.
Use the appropriate subject line
If you're sending the letter through email, include a subject line that clearly states the purpose of the correspondence, such as "Resignation acceptance."
Thoroughly proofread
Take the time to thoroughly review the letter or email before sending it, looking for grammatical or typographical issues.
Make use of formal language
Keep your letter's tone polite and professional. Avoid using colloquial language, even if you're sending it via email.
Relieving Letter – Format, Definition, Importance, Example, and More
Resignation Acceptance Letter Template
Resignation Acceptance Letter Example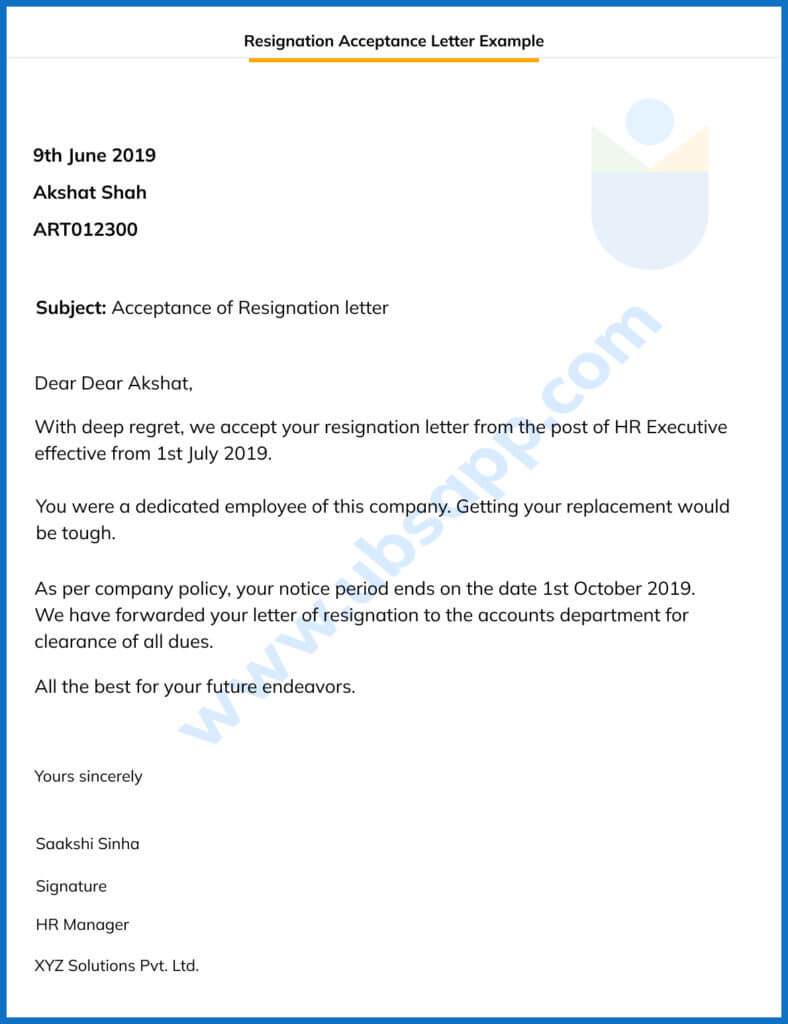 Wrapping Up
A resignation Acceptance Letter is a letter that informs the employee about the acceptance of their resignation. It is important to respond to the letter of acceptance of resignation as it helps you keep the record for future reference and it also informs the employees about their last date in the organization. Writing these letters frequently is a time-consuming process, so to help you with the same, we have a solution.
Ultimate Business Systems (UBS) is a complete HRMS software solution that assists organizations in creating resignation acceptance letters and other HR-related letters such as Job offer letters, job confirmation letters, Internship letters, authorization letter, appointment letter and relieving letters, among others. Not only that, but we also provide our clients with a live editing function that allows them to customize HR letters to their specific needs.
UBS is a one-stop shop for HRMS software in India, with features such as payroll management, and employee onboarding. HR letter production, and employee onboarding. Please contact us to schedule a live demonstration of our product.
Checkout this Blogs: Avoid tireless onbloarding process | Payroll challenges | Types of Payroll | Stay Organized