Has your employee ever asked you if you are willing to provide a recommendation letter? If Yes, then you might be wondering how to write a recommendation letter that could help the employee impress the recipient.
A positive recommendation can carry weight in a candidate's job application. So, it is crucial to write an impressive letter of recommendation in order to support their candidacy and secure a great offer.
In this blog, we will discover what a recommendation letter is, the reasons why you need it, how to write one, the format, and examples. Read further to grab the necessary knowledge about the reference letter.
What is a Recommendation Letter?
A letter of recommendation also known as a reference letter is written by someone on behalf of the applicant. This is written by a person who can vouch for the applicant's professional performance. This letter is typically sent to the hiring manager who is considering a candidate for employment.
A recommendation Letter can help round out an application. These letters offer insights into an applicant's professional qualifications and qualities like curiosity, integrity, or leadership potential. Typically written by a manager or a co-worker, a Letter of Recommendation, often known as LOR can help a candidate give an edge over their competition.

Why Do You Need a Recommendation Letter?
Below are some of the reasons why you might require a reference letter:
When an employer requests a job reference letter, they're searching for some kind of reliable confirmation that you are who you say you are in your application.
When it comes to hiring someone for a job, the fewer chances and risks that businesses take, the better. Not only is it time-intensive to hire someone, but it is also costly to lose one. According to Gallup, the cost of replacing one person ranges from half to two times their annual compensation.
Similarly, if you're going for a scholarship or graduate school, a letter of recommendation can demonstrate your dedication and work ethic as a student, ensuring that the benefactor, school, or institution's investment in you will not be wasted.
Now that you know the need for reference letters, learn how to write an effective one. Let's get started!!
How to Write a Job Recommendation Letter?
Before you start writing a reference letter, make a list of strengths and collect examples of how the candidate excels in his roles and responsibilities to perform his/her job.
1. Make a List of Strengths
When you sit down to write the recommendation letter, think what are the qualities that have impressed you about the candidate you are recommending. Come up with at least three unique qualities that differentiate that candidate from others. 
2. Gather Examples to Support those Strengths
Then, think of concrete examples of how the person exhibited these traits. Is he, for example, trustworthy? If that's the case, how has he shown it—by having flawless attendance? Or, if she is detail-oriented, did she demonstrate this in her monthly reports, which were consistently error-free?
3. Start Writing Your Letter
This step would be significantly easier once you have gathered the strengths of the candidate along with the examples to support those strengths.
There are many HRMS Softwares in India that provide easy-to-use HR letters. What you need to do is just download the templates, edit them and they are ready to be provided to the candidate. Next comes the tips for writing an impressive and efficient Reference letter also known as a Reference Letter.
Tips to Write a Reference Letter
1. Gather the Details
Request the individual you're suggesting to provide examples of the skills, abilities, and experience that will be particularly useful in the job for which they're seeking. If necessary, get a copy of the job description and their résumé so you can double-check that your memory is accurate.
2. Review Examples
Before you write your own letter, look through some sample reference letters. Make sure your final product appropriately portrays your colleague's strengths and talents by customizing it.
3. Proofread and Edit
Proofread your final output with a trustworthy colleague, giving careful attention to the spelling of company and personal names (of supervisors, coworkers, etc.).
How to Format a Reference Letter?
Each organization has different requirements for the recommendation. Make sure to ask the recommender to let you know if there are any specific requirements. In general, a LOR can be divided into the following sections:
Date

Name of the Recipient

Title of the Recipient

Address of the Recipient

If possible, address the addressee by name (Dear Ms/Mr).

Begin the body of your letter with a personal introduction of yourself and your relationship with the applicant.

What makes the candidate a good fit, according to your recommendation? Give particular examples of abilities or qualities that are appropriate for the position.

Include a personal narrative or example about what it's like to work with the candidate. Include any workplace or interpersonal abilities you've seen them have.

Closing: Give a summary of why you think this person is a good fit for you.

Information about how to contact us: Give the recipient your email address and phone number so they can contact you.

Signature
Above were the basics of writing a Reference Letter. Now let's see the template and the example of an impressive LOR.
Recommendation Letter Format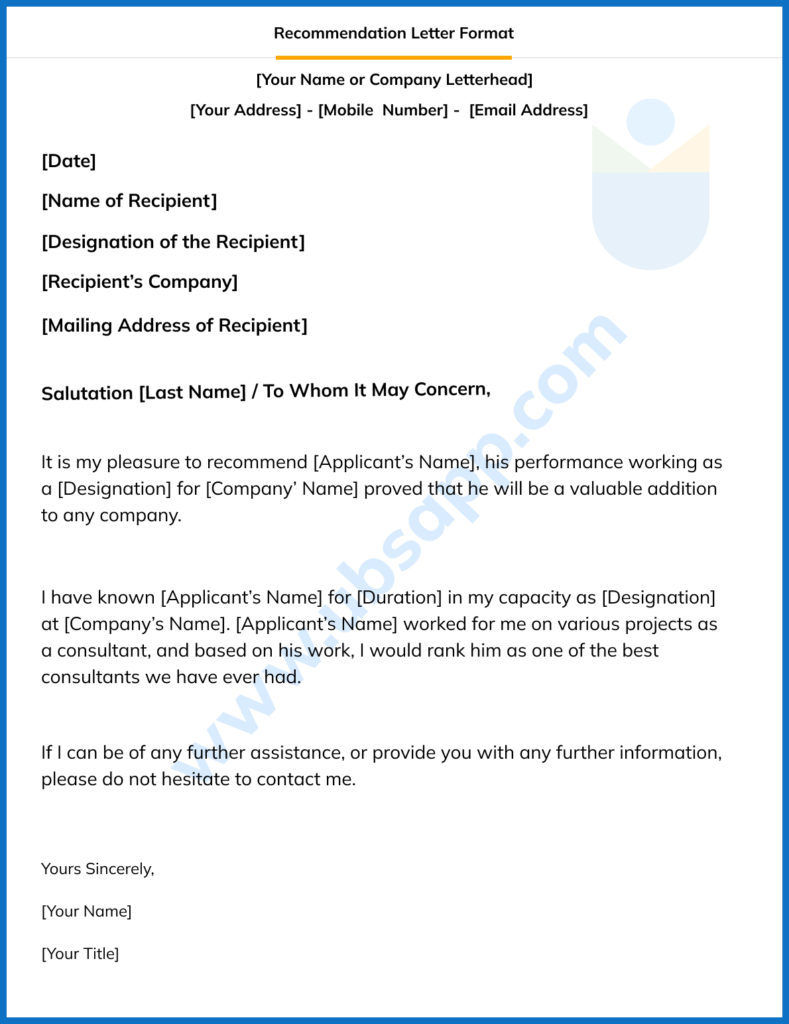 Recommendation Letter Example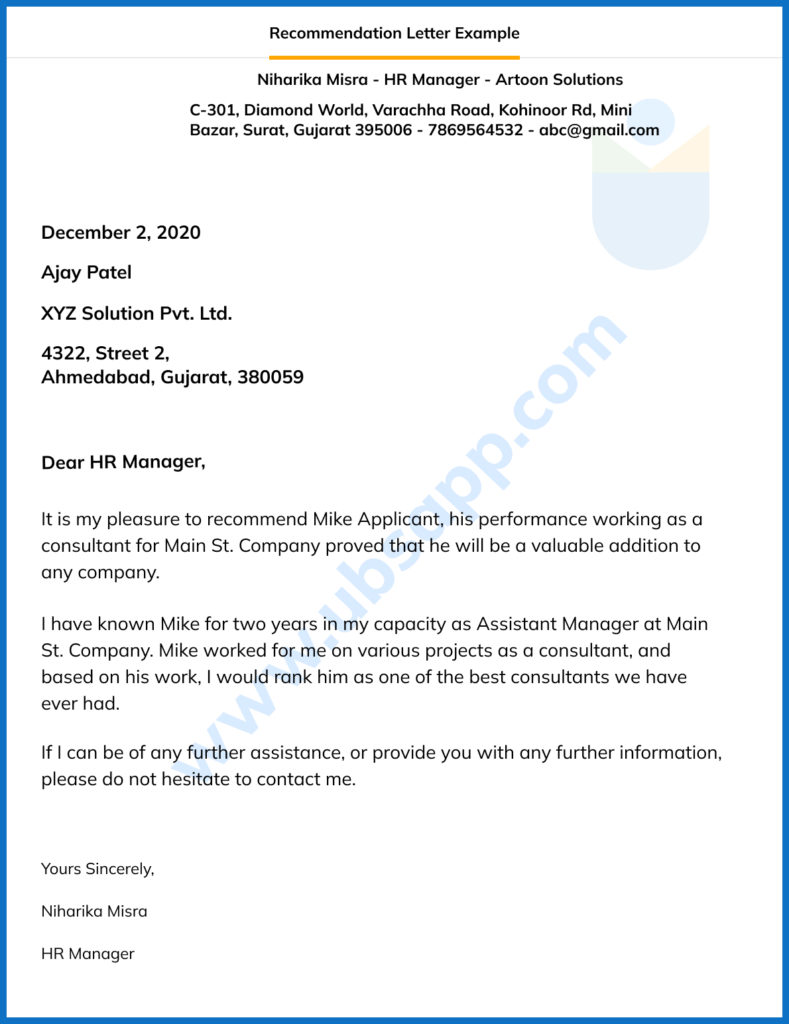 Conclusion
Chances are that you'll be asked for a letter of recommendation by a candidate looking for a new job. This is particularly true when a candidate is planning to leave your organization and requires your support to recommend him/her to his/her new organization.
Above mentioned points will help you write a recommendation letter for your employee. However, if you want to save your time from writing reference letters repeatedly for different employees, we have a solution for you – Ultimate Business Systems – The best HRMS Software in India.
We are the number one organization providing users with the live editing template for various HR-related letters like offer letters, application letters, appraisal letters, relieving letters, and more. 
Not only the HRMS Software, but UBS is also the best Payroll Management Software, PMS with an in-built chat feature that you can use to interact with your team members. Book a free demo and onboard your organization soon to leverage the multiple advantages.