Person – A word derived from the Latin word "persona". It is the word that is used to describe the mask worn by an actor during the play.
In this play, the actor wore the mask as he/she had to act on behalf of someone else, some other character in the play.
You might be wondering how the word person relates to an Authorization Letter. Well, we have the answer.
An Authorization Letter, also known as an authority letter works very well in the same way. For educational procedures, legal or medical undertakings, or indulging in corporate or financial transactions transparent, this letter is used almost everywhere.
This blog will provide you with all the information about the authorization letter, including templates and samples to help you get started.
Let's dive deep!!

What is an Authorization Letter?
Giving authority to someone to perform on your behalf in an official matter is a critical process.
You cannot just simply say, "Hey! Can you please do this for me?"
In some situations where you want someone to do your work on your behalf, you have to create a well-written document for the authorization process.
You might need an authorization letter when you are sick and want someone else to take over your duties.

You might need the letter of authorization when you are sending someone else to pick up your crucial documents on your behalf.

When someone is traveling on your behalf.

Allowing someone to take charge of your bank account.

Or you want someone else to take charge of your business, etc.
The cases can be many but the format and idea of writing a letter would be the same.
According to the definition, an authorization letter is a legal document that allows a third party to act on behalf of the person writing the letter.
Putting it simply, writing an authority letter means you are legally allowing someone to act on your behalf.
When you do this, you are directly responsible for the actions that take place. Therefore, make sure that you are authorizing the responsibility to the person of trust.
A letter of authorization must contain all the necessary information in a precise yet humble manner. Let's see why this letter is important: 
Importance of the Authorization Letter
An authority letter is an important business document. Do you know why? Here's the answer:
Gives Credibility to your Word
A written official document verifies and legitimates your words.
Let's take an example of the authority letter. You are sick and granted the responsibility to your colleague to take over your work for a specific period of time.
Now, in this case, you just informed him/her and he/she just accepted it, as per your company structure.
If anyone objects, you can show them the letter to avoid causing any further problems.
When you authorize someone to perform your task on your behalf, and they accept it, they are also responsible for the actions that take place. In case of any mishap, they can directly be tracked in PMS and held accountable for the same.
Let's say, you are busy with some major task and send your junior to collect some important documents on your behalf, and give a letter of authorization for the same. On the way, your junior loses the document.
In this case, that person will be directly responsible for the loss. Now suppose the authority letter was not given, you would be held responsible for the loss and will have to pay compensation. 
A claim is made in a letter of authorization, and the signer is located beneath the claim. Both parties must sign the document. As a result, it has legal significance.
Such a letter can be utilized as evidence in court if and when a legal issue develops.
When you create a letter of authorization, you should clearly include the recipient's name, the date of the letter, and the tasks you are giving them permission to carry out.
Therefore, the document can be consulted to verify if they go above or under what they were permitted to do in the future.
Talking about details, what are the details that should be covered in the authorization letter?
How to Write an Authorization Letter? (Structure, Format, and Tone)
When you write an official letter, framing the structure is the first step. The structure of the letter is crucial because, with an improper structure, the message of the letter might not be properly delivered.
types of letters of authorization – there are two types:
One is used when you know the recipient and it is addressed to them specifically, and the other is a general authorization that permits someone to act on your behalf as needed.
Structure and Format of the Authority Letter(Specific)
Your full name (Single spacing)
Your address (With the ZIP code)
Date (DD.MM.YYYY)
Recipient's full/formal name (Include the right title i.e Dr, Mr, Mrs, Ms, Hon. etc)
Recipients' address
Respected,
Include the person's name, account number, or another form of identifying verification at the start of the letter before granting them permission to carry out the task.
Then succinctly explain your decision to assign the assignment to the named individual. (Here, you should explain why you are granting permission to someone else.)
Name the responsibilities that the individual must carry out on your behalf. This is done to prevent the agent from abusing their authority and doing more or less than what is permitted. 
Thank you for enabling someone to take on chores that were initially yours and end the letter on that note.
Yours sincerely,
Your full name
Signature
Structure and Format of the Authority Letter(General)
To whomsoever, it may concern
Your name, the name of the person you are granting permission to, and the justification
Thank them and provide your contact information in case they have any questions.
Thank you
Your full name
Authorization Letter – Tone
A letter of authorization should be official in tone because it is utilized in formal operations.
To make a stronger statement and serve as powerful proof, it is mostly typed and printed rather than handwritten.

Rather than being demanding, the tone should be authoritative. Instead of saying "Jack will execute my job," you might say "I hereby give authority to Jack to perform XYZ duty on my behalf."

The body should be brief and unambiguous. Keep your explanation of your absence brief. Use no more than three lines to present your point. Additionally, avoid becoming too intimate.

bring up a CTA. Always include your contact information in the note, just in case. Keep in mind that even after delegation, you are responsible.
Authorization Letter Format
Authorization Letter Example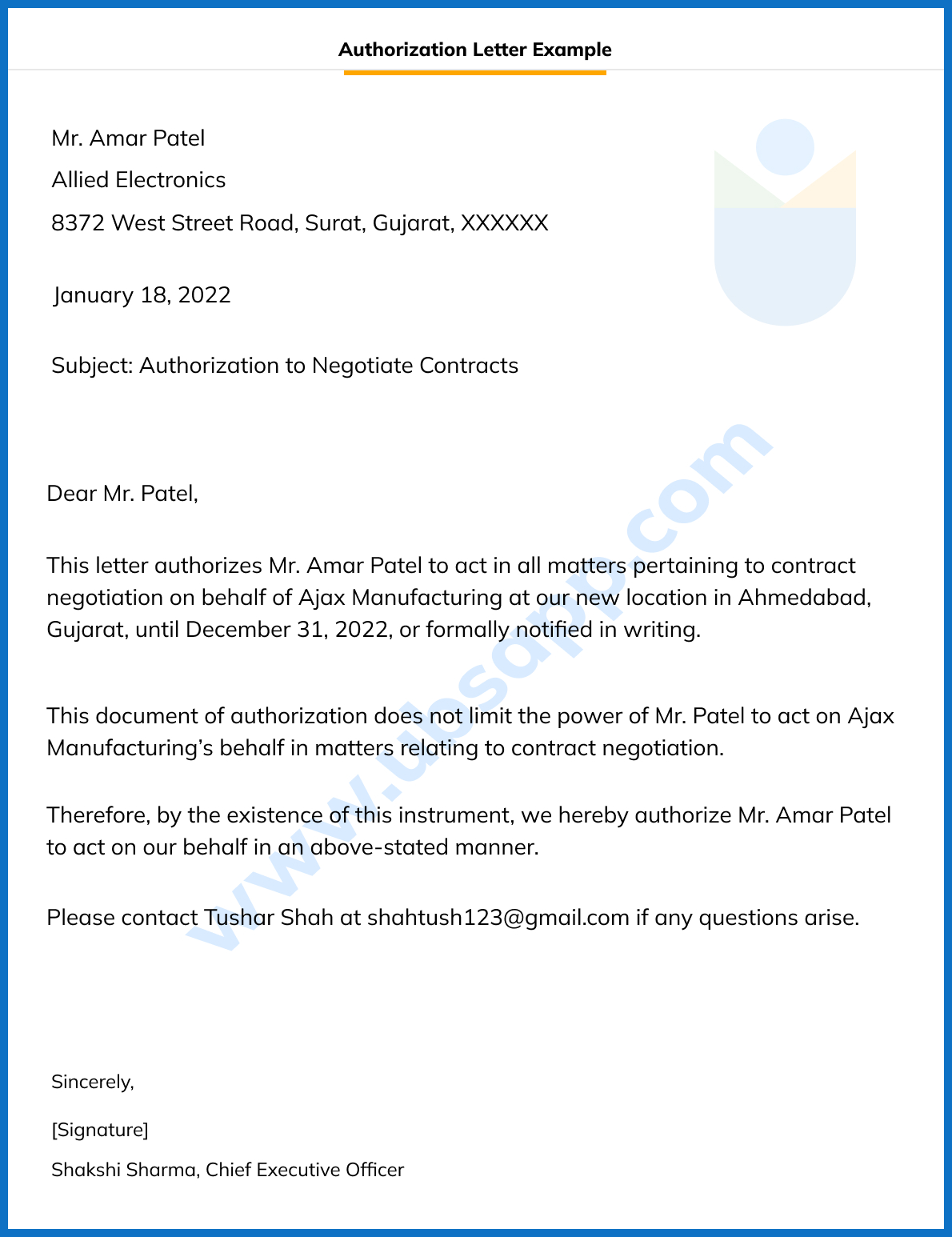 Conclusion
Now that you know what an authorization letter is, what if we tell you that your next letter can be a smart and quick document with new-age-appealing features?
UBS HRMS Software allows you to organize information into workspaces and folders, bringing all of your information together in one location. For writing your HR letters or other HR documents, you can pick from more than 300+ pre-designed templates for example: behavioral Warning letter, Unauthorized absene warning letter , suspension letter ,demotion letter , duty negligence letter and etc.
Your entire team can collaborate intelligently with the help of UBS HRMS Software, for more paperless work in business and get a seamless onboarding.  Using UBS HR Toolkit, create edit papers from anywhere in the world. Moreover, you can adopt UBS tools like payroll and project management to enhance employee efficiency and productivity.