Introduce new colleague by engaging with them from the very first day. From onboarding to training to work culture, your new hires want to feel comfortable and ready to contribute to the goals of the company. Employee email Introduction letters can be a great way to welcome new hires into your team. 
Introducing the new employee can help provide the information to the team, making them relate to the new employee and create a positive work culture. If you are an HR Manager or a team leader, learning how to write a letter of introduction or how to answer an introduction email can help you ensure smoother onboarding and transition for employees joining your team.
What is an Introduction Letter?
It refers to a letter or introduction email that is used to introduce a new employee to the entire team or the organization as required. Consider a new employee introduction email sample  is the most formal way of providing the information of the new employee to the essential individuals eliminating the unnecessary need to meet them in person.
Importance of New Employee Introduction Email
The purpose of a new employee introduction email to colleagues  is to inform your current team members about a new joinee's starting date, their qualifications, achievements, and hobbies.

How do you Make your New Employee Feel Welcome?
Stay connected with the employees in between accepting the job offer and their first day of joining in very authentic way.  Doing this makes the employees feel that you are happy to have them onboard and discontinue their job search – after all they still have a lot of leads for their current job search.
Send the Start Date Information in Advance
Send your benefits information, employee handbook, and new employee orientation contents to the new employee in advance. This way they can read everything in advance and know about your company and concentrate on the onboarding meetings once they start.
This helps the new employees ask questions during onboarding and get the email introduction response rather than reading the endless documents.
Give Early Access to Systems
Consider offering the new employee early access to your employee intranet or wiki, your online manual, and email so that they can become more familiar with your organization and culture. You can use email to communicate with the employee in the weeks leading up to their start date.
This also allows the new employee to adapt more rapidly to their new work environment, which is a good thing. You want the new employee to feel productive and helpful right away.
Provide Early Access to Products
Allow new employees earlier access to your items so they can become comfortable with your work, but this is only important if your website isn't totally informational. You'll want to exchange websites, photographs, and catalogs in the case of massive manufacturing. In the case of technology, you'll want to provide links to download and practice utilizing your goods for your new employee.
Tips for Writing New Employee Introduction Email
Consult the New Hire Before Writing the Letter
Before writing the introduction letter for the new hire, always ask them if there is any information they need to convey to the team.
The new employee introduction email should not require a number of pages. One page is enough to inform the team about the new employee. Include a short and informative subject to make sure that the purpose of the letter is made clear.
You can add the most recent or most relevant instances in the email if the new employee has substantial qualifications and work experience. This will help you keep it short while simultaneously giving your staff useful information.
Encourage a Positive Welcome
One of the main goals of sending an introduction letter for a new employee is to assist your present employees in making the new team member feel at ease in their new workplace. You could want to include a sentence in your Subject line, usually at the beginning or finish, asking for your employees' help. If a new employee has little expertise in their position, having their coworkers openly express support and mentorship can frequently make them feel more confident.
New Employee Introduction Email Format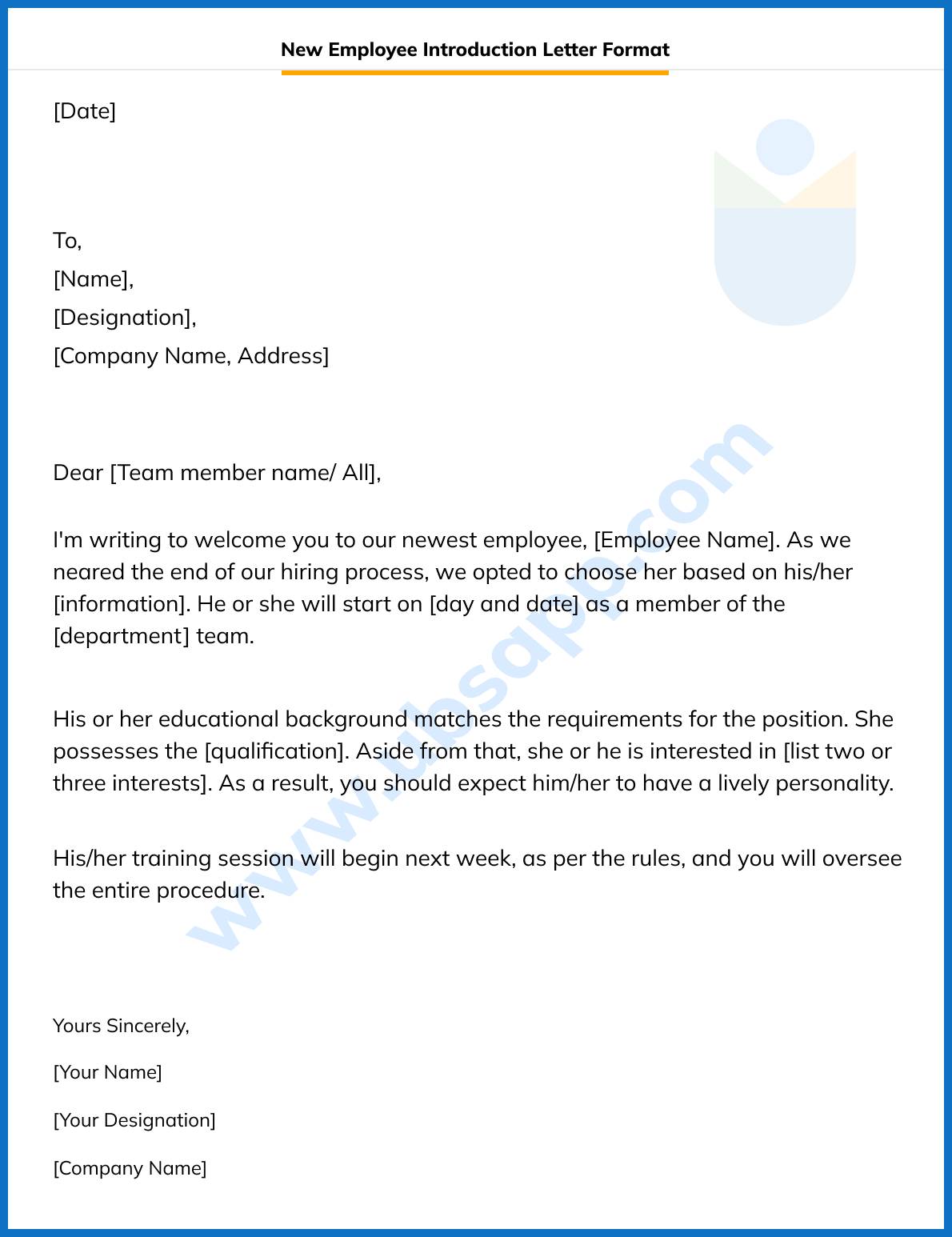 New Employee Introduction Email Format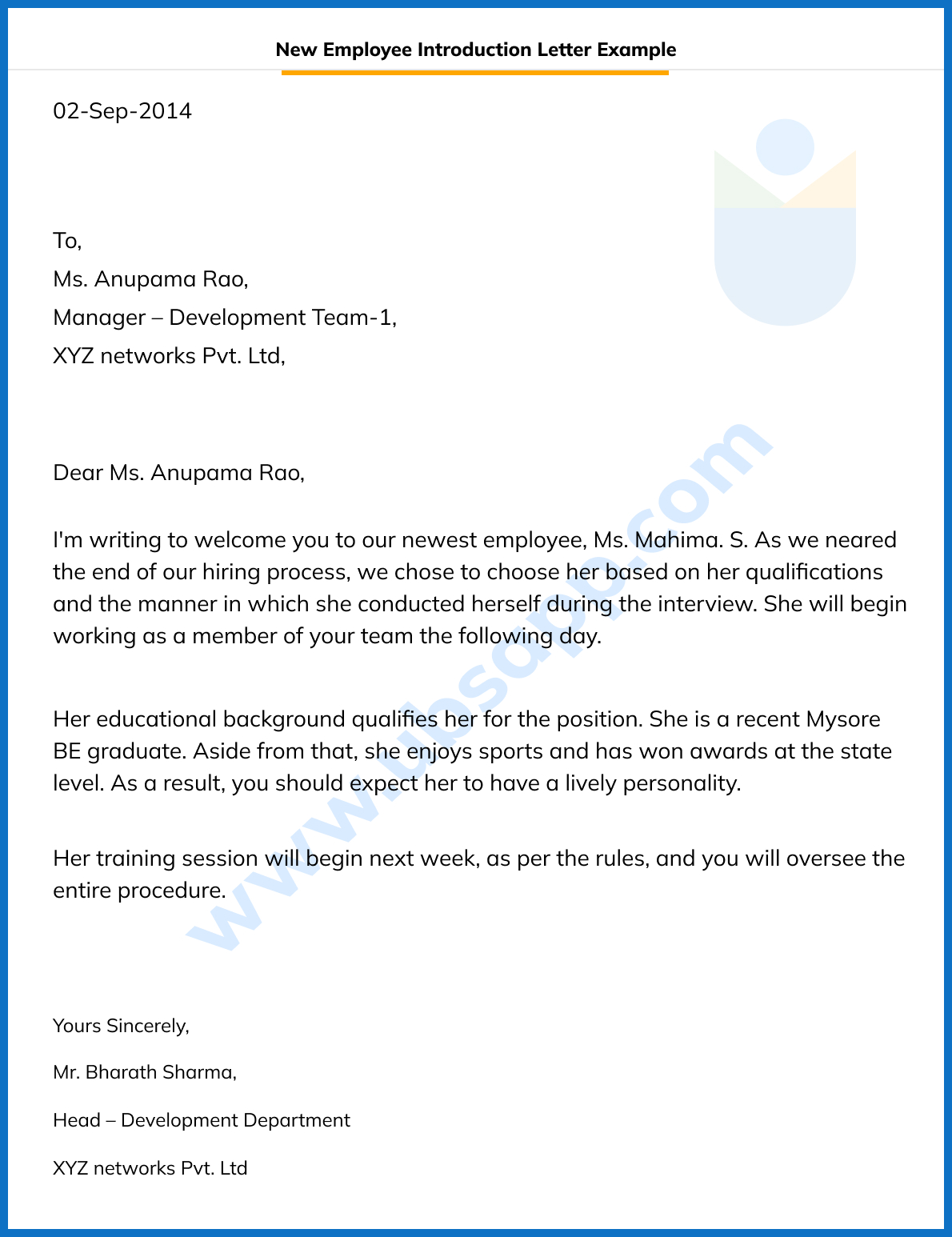 Conclusion
It's not tough to welcome a new employee. Just introduce new employee email It only takes a few minutes of your time to make your other employees aware of the new employee's expertise and competency. Make a point of mentioning that your recruitment team has uncovered a winner.
The investment in a welcome letter will pay off handsomely in terms of employee satisfaction and retention. Download free New Employee Introduction Letter from the leading HRMS Software India – UBS. Not only the HR letters, at UBS, you can also get access to free and verified HR documents. Check other documents like policy change letter, new hire probation letter & employee query letter for more information regarding letter. Get in touch to integrate the most efficient HRMS Software in your company.
Read Related Articles:
New Employee Announcement Letter – Learn How to Write
Policy Change Letter – Format, Meaning, Tips, Examples, and More
New Hire Probation Letter – Format, Definition, Content, Template, Examples
Employee Query Letter – Format, Meaning, Tips, and Examples
Best Proven Ways and Practices to Manage Employee Onboarding and Offboarding