You understand how important it is to attract and retain good applicants, especially in these times of severe talent competition. Despite this, statistics suggest that 40-50 percent of new employees quit within the first three months. A poor onboarding experience is cited by many of the new hires as the reason for their dissatisfaction. Although a welcome letter may appear to be a minor component of the onboarding procedure, it is an important aspect of the overall process. And typical welcome letters are a thing of the past; in today's recruiting process, prospects and new hires expect to be welcomed, if not celebrated, before they even start working.
Let's look at what a welcome letter is, why it's necessary, and what you should include in welcome letters for one for your new hires. At the end of the article, you'll receive a welcome letter template and examples for the same.
Let's get started!!
What is a Welcome Letter?
A new hire welcome letter is a document that you present to new hires. New employee welcome letters or emails introduce key team members and provide basic information to prepare the new employee for their first day on the job. Rather than producing a unique letter for each new hire, many firms utilize a template for all new workers that can be rapidly updated to match the demands of the new employee's role and department.
If you are an HR looking for such Welcome Letter templates and other HR Letter templates, we are here at your service. Ultimate Business Systems is the best HRMS Software in India offering the collection of all the HR-related letters and other documents under one roof i.e., UBS HR Toolkit. 
A new employee's welcome letter makes them enthusiastic for their first day, prepares them for orientation, and provides important first-day information. It should be tailored to them, with specific reasons for their employment. This type of letter is also known as a new employee orientation letter.

Why Is Providing a Welcome Letter to New Employees a Necessity?
Making new employees feel welcome makes them feel better about their decision to work for you and speeds up their integration.
We understand that we only get one chance to make a good first impression. Candidates acquired their initial impression of your organization during the recruiting and interviewing process, but now that they're employees, their continued impressions will be based on how valued they feel once they've joined. Those impressions will either actually confirm their opinion that they are a good fit for your company.
In so many ways, a warm and heartfelt welcome letter with the proper tone pays dividends.
It's informational 

Reinforces company culture 

Makes them feel they are the part of the inner circle

It establishes the tone for the collaboration.
What to Include in a New Hire Orientation Letter?
Welcome letters can be brief and straightforward or lengthy and intricate. The length and content of the letter will be determined by the letter's objectives. Some businesses use the welcome letter to congratulate new employees and inform the date and time of onboarding, while others use it to provide links to vital company documents, onboarding forms, and other resources.
In your welcome letter, include the following information:
A welcome greeting

Your name and your job title

Basic must-know information

Reminding the employee of his or her start date and time
These are some of the elements you could include, but they aren't required:
Onboarding or orientation schedule

Names and positions of immediate coworkers

A typical day's schedule

Onboarding forms can be found here.

Links to the Employee Handbook

Employee tools and resources can be found here.
How to Write a New Employee Orientation Letter?
A welcome letter can be written in a variety of ways. The steps to consider when writing a new welcome letter are as follows:
Step 1: To get the most attention, start with the company's letterhead, name, and email address.
Step 2: Make a note of the date.
Step 3: Express your gratitude to the recipient.
Step 4: Write a warm welcome note and include some background information about the organization.
Step 5: Learn more about the company's accomplishments and its responsibilities to it.
Step 6: Give them a rough concept of what to expect on their first day (where to go, who to contact, business dress code, and so on).
Step 7: Provide your contact information in case they have any questions or concerns.
Step 8: Express your eagerness to collaborate with them.
Step 9: Conclude and close by expressing a desire to meet them.
Above are the basics of a Welcome Letter. Now, let's take a look at the template and examples of a Welcome Letter.
Welcome Letter Format
New Hire Orientation Letter Example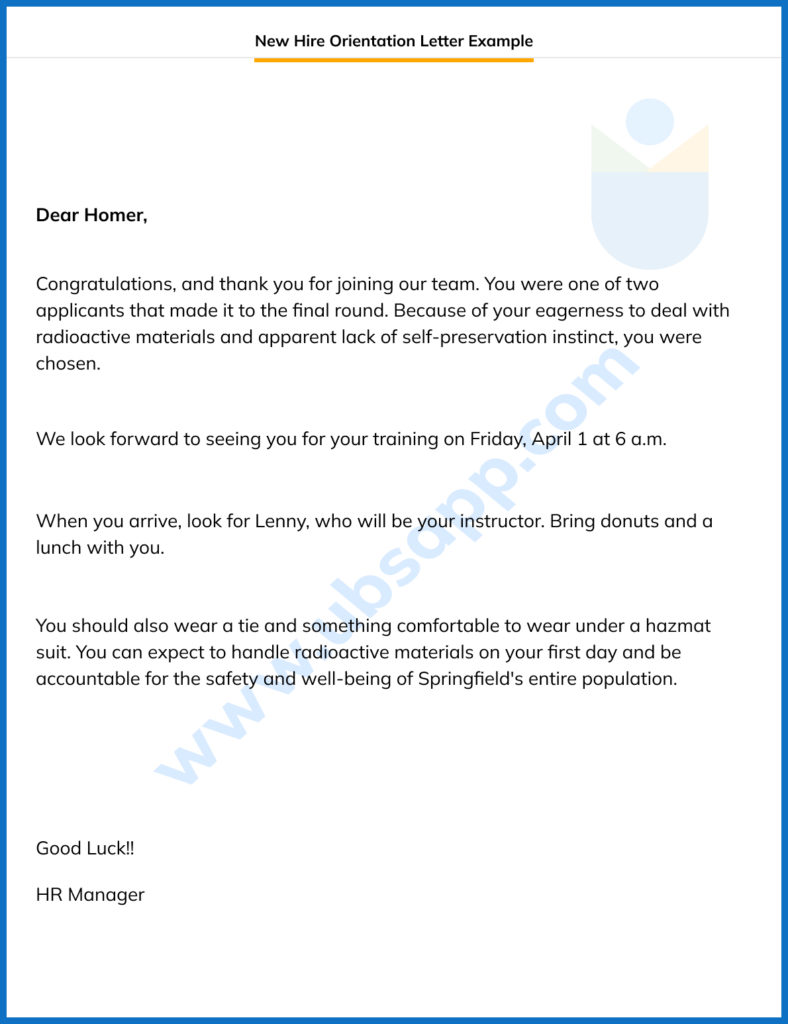 Conclusion
Now that we've completed the welcome letter, there are a few things to keep in mind before sending it. They are as follows:
Proofread and revise your work.

Request the legal advisor of the company to read it again.

Make a list of your expectations from them.
Avoid recurring letter writing every time you hire a new employee for your organization. Ultimate Business Systems is a solution to eliminate recurring writing. We are the leading HRMS Software offering HR Letters, HR Forms, and HR policies all under one HR Toolkit. Not only HRMS, but we also offer Payroll Software, Project Management systems, and Ultimate Chat Software as per your requirements. Contact us now to know more or book a live demo to see how UBS HR Software works.