Automation is no longer a new concept. We can see automation almost everywhere today.
Even businesses across different sectors are acquiring massive advantages by embracing HR automation lately.
Automating HR has significantly changed routine processes such as hiring, training, payroll management, and much more.
Without a doubt, automated HRMS software has redefined the HR industry, thereby driving efficiency as well as effectiveness in workplaces.
Looking at the popularity of HR automation, it is vital for every HR and employer to know everything about it.
In this blog, we will discuss the same.
So, let's start exploring!
What is HR Automation?
HR automation utilizes systems to streamline, automate, and optimize tedious and labor-intensive operations such as employee overseeing, payroll processing, and time & attendance tracking.
Automating human resources processes saves HR executives time and energy, aiding them to work on more value-adding responsibilities.
5 Ways Automation Can Impact Human Resources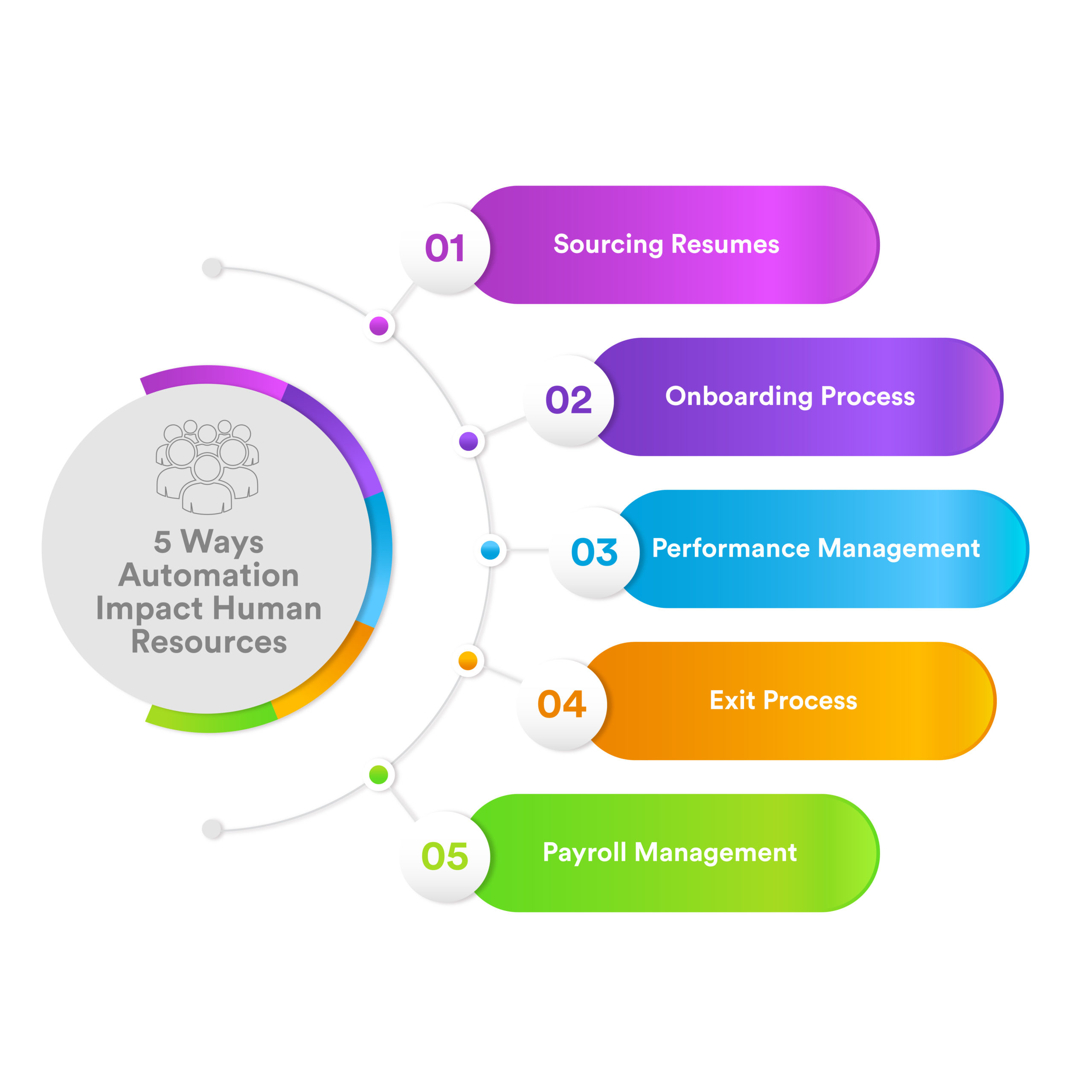 Here are the top five ways automation can affect HR: 
1. Sourcing Resumes
Gone are the days when companies have just one or two recruitment portals to find talents.
HR managers now use platforms such as LinkedIn that show job ads to both passive and active job seekers.
Most importantly, such platforms also show profiles similar to one's search. This way, companies can get best-fit candidates without much effort.
All in all, automation simplifies the whole sourcing process for HRs and employers.
2. Onboarding Process
In a traditional office setup, HRs ask new employees to carry all their original documents as part of their joining process.
However, organizations now use employee onboarding software to simplify things for both HR managers and new hires.
With such systems, employees can upload the necessary documents and forms to a centralized location without relying on anyone.
As a result, employers can ensure a great employee experience instead of mundane filling up forms.
3. Performance Management
Without a doubt, managing the performance of employees can be challenging without an efficient system in place.
No matter how much effort HRs and leaders put in, a good number of employees would always be unhappy.
This is the reason why more and more businesses are relying on automated performance management systems today.
Such systems not just streamline the whole performance management process but also improve transparency in the workplace.
With Project management System, employers can support every decision with real-time and relevant data.
Just like the onboarding process, employees share a host of data while leaving a company.
The information collected in exit interviews of employees helps to acquire a clear understanding of the leadership skills of managers, top reasons for turnover, types of employees leaving, and more.
Storing and managing such data is necessary to take preventive actions in a timely manner.
Now, automating exit interviews and surveys can not just save time but also aid companies in storing vital data for a longer period of time.
Managing and processing the payroll of employees is no longer a difficult task.
Today, HR managers do not have to juggle with papers or jump from one spreadsheet to another for payroll management.
Payroll can now be processed in just a few clicks irrespective of the size and spread of data, that too, along with compliance requirements.
All thanks to the automation for freeing up HR bandwidth.
Top 3 HR Tasks Companies Must Automate to Stay Ahead of the Curve
Here are the three HR tasks every employer should automate to keep their companies up to date:
1. Onboarding 
Like a wise man once said, "first impression is the last impression". 
The primary goal of onboarding is to aid new employees in getting acquainted with the organization and their roles.
Now, auto-generation of important emails and notifications will keep new hires updated about training sessions and other vital events.
Additionally, automating the onboarding process will also cut down initial hiring expenses, enhance employee retention, speed up the entire process, and eliminate human errors.
2. Time Tracking
Let's face it, manual time tracking can be highly tiresome for HR professionals.
Usually, HRs spend most of their valuable time tracking their employees' work time that they do not get time to do other critical tasks.
An automated attendance and time tracking software can help HRs save time, money, and resources.
Such systems provide a more accurate picture of the time spent on a particular job, thereby allowing employers to pay for the hours that were actually worked.
3. Approvals 
Manual approval of reimbursements and expenses typically requires paperwork. It even leaves room for miscommunications as well as back-and-forth emails. 
Inaccuracies and inconsistencies also frustrate managers and HR executives equally.
Fortunately, automated HR management software allows hassle-free communication as well as tracking.
With HR software, key staff can see when a request is submitted or approved, keeping the process moving effortlessly.
3 Things to Keep in Mind While Shifting to HR Automation
By now, you may be convinced to embrace HR automation. If you are, keep the following points in mind for a smooth shift: 
1. Have a Clarity
HR should always evaluate and understand the gaps between business aspiration and business readiness.
In simpler words, HR must first consider its requirements concerning automating processes. For instance, if you need automation for the whole performance management process or just grievances.
2. In-House or Outsourced Technology
Secondly, it is equally necessary for HR professionals and employers to wisely decide whether the technology should be built and managed in-house or handled by an external party.
Be it an in-house system or outsourcing, employers should choose an option that empowers their workforce and offers the ability to customize.
3. Ensure Alignment with Business Requirements
Last but not least, employers should also ensure whether their business is ready for the changes of human resources automation.
To acquire maximum productivity and quality of talent, HR automation must be linked to the overall business outcomes.
Summing Up
Even as the business world is slowly walking towards recovery after the Corona pandemic, one change that will remain here is automated technologies.
HR automation is, undoubtedly, the key to driving organizational growth in the times to come.