Leave Management, an integral part of day-to-day business operations might appear to be a simple task. Indeed, it is simple if you have few employees. As the business grows more people join your team, leave management becomes hectic and ultimately complicated with more people.
That is why a leave management system is a worthy addition to your business to manage risks and avoid costs. In this article, you can get to read all the aspects of an online leave management system that benefit your business.
What is Leave?
Leave means simply taking off from work after informing the management in a formal manner and sometimes even in an informal manner.
Leaves are the days that every working professional is entitled to and paid for, besides holidays. Paid leaves are part of employment benefits offered by the companies. The number of paid leaves varies according to the different company policies.
Mostly the paid leaves are carried forward or encashed every year until the person is employed with the same organization.
What is a Leave Management System?
In a company, there are employees taking days off from work naturally due to reasons like marriage, health issues, vacations, or any other personal or emergency reasons. These leaves can be paid or unpaid depending on the company policies. Employees typically receive a set number of paid leaves from their employer, which they can utilize as needed. Once these leaves are over, if the employee still takes time off, they will not be paid. The term "leave management system" refers to the entire process of taking and managing leaves.
A significant duty for HR in the organization is providing leaves to employees and monitoring the number of leaves taken. Using this leave management system, an employee can request leave and the appropriate parties can approve or deny those requests, allowing accruals, carryovers, and payroll calculations based on leave consumption to be made.
Why is Leave Management Important?
Leave Management is important because of plenty of reasons. Read further for few of the most crucial ones:
Without a record of leaves taken and still unused, the leave policy is difficult to enforce or put into practice. Additionally, paid time off is a benefit for employees, and they have a right to be aware of their remaining leave credits and rights. Keeping track of things is beneficial when it comes to a full and final settlement. Employees that use mobile-first HR solutions can also be kept up to date on their leave statistics in real time.
For management and compliance, this is crucial. Without time off management software, it is challenging to obtain an overall picture and identify the trends in absences and attendance. Businesses that use one can quickly view the data and, if necessary, take corrective or preventive action.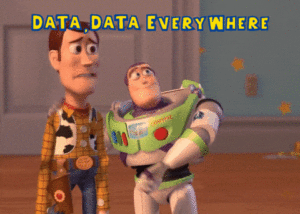 Employers need to keep a track record of the leaves they have given to their employees. Not because it is good to have, but because they would need the records for compliance purposes. In most companies, managers keep a register for this purpose, but now with the advancements in technology, tracking leaves is made easy with a leave management system.
Clearly, if there are no track records of the leaves taken, you will end up paying for the unrecorded leaves and uncompleted work hours. Above all, there can be disagreements between employees and employers which is not good for the brand image.
Smooth Business Functioning
While leaves are given for the benefit of the employees, it is the responsibility of the approver (generally the manager) to ensure that those leaves do not become the reason for business losses. A good way to ensure this is to check the calendar/schedules and approve or reject the leaves accordingly. Clearly, if so many people would be on leave from the same department on the same day, the work would be impacted.
Benefits of a Leave Management System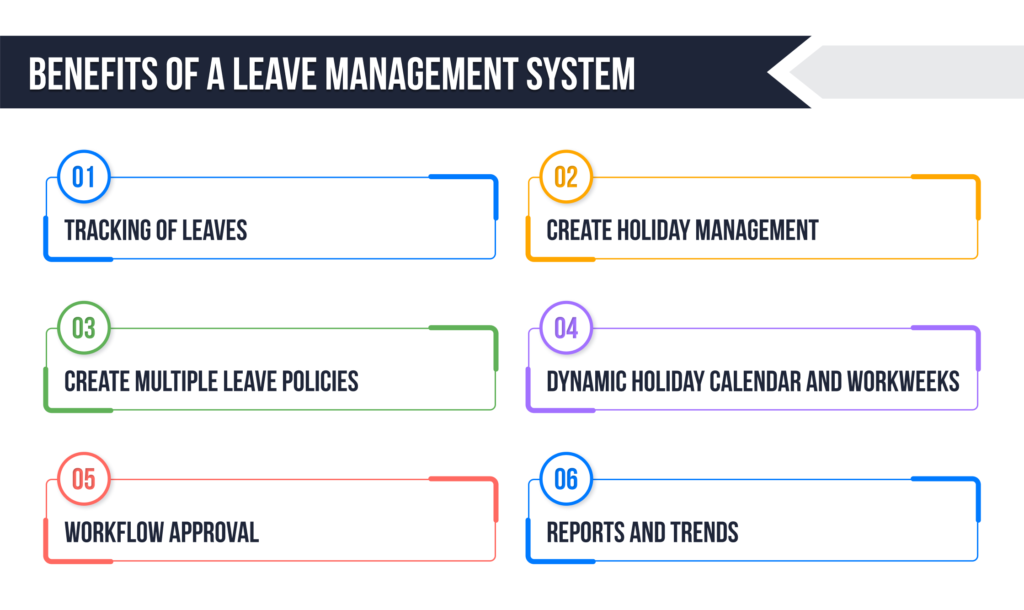 Tracking of Leaves
One of the most basic features you will see in such systems is that the employees' leaves can be easily tracked by the managers and even the employees can see their remaining and used leave balance. This feature is useful to both employees and employers.
Create Holiday Management
Another important feature that an online leave management system offers is that it gives a context on the leave patterns to every individual in the organization. This helps to prevent the development of dependencies, plan a day or a week by knowing who is in or out, coordinate vacation planning, and also makes employees self-responsible for the efficient operation of the team and increases employee participation and engagement.
Create Multiple Leave Policies
A few of the benefits of this software include the ability to create multiple leave policies. A company may have different branches in different countries, people working in different regional shifts, etc. Therefore you might need different time off policies to make room for everyone and this is what creating multiple leave policies will help you do.
Leave Management System – Factors to Look at While Choosing One
Dynamic Holiday Calendar and Workweeks
As we said earlier a company might have employees working in different countries or different shifts, you might need multiple holiday calendars. The leave management in HRMS Software will help you map different holiday calendars and workweeks depending on the company policy and work shifts of employees. 
Workflow Approval
Leave management is an easy task where the approval process forms are an essential part of the system. The Leave Management System will typically feature the following to set the approval workflow:
Correctly arranged hierarchies ensure smooth approval of leave requests even in the event of management absence.

If an employee doesn't have a direct reporting manager, who should approve leave?

The total number of approved and denied leaves for a single employee.

The most leaves that can be approved concurrently.
Reports and Trends
A leave management system's reports or trends function displays the overall organizational employee leave behavior. The organization can determine how well the person is working for it by using these reports.
How Does the Leave Management System Work Effectively?
The absence of leaves should be tracked in advance. It will develop a good solution and hence planning annual leaves and holiday cover would become easy.
A leave management system is successful when it increases corporate results and demonstrates productivity. In order to provide a good solution and consistent process in the organization, it must be implemented. The major area to investigate and set a deadline for is proper leave and holiday planning.
Track Leaves Effectively
The minimal solutions must be eliminated in order to maintain correct records of leave and holidays. It locates a comprehensive answer and pays quickly. They provide the ideal answer and experiment with a fresh method of managing leaves.
Additionally, it will reduce errors and make the leave management hassle-free. The underpaying system for holidays may have an impact on employee relations.
Check the Leave Balance
When a leave of absence is taken, the system will note it and notify the team members. You need to have more self-assurance and faith in the company if you are receiving the necessary leave benefits. It offers a steady, quick approach and executes more opportunities.
The absence of your employee will be recorded in the system. Employees may view their leave balance and easily request time off thanks to a contemporary leave management system and biometric attendance system. Transparency is displayed up front, and automation may occur.
Access the Leave Patterns
The finest thing to observe in the leave management system is decreased absenteeism. Additionally, it will lessen stress and unplanned days off and help people balance their professional and personal lives. You can utilize this tool, which will provide you full access to the leave patterns.
As a result, it provides an immediate fix and a far deeper comprehension of the systems going forward. A good leave management system operates efficiently and is capable of utilizing every opportunity to work. It encourages collaboration among the staff to develop effective plans.
UBS – A Comprehensive HRMS for Leave Management
The leave management system is an excellent illustration of a feature that operates in the background with little to no visibility into the main business operations. However, it is a fundamental optimization that offers so many advantages that working without it eventually seems unreal.
If your company is still using legacy methods for leave management, it is imperative that you convert to an automated system like UBS HRMS leave management system in order to automate and effectively track leave. It can assist with analyzing leave patterns and resolving problems as a full leave management system. Connect to explore more.