As per the digital transformation, Enterprises are discovering new avenues for growth. So, many industries especially IT, are adopting a different kind of work model, just like the Hybrid work model, remote work, Work from home, etc. More industries are adopting digital workplaces and hybrid models to hire more and more talent and make work more flexible.
As per The Economic Times, more than 50% of companies offer work-from-home options after Covid-19.
There are some other options available too, as they are providing hybrid work, remote work, etc. Digital workplaces have transformed the way people collaborate and knowledge work. Only talent and knowledge matter, not the working location. More companies are reliant on technology for remote working.
Still, the debate is on, and that's why the hybrid model works the best. That provides both options and employers can hire as per their requirements.
The Update On Hybrid Work Model
After Covid-19 most of the companies preferred remote working or WFH for around 1 year. However, flexible work arrangements changed many things and come with more challenges. This turned everything the wrong way up.
The new remote or WFH arrangements brought uncertainty. It comes with several questions like-
How Will I Manage All The Employees Remotely?

How Will Monitor Their Work?

How Will Keep Them Motivated?

How Will Maintain Work Productivity?

Why Shouldn't Both Options?
So, remote work is updated to hybrid work by considering the key drivers of productivity. So, the Hybrid work model means- with WFH or WFO you just need to concentrate on cooperation, coordination, focus, and productivity.
Perks of Managing Work Life Balance with A Cloud-Based Software
What Are The Benefits Of Hybrid Working?
Hybrid work comes with distinct benefits for all. Here are mentioned some: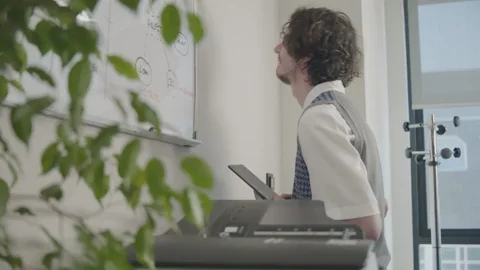 It Can Help To Redefine Collaboration
The hybrid work model involves a digital presence as well as a physical presence. Employees do not need to be in the same room to brainstorm however sometimes physical presence is important to work together. A hybrid work model policy helps to unite, engage, and support different teams. It helps to redefine collaboration, as anyone can collaborate with their PM or other higher priority with the adoption of modern technology tools.
It Can Help To Improve Efficiency & Productivity
In a hybrid model setup, there are flexible hours and a refreshing change of environments. It can give the employee the freedom to work anytime. That can help to increase an employee's focus, especially on their tasks. When your workers have more flexibility in where they work, they're more likely to balance their workloads as well. Hybrid teams can cash in on additional flexibility.
It Can Help To Improve Employee Work-Life Balance
When you actually have to stay home but wanted to work then what can you do? Working full-time from home or the office is distracting. Professionals believe hybrid work is important for work-life balance; you can work from home sometimes as well. It allows people to spend equal time on both duties.
It Helps To Reduce Operating Costs
Companies will need less physical space with fewer employees within the office. It helps the company to reduce operating costs. It also saves money for workers by cutting down on travel costs.
Welcome Kit For New Employees – Create Onboarding Experience Like Never Before
What Is The Difference Between Hybrid And Remote Work?
The main difference between remote and hybrid work is that the hybrid work model allows the employee to interact with the co-workers in the real world whether it is working from home or working from the office, whereas remote work allows more flexibility and freedom for employees to work from anywhere.
Remote Work
Working from anywhere, as digital innovation has introduced digital workplaces is called remote work. With the increase in technology, it became easier for people to collaborate remotely. Remote work is gaining prominence in numerous industries across several businesses.
Hybrid Work
Hybrid work models vary from business to business. Employees are offered flexible work hours whether they are working remotely or working from the office. This technique is depending on the business requirements.
How Can You Make The Hybrid Work Model Successful?
There are some challenges to working with the hybrid work model, But to tackle the challenges hybrid work model, the primary step is to realize how to work with it.
To make the hybrid model successful, you should hire talent globally. If the pandemic has opened the gates of benefits, then it's to be hiring globally. Finding local talent may face difficulties, so hiring globally can help you to get the best talent at your organization. Hybrid work models help to fill this gap by allowing you to recruit people from anywhere.
Give Employees Goal To Finish
Purpose and goal are important things in any company. Help your employees to work with the bigger picture. When productivity comes into the picture, the employee should work hard. Regardless of where the employees are working from, you would like to give them a clear connection.
Set Limits On Endless Meetings
Ensure every meeting, regardless of its frequency, is as short and to the point as possible. The hybrid model doesn't mean you need to do endless meetings.  If the meeting is scheduled then this discussion should be clear, healthy, and clear.
Consider Digital Transformation
Companies working with WFH policy during the pandemic panicked as they struggled to attach their employees. Remote workers need tools to speak and collaborate as teams, so hybrid can help with both and update with the digital transformation.
13 Best Employee Engagement Fun Friday Activities to Break the Boredom
Employee health is very important; it is not just a term to draw in potential employees. A hybrid set-up would require workers to return to the office on certain days in a week that ensure they feel safe. That means you have to consider regular sanitization, mask compulsory, cleaning, etc.
Give Importance To Employee Communication
Healthy communication is essential to understand problems and give a real-time solution. Consider all employees to be an active part of the discussion and listen to their problems with the intention of solving them. Listen to them and give them solutions even if they are remote workers. Employees who feel heard and valued are more likely to remain with their organization.
Provide Employees with Time Flexibility
Giving employees time flexibility helps them to do important household work. Allowing employees to line their own work hours as per their schedule helps them to work-life balance. For employees with eldercare or childcare, coming to the office at the least times is not easy, so provide time flexibility and help them to make your HWM successful.
All in All,
Going forward with the employee productivity should matter. The hybrid work model is quite the place your employee work from. Employees and employers alike will still benefit from this hybrid work new schedule. You can make stay track of employee attendance and shifts, streamline payroll processes, manage performance, and do such a lot more all at the click of a button if you go for the hybrid model with the latest software like UBS. Book A Free Demo At UBS!