When it comes to staffing, many businesses overlook the importance of the leave management system. This is ironic because they usually call in the human resources department when their business struggles with staff absences.
The HR manager already has a lot on his plate, and attendance can make his job more stressful and unproductive.
Workers, of course, are not machines, and they require rest to remain productive. The firm's responsibility is to ensure the employee's comfort and well-being.
The leave management system comes into play at this point. It has supplanted chiefly previous methods of attendance control in recent years. So, in this blog, we'll see the advantages and disadvantages of the leave management system.
Advantages of a Leave Management System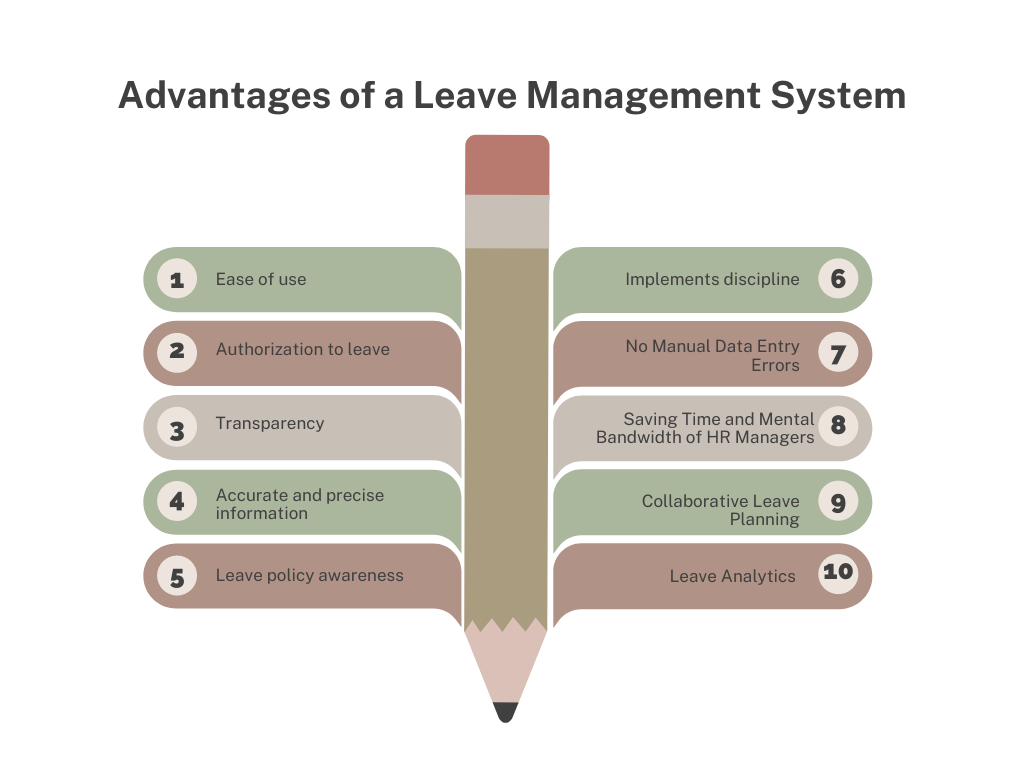 Some businesses are hesitant to use a leave management system to save time and effort. However, they don't realize that the leave management tool is simple to learn and that all it takes is a presentation or a meeting to teach employees about its tools and benefits.
Documentation, reporting, and tracking can be carried out much more efficiently with leave management systems. The leave management tool makes it easy to see who works and who doesn't, from anywhere in the world, without having to open books or spreadsheets.
Furthermore, the majority of the top personnel management solutions are incredibly intuitive, so they notify managers if there is a staffing shortfall or if team planning errors arise.

Both employees and management will benefit from this functionality.
Executives may see how many workers have taken leave for a specific period at a glance. It aids in the approval of new applications and is also highlighted in the event of rule infractions.
Several services are available in the cloud, so employees can request them even when they are at home or on the go.
Managers have access to the phone, iPad, and other devices as well, so they can approve or disapprove requests at any time.
Transparency in the workplace is becoming increasingly important in today's businesses.
Employees may examine their holiday history and balances thanks to a company-wide distribution of all information to employees and their management.
Management also shares this information, which makes the acceptance and refusal of vacation excursions more transparent.
Accurate and Precise Information
An online leave management system can provide accurate records of workers' vacation time and days taken, vacation trends, and vacation balances quickly.
To simplify the process, a single step is performed instead of painstakingly browsing vacation record sheets.
The simplest method to make accurate payrolls is to integrate a Leave management system with payroll software.
The systems are set up to display the number of allowable leaves as well as the duration required prior to applying for scheduled or lengthy leave. Workers can consult the leave policy from time to time before requesting holidays or taking gap years if the employer allows it.
Business leave rules and local labor laws are closely followed by leave management systems. Managers and staff alike can use the service without prejudice.
Providing simple access to personal leave history and accessibility can help a company enhance consistency and discipline.
As a consequence, better worker attendance is likely, as workers will be well aware of the repercussions of failing to follow the company's leave policy.
No Manual Data Entry Errors
Manual data entry processes are subject to mistakes and falsification. The software makes the process of applying leaves and adjusting quotas straightforward after HR administrators set up leave policies and approval protocols.
In modern absence management systems, the process of creating a leave request is as follows:
The employee should check the team's vacation schedule to see when they can take time off without affecting the team's productivity.

The employee requests time off.

The supervisor and other decision-makers are alerted for permission based on the approval workflow.

The leave is approved or rejected by the decision-makers.

The leave balances are regularly generated.

HR managers can access analytical insights whenever they want. They can also be delivered on a regular basis to track staff absences.
With a leave management tool, an employee can request leaves directly, and the supervisor can approve or deny the request. The software maintains leave balances constantly and sends out team-wide reminders for leave announcements.

Saving Time and Mental Bandwidth of HR Managers
Complexities abound in today's manual leave management systems. As previously stated, the HR manager is responsible for tracking down and updating each employee's leave balances.
As the organization grows, the time it takes to process these requests will increase.
The typical Human Resources Manager in the U.s.a. earns $105,358 per year, as per Salary.com. If an HR manager spends 7 hours per month handling leave requests and amending balances for a 50-person team, that's 84 hours per year. That's nearly two weeks of labor, which will set the company back $4500 for just one HR employee.
Collaborative Leave Planning
Self-service Employees can monitor their time and attendance in real-time thanks to HR leave management systems. They also integrate with programs like Google Calendars to display teammates' leave calendars.
This data enables employees to arrange vacations ahead of time and supervisors to schedule shifts correspondingly.
We've all been in situations where we've had to work our tails off to make up for a team member's absence. No one wants to work extra hours to cover for absent teammates, thanks to collaborative leave planning.
Any HR procedure may be leveraged to provide business insight and rich statistics once it has been automated. In this scenario, leave management systems are no different. HR managers can use staff and company-wide information to assess leave information and make informed decisions.
Business leaders frequently underestimate the cost of absenteeism and ignore the influence of analytics data on the bottom line. According to a survey conducted by SHRM,
The average cost of time off is comparable to 36% of an employee's annual compensation.
The yearly cost of handling FMLA leave for the employer was estimated to be around $10,000 and $19,999 by 27% of US participants. Dedicated staff time, outsourced fees, legal assistance, regular audits, and so on were all covered.
Disadvantages of Leave Management System
Customers can access the security risk leave management system across multiple devices, making it somewhat unsafe.
Data theft and hacking have arisen as severe threats to electronic data, necessitating a high level of protection to resist any disruption.
UBS software has evolved as one of those solutions that are highly vulnerable to extreme cyber-attacks and preserves the company's current critical information.
The cost of a leave management system is low; nevertheless, the changeover from paper-based attendance may require minimal time and resources, which may be a disappointment for small businesses.
Increased competition among service providers, on the other hand, may result in lower-cost, higher-quality software.

The installation process is relatively quick for a small group of personnel. However, if the number is large, the cost of engaging an IT specialist to manage the system will almost certainly be high.
After a more extended period, smaller businesses tend to break free from their current system and expand. For their small number of employees, they may have first chosen a simple leave management system.
The design should be able to scale with them as they grow. It's not practical for businesses to modify their systems every time their workforce grows.
To Sum up
It's usually a good idea to weigh the advantages and disadvantages of leave tracking software before selecting. For the most part, the benefits vastly outnumber the disadvantages. It saves time by allowing managers to concentrate on more important responsibilities.