As an HR Executive of an organization, you might have been asked by some of your employees for professional proof confirming their address proof. There are several reasons why an employee asks for such letters that include opening a bank account, passport, LPG gas connection, telephone connection, etc.
In such cases, you must know how to write professional Address Proof Letters for your employees. If you are also being asked to write an address proof letter, and you want to write a professional one, then in this blog you will get an HR Letter sample for address proof and also an example that you can use for creating a personalized letter with customized details.
What is an Address Proof Letter?
An address proof letter is a simple letter from an employer with all the personal and employment details of an employee like name, phone number, DOB, father's name, and address. The permanent address may not be required in the letter if your current and permanent address are the same.

What are the Various Uses of Address Proof letters?
Address Proof Letter, also known as Proof of Residency Letter has several uses for an employee. Below are some of the most common ones:
1. For Government Document Registration
While registering for most of the state or national government offered programs, like passport, TAX or PAN Card, visas, social security, Voter ID Card, green card, or other services; it is crucial to show address proof.
2. For Utility Services
If you want to avail of utility services like gas or water connection, electricity, telephone connections, one needs to show proof of residency letter.
3. Address Proof for General Service
It is often asked at places like cyber cafes, while applying for a driving license, arms license, etc.
4. Address Proof for Bank Needs
For opening bank accounts, loans, insurance, shares, etc.
5. Address Proof Documents for Passport
Also required for passport verification, visa needs, etc.
Address evidence is significant since it contains all of a person's vital information, such as their full name, gender, date of birth, and family facts such as their father's or mother's names. Proof of address can also be used to verify a person's identity. If a person is living in a PG or rented accommodation, he or she should request that the landlord offer a certified rental or lease deed agreement. The lease document will serve as an individual's temporary address proof.
A person's address proof is also essential for security purposes. All organizations require address proof in order to do the required verification of an individual same goes employee verification.
Probation Extension Letter – Format, Meaning, Reasons, and More
How Do You Write a Letter of Address Proof
1. Understand the Purpose
When an employee asks for an Address Proof Letter, you need to understand the purpose of the demand. Also, check if there are any specific requirements for the same. Oftentimes what differs is the signature, the signature from the different authorities is required without which the letter of address proof is invalid.
2. Create an Engaging Heading
The heading of the letter could be "Affidavit of Residency/Address Proof Letter/Proof of Residency Letter". Make sure that you place the heading in the middle of the letter with bold letters.
3. Date of the Letter
As it is the formal and professional address of a letter, make sure to use the numeric format "DD/MM/YY or you can also use it as "Month, Date, Year". Place the date on the left side of the corner. Consider if there is any specific requirement for the date.
4. Include your Contact Information
Contact Information should be placed on the left side. This section should include your full name, address, email, and phone number if required.
5. Address
Address the person with "To whom it may concern". If you know the name of the concerned third person, you can mention it.
6. Body
Now mention the purpose of the letter in the body and end the letter by showing the authenticity of the letter.
7. Closing Phase with your Name
In this section, you can write – Regards or Sincerely. Below that type your name, designation, and signature.
How convenient would it be if you get the ready-to-use, customized letters that not only eliminate recurring writing but also help you speed up the process and save a lot of time?
Ultimate Business Systems – an Ultimate HRMS Software is the solution. We offer an HR Toolkit with a broad range of HR Letters, forms, policies, and Job Descriptions ready-to-use by filling in just a few details.
Address Proof Letter Format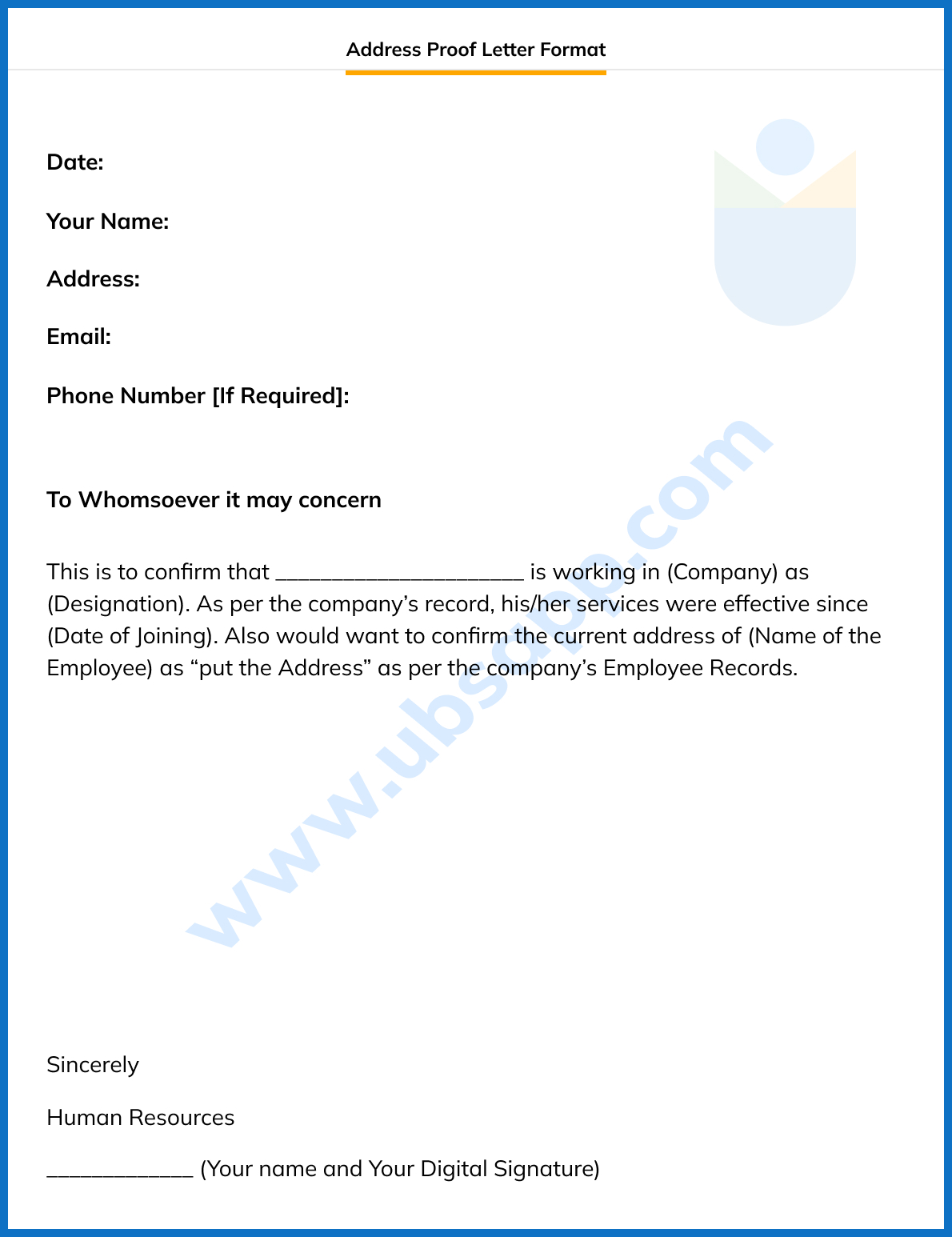 Address Proof Letter Example
Address Proof Letters at UBS
Address Proof Letter is asked by an employee from the company he/she is working transparently  in. These letters are generally used when you want to apply for any government services like passport, visa, TAX and PAN card, and more. Ultimate Business Systems provide these letters customized and free.
Why waste time writing letters over and again when you can obtain pre-written templates for your address proof letter and any HR-related letters including confirmation letters, Offer letters, experience letters, application letters, and more?
By collaborating with Ultimate Business Systems, India's number one HRMS Software, you'll have access to all of the relevant letters. All you have to do now is live edit, proofread, and distribute the letters to your staff. Isn't it convenient? If so, don't hesitate to get in touch with us so we can help you integrate this fantastic HRMS, PMS, payroll, and chat software into your company.