Termination of an employee, even though disturbing, is still a crucial part of an employer's job responsibility. Every employer has to face the unpleasant experience of terminating an employee in their professional journey.
However, the employer or the manager can change the way they approach the termination process. This process starts with the Termination Letter. Employers should focus on drafting a letter of termination that appreciates the employee's contribution, is concerned about their situation, and still conveys the message of the company.
So, What is a termination letter?
What is a Termination Notice?
A Termination Letter is also known as a Letter of Termination, disqualification letter, a notice of termination, termination statement, or letter of separation. This is a letter issued to an employee to inform them about their termination from the job. It contains the date of termination and the reason behind it.
Letter of Termination also includes other useful information like the next steps employees should take, whether they are liable for any compensation, and how they can collect their full and final salary and documents.

How do You Write a Termination Letter?
How do you write a termination of employment? Consider the following points to write one:
State the date of termination to the employee

Mention the accurate and detailed reason(s) for their termination.

Write the compensation and benefits, if any

Notify the employee that he/she should return all the company property immediately.

Take them through all the applicable and important clauses and conditions in their signed document.

Always remember to include the HR details, if they or their future company would need to get in touch.
Why is a Termination Statement Important?
As terrible as it is, there are important reasons for going out and receiving the termination notice:
It states the employer's justification for terminating the employee in detail, if necessary. If the employee receives a letter of separation that explains why they were fired, it will be more difficult for the corporation to change its story later.

A termination statement specifies the date of termination. It's crucial because there are many deadlines for filing wrongful termination lawsuits against an employer. Employers frequently allege that employees have missed a deadline and, as a result, are prevented from filing claims.

The termination letter refutes the employee's allegation that he or she resigned. Some businesses may claim that they did not terminate an employee and that the individual voluntarily left or abandoned their job. It's usually done for strategic reasons to avoid being held accountable. However, the employer cannot argue that the employee was never fired if the employee receives a termination notice.

Finally, while there is no legal obligation to write or submit a

letter of termination

, detailed and thorough termination notice can assist avoid instances where a previous employee claims they were fired without cause or knowledge.
What are the Reasons for Termination?
There could be many reasons why a company terminates its employees. Below are some of the most common reasons:
Damaging Company Property

Drug or Alcohol Possession during work

Falsifying Company Records

Insubordination

Misconducts

Poor Performance 

Stealing at workplace 

Using Company Property for Personal Business

Taking inconsiderate time-off

Violating Company Policy 
Job Application Letter – Format, Meaning, Writing Tips, and Sample
Types of Termination Letters
There are 4 types of terminations:
Voluntary Termination

Involuntary Termination

At-Will Termination

Mutual Termination
There are two other types of termination statements – with cause and without cause.
A without cause termination letter is issued when the employee is terminated due to issues related to the company. These issues include reducing the size of the company or change in the organizational structure. It is nowhere related to the performance and behavior of the employee.
A termination letter to the employee for unacceptable behavior is issued in with cause termination. This is when an employee is dismissed due to his/her performance or behavior. For instance, if an employee is chronically absent despite repetitive warnings, a company may issue a With Cause Termination notice.
Having so many types of letters of termination, it might be a bit hectic to find one in your database when required. Would you want a place where you can get access to all the different types of HR Letters and you just need to edit and download the termination letter format in word? Ultimate Business Systems – an excellent HRMS Software is the solution.
Termination Letter Format
Termination Letter Example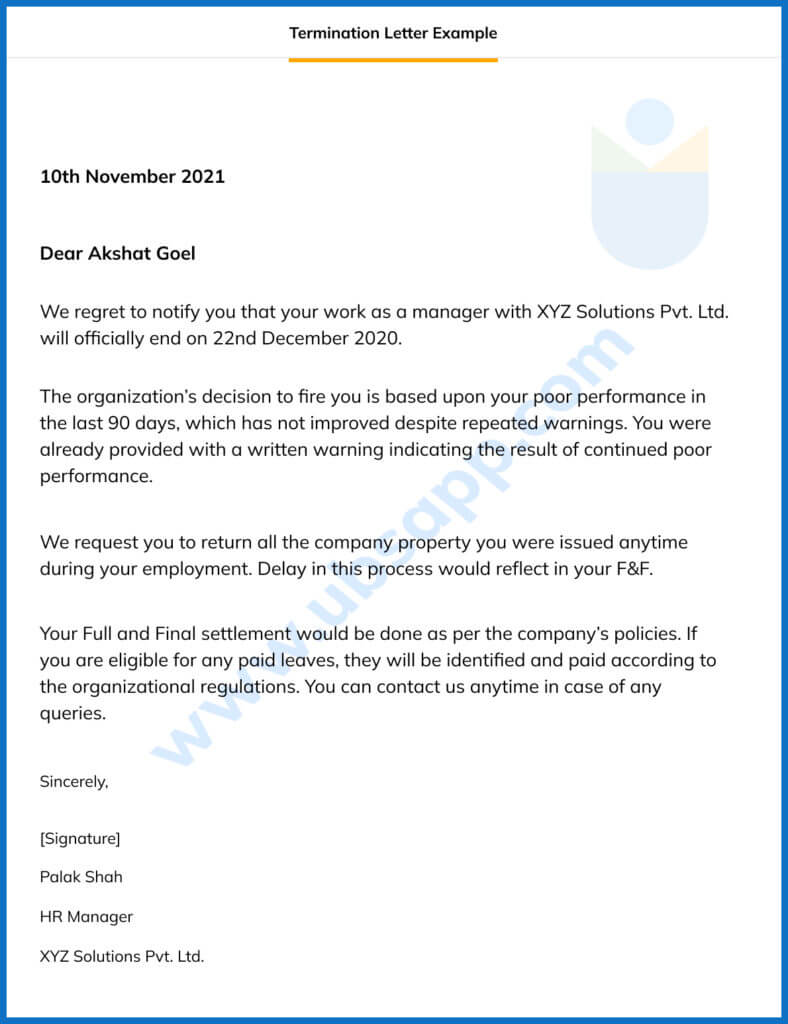 Wrapping Up
Termination is a crucial part of a company. When an employee is not performing well despite several warnings, the only solution is termination. A termination Letter helps you inform your employee about the termination and the reason behind it.
With a leading HRMS Software India, get access to all types of termination letters to employee samples, and other letters in just one place. We provide you with a lite edit feature for all the HR documents. You just need to click the letter, fill in a few details, and the ready-to-use letter will be sent to your email.
Get in touch with us to know how our efficient HRMS Software works.