Being a business owner and having multiple employees working in your organization, you might have seen some extreme talents putting effort into the growth of your business. To keep them working with the same dedication and passion, it is important to recognize their work where and when required.
An Employee Recognition Letter is a perfect way to thank your employees for their hard work and contribution to the company. Showing your team member, coworker, or senior manager that their contributions are being noticed is the best way to foster positivity and motivation in the employees.
What is an Employee Recognition Letter?
Employers can use an employee recognition letter to praise and honour their employees for their hard work or accomplishments. The idea is to show your gratitude for exceeding expectations and putting out so much effort in their occupations in order to encourage them to keep working hard.
There are three different kinds of employee recognition letters. Formal, semi-formal, and informal are all options. Coworkers usually write informal letters to employees, whereas officers or team leads write semi-formal letters. Higher-level roles, such as managers, send formal letters on a monthly, weekly, or yearly basis.

Why Offer a Written Recognition to Your Employees?
The short answer is that it feels great to be noticed.
Some managers mistakenly believe that in order to reward and recognize their employees, they need a large budget for presents and lavish festivities.
It's all about consistency when it comes to making individuals feel heard and appreciated.
Simple activities, when done often, add up to create a significant difference over time. And one of the kindest and most sincere ways to express gratitude is through a heartfelt handwritten note.
However, there are various reasons why a letter might be a good approach to express gratitude and recognition. Consider the following scenario:
The official work anniversary of an employee

Having accomplished a significant professional goal

Acknowledgement of commitment and dedication
Recommendation Letter -Example, Format, Meaning, Need, and More
The Importance of Letter of Recognition
A key phase in the employee recognition process is to write and deliver an honest recognition letter.

It is critical to send employee recognition letters in order to foster strong team relationships and a healthy corporate culture.

Recognizing your employees' efforts will boost their self-esteem and encourage them to work harder in the future.

These letters are an important feature of any employee recognition program. A good employee appreciation program may take your company's culture to the next level and help you cut your turnover rate in half.

This is why it's critical to make writing thank-you letters or emails a habit.
To help you save time, we have an efficient HRMS Software that has recognition letters and other important HRMS letters available with just a single click. Just click on the letter you want, fill in the blanks, provide your details, and you will get a ready-to-use letter on your provided email or phone number.
Recognition Letter Format
Recognition Letter Example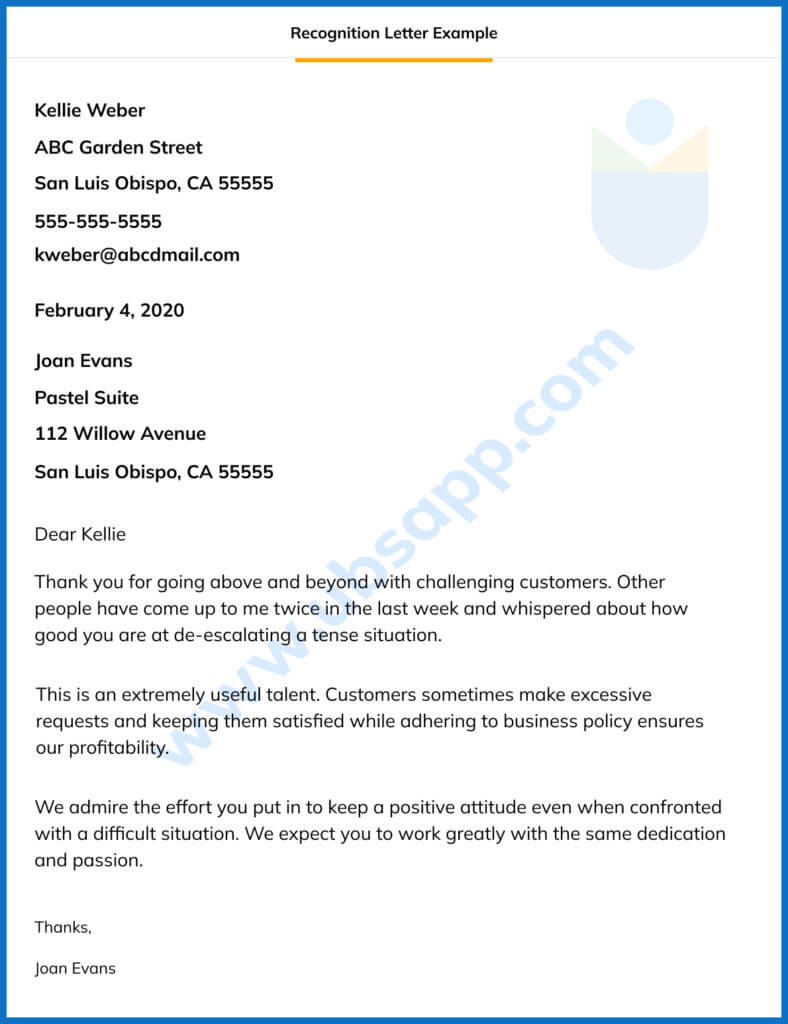 Wrapping Up: Tips to Write a Better Letter of Recognition
When it comes to employee recognition, there are a few things to bear in mind:
Make it unique: Not only should you congratulate the employee on completing the objective, but you should also recognize the steps he or she made to get there. People want themselves to be treated as unique individuals. What did they do differently from the rest of the group?
Stand by your words: Acknowledgements are crucial. However, if words aren't backed up by action, they become meaningless. Demonstrate your concern for your staff. This entails taking your employees' suggestions and complaints seriously (if and when they arise). Make an active effort to improve your team's working environment.
Recognize character: It's a wonderful feeling when someone sees and understands you as a person. Make sure to emphasize what makes them unique and special. These qualities include a positive attitude, a good sense of humour, and the capacity to think critically.
Get the customized HR letters ready by filling in just a few details on the UBS platform – leading HRMS software India. Get in touch with us, book a demo, and we will show you how we work. Not only HRMS, but we are also a leading Payroll and Project Management Software that helps smoothen the operations of your business.