A company lay off letter is an emotionally charged event especially when it is the fault of their own. What's even harsher is that companies have to issue a lay off letter to all the impacted employees to inform them about their terms of services for the company.
What is a Lay off Letter?
A Lay off letter is a letter informing the employees about their termination. This letter is used when the company wants to terminate an employee for reasons that were not caused by their own actions or performance. Reorganization, relocation, economic downturns, mergers, buyouts, and other external factors are usually the cause.
A Lay-off letter should clearly inform the employees about their lay-off, and brief the next steps regarding the company property, benefits, pay, and the last working day. It should also inform the employees whether it is a permanent or a temporary lay-off.
NOTE: If you are planning to lay off your employees, make sure to have your attorney review your lay-off plans and lay-off letter as well. If you are a company with 100+ employees, you will have to read the WARN Act before laying off the employees.
Importance of Employment Attorney During Lay off
Companies do lay-offs with the assistance of an attorney to ensure that their lay-offs are legal and non-discriminatory. Your lay-off letters should always be reviewed by the attorney who can help you to make certain that your lay-offs are kind, fair, legal, and above board.

How to Write a Lay off Letter?
Lay-off letters are the best way to communicate with the employees during lay-offs. If you are a human resource manager or an operations manager in the company conducting lay-offs, you can use the below steps to write the lay off letters.
1. Write Directly to the Employee
You can personalize your communication with the employee when you directly address them in the letter. Always ensure that the letters are reaching the correct individuals. Also, if you are planning to lay off multiple employees, use an autofill program to ensure that each team member receives the letter addressed to them.
2. Be Concise and To-the Point
The first sentence of your letter should state the letter's aim clearly. Rather than trying to soften the message, it's crucial to be forthright. Your team members may prefer a direct approach because it eliminates the need for them to make assumptions or try to decipher the message. It's fine to use language that expresses regret, but it should enhance rather than obscure the message. Include the exact day on which their layoff will begin.
3. Thank Employees for their Contributions
It is crucial to thank the employees for their time and energy, as it shows the company's gratitude towards them. It also helps you to inform them that the lay-off is not due to their performance. You can also thank them for the specific contributions they have made in their position.
4. Provide Information about Benefits and Pay
The employee must know when and how they are going to receive their last paycheck. It is the best practice to inform the employees about the termination of their benefits if they are eligible for some benefits. Also, add information about their health insurance termination date, and how their current time-off balance will affect their last paycheck.
5. Specify all Relevant Resources for the Employee
Links to the health insurance policy page for more information are among the relevant resources for the team member. You can also add financial assistance and unemployment benefits resources. You can provide separation documents with the letter or let them know when they should expect to receive it.
6. Include your Name, Title, and Contact Information
Include your contact information and sign the layoff letter with a professional closure. Including your contact information makes it easy for team members to communicate with you if they have any additional questions or comments. You can provide your company's phone number and email address, as well as an appointment calendar.
With UBS HRMS Software India, you can get access to all the relevant HR Letters, forms, and policies in just one platform and reduce your headache of preparing letters every time it is required.
Lay off Letter Format
Lay off Letter Example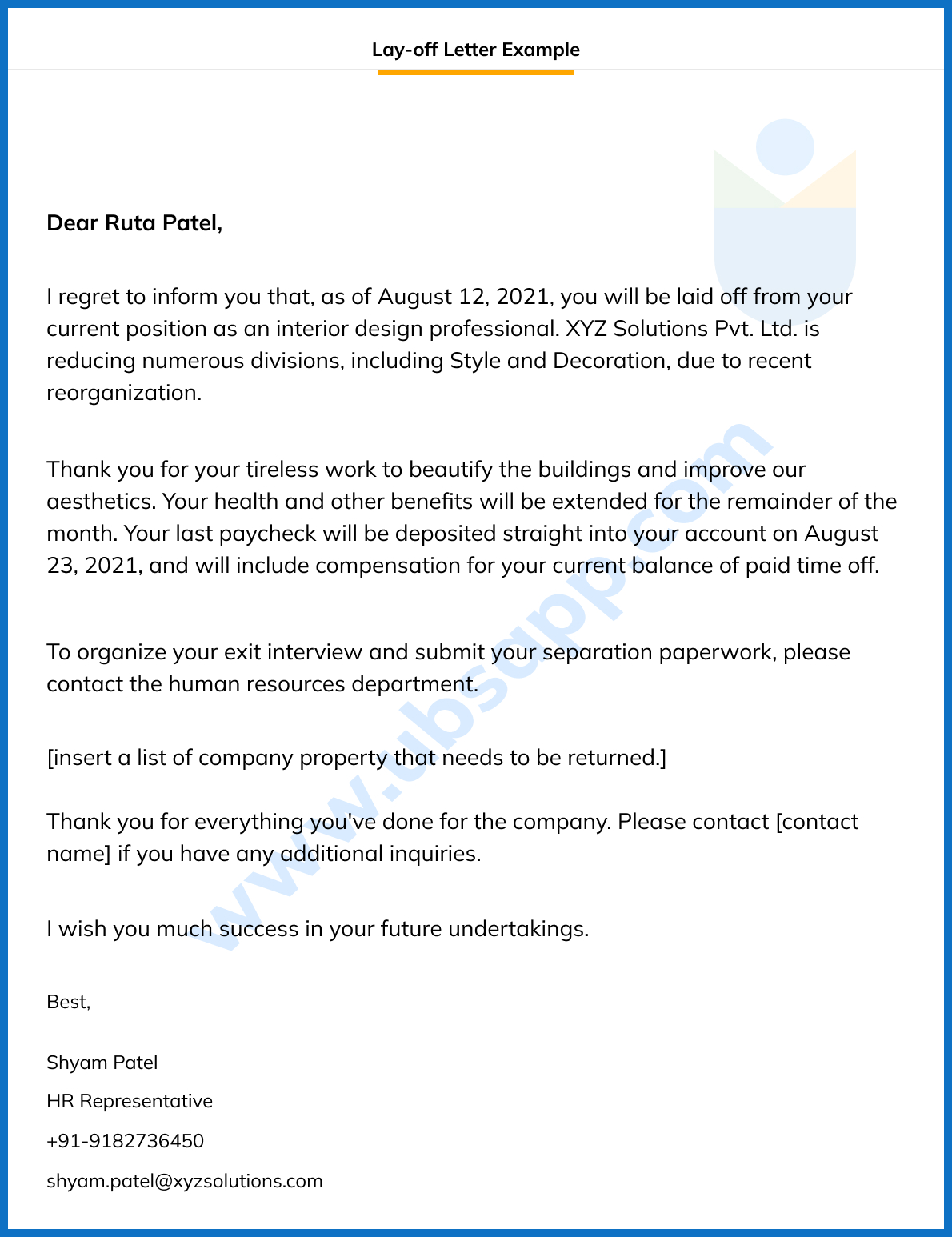 Conclusion
Lay-offs are heartbreaking, therefore, lay off letters should be kind and to the point. At Ultimate Business Systems, the customizable Letter templates will help you generate and organize letters for your company — for free!
Whether you need to draft polished lay off letters, appreciation letters, or confirmation letters, our customizable Letter Templates will help you generate and organize letters for your company – for free! Customize and publish any of our free confirmation letters, consent letters, cover letters, letters of recommendation, and more templates to get started. Your online letter form submissions will be immediately turned into polished, professional letters that are simple to download, print, and email.
You can customize any letter template using UBS's Live edit feature to meet your specific requirements. Get in touch with us to know more about India's Leading HRMS Software.