An internship is the kickstart of a professional career for a lot of people. And successfully completing an internship feels like an achievement for the candidates. But this experience could be dampened if the candidates did not get the Internship completion letter. So, here's how employers or HR managers can make a well-written letter.
This blog also contains an editable readymade internship completion letter template for you to reduce your HR workload. You can live edit it, customize it, and send it across to your interns once they complete the internship. Sounds simple, right?
So let's get started with the basics of internship experience letters.
What is an Internship Completion Letter?
Many companies in India conduct internship programs to offer opportunities to students to work in different fields and to help them develop their professional careers. Students can apply to any organization according to their interests.
Once the internship is completed, the HR or the employer provides the students with an experience letter for the work they have done during the internship. This letter acts as proof that the student has completed the internship and has the basic corporate knowledge to work on a job.
Internship helps students to develop skills, get ready for the corporate world, and show them the career path.
In some places, internship letters also work as an experience letter that shows that the employee has done the said work.

Is the Internship Completion Letter the Same as an Internship Experience Letter?
Yes, an internship experience letter is exactly the same as an internship completion letter.
Both these are different terms used for the same HR letter. Both the letters serve the same purpose. Both letters are used as proof that the student has completed the internship with the company.
Why is the Internship Completion Letter from an Employer Important?
This internship letter is very important because it works as proof that the student worked with the company as an intern. It shows the time duration they worked in their company and what were their responsibilities.
In the future when the candidate goes to apply for a job, they have proof that they have proven corporate experience and they know how to work and conduct themselves in a professional work environment.
This internship completion letter is frequently used by HR or the company as a starting point to comprehend the candidate's prior experiences. HR may use this as a reference to assess the intern's character and/or work ethic because it also includes some information about the intern's soft skills and other characteristics.
Do's and Don'ts of an Internship Experience Letter
It may appear unimportant. Interns are, after all, conceivably at the bottom of your organizational ladder. However, it's equally critical to recognize that they are just beginning their careers and are frequently looking for direction.
This letter could have a significant impact on the types of employment they land in the future because it demonstrates that they established a solid foundation for themselves through their previous work.
Following are some considerations you must make when writing this letter.
Do's:
Be very clear and specific and give details wherever possible. 

Keep it genuine. Don't keep on talking about how you think they will do an amazing job with the new role. Here, being crisp and short is the way to go. 

Lastly, do not forget to add your contact details so that the candidate or the future employer can get in touch with you for any reason. 
Don'ts:
Grammatical errors are a big NO!!!! There is nothing worse than showing the other person that you don't care.

Use generic language 

Use language that makes the letter sound like a contract. Obviously, the letter must be formal but you can make it sound friendly too.
How to Write an Internship Completion Letter?
Always try to add the below details in your letter as these are the most basic details a letter should contain:
Date of Issuing

Intern Name

Internship Period(Try to add the start and end date)

Mention the department of work

Project Name of the Internship

Brief Description of the Project

Congratulatory statement

Statement of Best Wishes to the Intern
Internship Completion Letter Format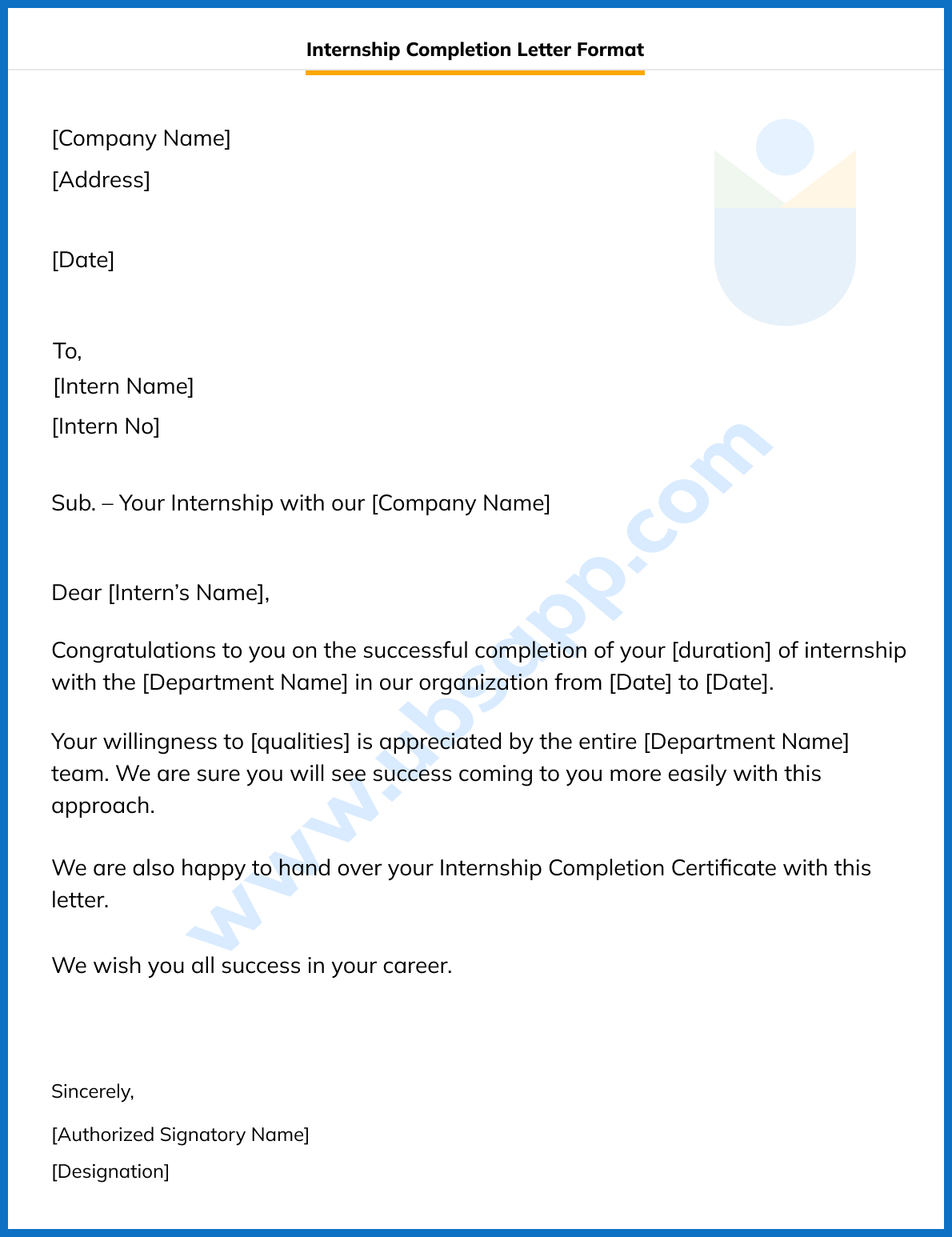 Internship Completion Letter Example
Summing Up!!
Internship Completion Letters are the best possible way for a student to take entry into the corporate world. If a student is doing an internship at your company, being an HR manager or the employer, you should create a letter that can show the candidate's experience and skill set at its best.
Hopefully, by now you might have understood what an internship experience letter is. So, what are you waiting for? Get ready to create the letter. Or if you want a readymade one, the UBS HR toolkit is here at your rescue.
At UBS HRMS Software, you can get the complete HR library containing various HR documents like HR letters, emails, forms, job descriptions, and more. In case you don't find a document of your choice, we provide customization services too. Get in touch to know more.