As an employer, terminating an employee from the company is an unavoidable fact. Whether the termination is voluntary or involuntary, you must have the set procedures in place to manage the termination process as painlessly as possible. And part of that entails providing a succinct and detailed termination letter so that fired workers have all the knowledge, resources, and clarity they require to proceed after their time working for your company. Failure to do so may have an adverse effect on hiring, employee relations, morale, and productivity, in addition to any potential legal repercussions of improper termination.
In this handy guide, we put together all the necessary information you need to know about employee fraud termination letter.
Let's deep dive!!
What is Employee Fraud Termination Letter?
Before we look on o how to write a termination letter for financial fraud, let's start with the basics: what is employee fraud termination letter?
Employee fraud termination letter is when an employee's contract with your company comes to an end, be it voluntarily or involuntarily:
Voluntary Termination: Voluntary Termination is when an employee resigns from his/her position in your organization, because of any reason like they found a new job, or they have reached retirement age.
Involuntary Termination: when the company terminates an employee's contract due to any justified reason like dismissal or layoff from the company. This includes termination with or without cause, or due to the end of the business contract.
In case of voluntary termination, the employee will give you the signed resignation letter confirming their notice to leave their position. However, in case of involuntary termination, the employer issues the termination letter to the employee.

What is a Termination Letter?
A letter of termination, also known as a pink slip, letter of separation, or notice of termination, is a written document that notifies the employee that you are terminating their employment contract with the company. The termination might be due to poor performance, incompetence, unacceptable behavior, financial fraud, or any other justifiable reason.
An essential aspect of the employment lifecycle's conclusion is sending out a letter of termination. It gives workers all the knowledge they require to start the offboarding process successfully. Additionally, it aids in the proper termination of employees (or the proper layoff of employees in the case of termination for good reason) to assist you to avoid any misunderstandings or legal issues.
No of the circumstances surrounding the termination of an employee's employment, the following details ought to be included in your letter of termination:
Termination Date

Type of Termination

Reason of termination with relatable evidence

Next steps for compensation, benefits, and health insurance

A list of company items to be returned by the employee

Notification of employee-signed documents like a non-disclosure agreement

Information on next steps regarding internal HR processes like offboarding and exit interviews.

Include HR contact information for any further questions.
Redundancy Termination Letter – Format, Meaning, Process, Tips, Examples, and More
Is providing a termination letter in case of financial fraud important?
Generally speaking, you are not legally compelled to give a termination letter in accordance with the Federal Labor Standards Act (FLSA). The only exceptions to this rule are when an employee is let go as a result of a mass layoff or company shutdown, or if they are a member of a union. Since "at-will" employment is the norm for all other types of employment, you and your employee are each legally permitted to terminate the employment relationship whenever you like, without obtaining the other party's consent in writing, as long as the termination is justified (non-discriminatory and not in violation of contracts or union agreements).
Having said that, it is generally thought to be a good idea to give a termination letter to any employee you are dismissing or laying off. By doing so, you ensure that everything is recorded, including the termination date, and you avoid any potential legal difficulties. Due to this, the majority of businesses have a termination procedure in their HR policies. Additionally, it's critical that you acquaint yourself with any applicable local laws because state-specific termination laws may differ.
Ways to Protect Your Organization from Employee Fraud
Create a written fraud policy

Give policy training to the employees

Have good internal controls

Have good investigation procedures in place

Two-person rule

Have a confidential tip hotline

Enforce mandatory vacations

Have a safe for cash

Review internal control processes

Conduct Internal Audit
Employee Fraud Termination Letter Format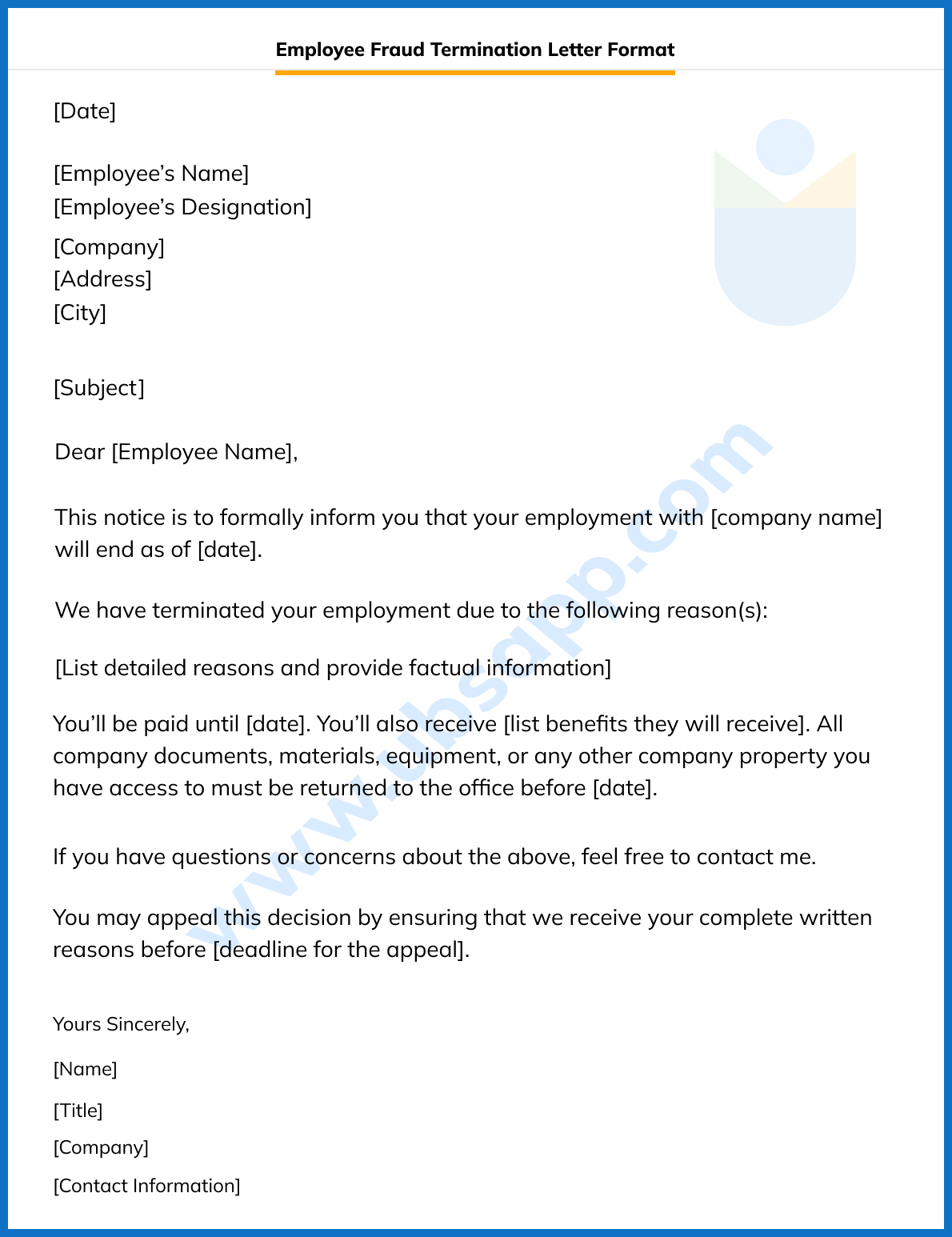 Employee Fraud Termination Letter Example
Financial Fraud Employment Termination
Termination of an employee is done for a variety of reasons. They can end in voluntary, involuntary, or other ways. Every company is expected to establish a set of guidelines for terminating employees. We hope that this article has thoroughly described the reasons for termination, how to terminate an employee, the format of a termination letter, and how to write a termination letter, etc. to you. Get in touch with UBS HR software for getting a readymade Employee Fraud Termination Letter template.
UBS has a broad HR toolkit that not only has readymade HR letter templates but also has a variety of HR emails, Job Descriptions, and HR forms. Get in touch to know more.