The global pandemic, COVID-19, and the following 'new normal' brought several transformations in our routine HR processes. Of late, almost every company has started prioritizing workforce efficiency and its associated challenges. Both employers and HR managers have made peace with the fact that effective people management is the only key to a productive workforce.
We all know that companies have always been managing employees manually or using outdated tools. Now, one good thing that happened in Corona's times is that many companies have left behind such traditional ways/tools and switched to people management software.
Yes, people management software is quite popular today.
If you are someone who does not have a clear understanding of people management solutions, we will help you learn more about such systems.
What is People Management Software?
It is an automated solution that streamlines and optimizes the whole workforce management process. It is also known as workforce management software.
From hire to exit, people management systems automate every process involved in an employee's life cycle. If invested in the right software, it can take the whole people management burden off the HR department's shoulders.
What are the Benefits of People Management Software?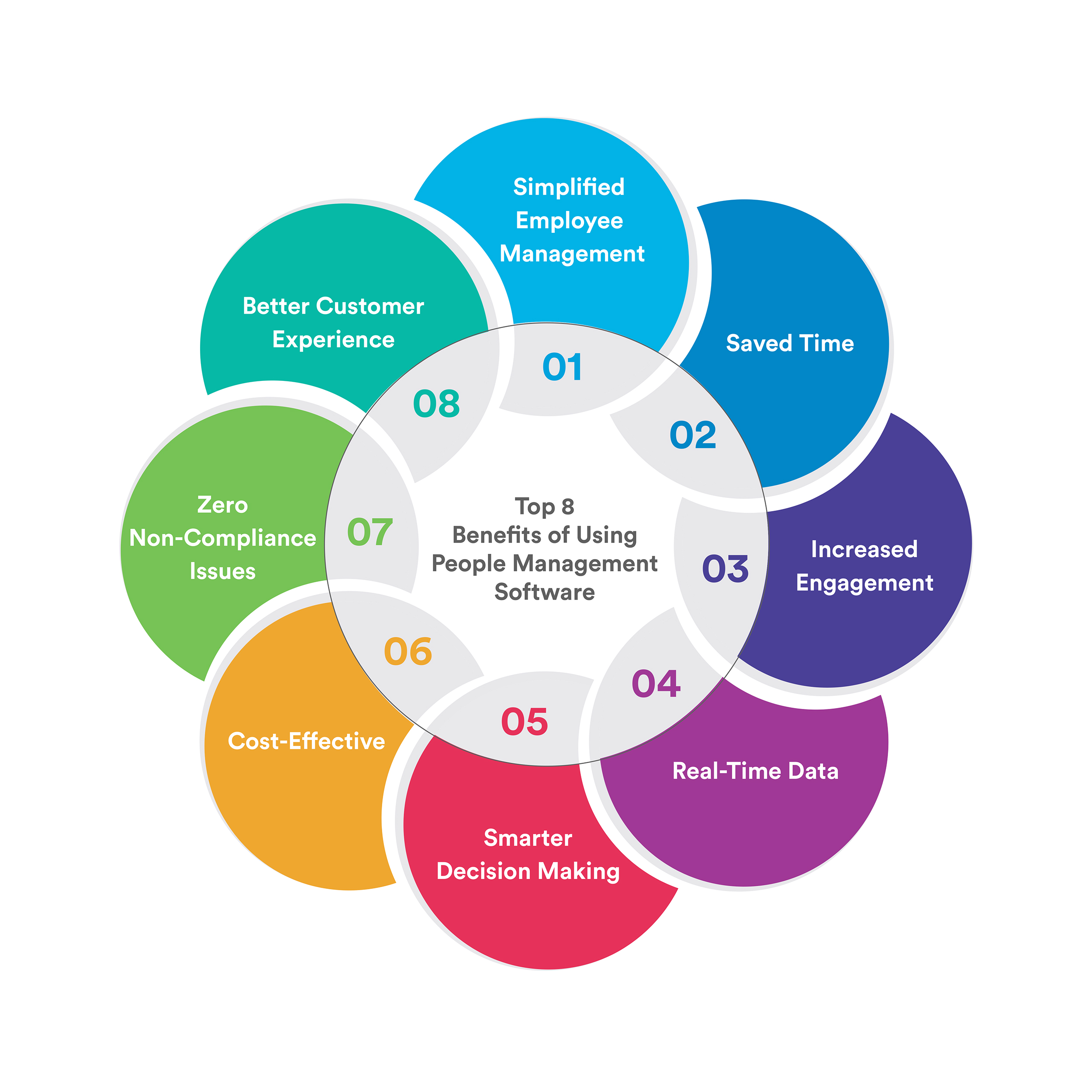 Having a people management solution is not just an option but a necessity in today's time.
Such systems are better than outdated tools/systems, by all means.
Take a look at the top eight benefits of using people management software:
Simplifies the Process of Overseeing Employees
As an HR professional, overseeing employees is a vital duty.
However, ensuring that every employee is engaged and productive becomes challenging with outdated systems.
Fortunately, people management solutions aid HRs to have a tab on their employees without any hassle.
With a people management system, HR executives can effortlessly track the performance of every employee.
When it comes to manual tools, HR managers usually spend a large chunk of their time and energy carrying out workforce-related processes.
People management solutions, on the other hand, cut down repetitive and mundane tasks of HR managers.
As a result, they save a lot of time along the way that can be invested in other value-adding tasks.
Enhances Employee Engagement Levels
Even the top performers can feel exhausted and disengaged at times. Now, the biggest problem with disengaged employees is that they impact the overall performance of the business.
Not to forget, disengaged employees also lead to higher turnover rates, which can cost a considerable amount of money to any organization.
People management software helps companies to curb disengagement among employees.
When such systems automate labor-intensive tasks, HRs and employees will have enough time to get in touch with each employee and address their concerns in a timely manner.
Provides Real-Time Analytics
Acquiring real-time data is essential in today's business world.
The companies that fail to acquire real-time information are usually left behind the curve.
Since no traditional tools/systems can provide real-time analytics, the only option today's businesses are left with is a people management system.
Such systems offer information in real-time that can help HRs/employers to analyze and manage their business more efficiently.
Supports Decision Making Process
People management systems also help organizations to make smarter decisions in the longer run.
With real-time data of every employee, the whole decision-making process can be done fairly and promptly.
Besides, fair decision-making will also boost confidence in employees, helping them to be their best productive selves.
Many employers are still hesitant to invest in people management systems.
This is certainly because they think that technology investment will burn a hole in their pocket; however, this is not true.
Instead, investment in people management systems normally saves money for businesses.
With such systems, companies will never have to employ many employees for every operation. With an integrated solution, every process will be taken care of in just a few clicks.
Eliminates Non-Compliance Issues
From startups to multi-national companies, staying compliant is essential for every business.
Non-compliance can result in huge fines and lawsuits that can affect the whole reputation of a company.
This is another good reason to invest in people management systems. Not many people know that such software can also ensure compliance.
It can help companies stay updated about the latest laws & regulations and comply with them without fail.
Improves Customer Experience
When people management solutions keep employees and HR professionals happy, productive, and engaged, they will put their best foot forward for the customers.
Needless to say, providing customers with an excellent experience will certainly improve the bottom line of the business and help acquire more valuable customers.
What are the Must-Have Features in a People Management Solution?
If you wish to acquire the benefits we discussed above, you will have to zero down a system with the following features:
Employee directory
Cloud-based storage
Clock in/clock-out features
Employee self-service portal
Payroll regulation
Employee work history
Leave disbursement
Employee probation
Seamless integrations
Scalable
Flexible
Fully-automated software
Onboarding feature
How to Evaluate People Management Software? 
There is no dearth of people management solutions in the Indian market today. To make the best decision for your organization- consider these questions during the selection process:
What is your budget?
What do you want from the software?
What are your biggest concerns?
How will the software solve your major challenges?
How will the system empower your HRs and employees?
Will the system scale according to the needs of your business?

 
Answering these questions will, undoubtedly, help you pick one of the top-notch people management systems.
Conclusion
If you are still using any of those time-consuming traditional tools, it is high time for you to automate your people management process at the earliest possible.
Now that you know everything about people management software, take a step ahead and find an excellent solution for your company.