As an employer, you are the best judge of how well-suited and well-performed your employee is. At certain instances, your employer might ask you to write a recommendation letter. These instances may be applying for a new job, a scholarship program, or admission to universities for academic growth. However, this blog discusses Scholarship recommendation letters.
There are many requirements for a scholarship, one of which includes getting a recommendation letter from your employer which should state why the scholarship application should be awarded with the benefit of the scholarship. You can recommend your employee by writing a recommendation letter.
If you are an employer looking to write a scholarship recommendation letter to an employee, this blog is for you. However, an easier alternative is integrating an HR toolkit that has all the custom-made ready-to-use HR letters for your convenience. Here we will discuss everything from what to how to template to examples of a scholarship recommendation letter. Let's start!!
Recommendation Letter for Scholarship – Meaning
A recommendation letter from an employer can be very useful in getting a place in a reputed educational institution or a new job. A scholarship recommendation letter is not much different from the one you write to the employer for a new job.
The difference is actually in the body content. The latter will include the content regarding the employee's suitability for the scholarship and the former contains the content regarding your qualification for the job.

Purpose of the Recommendation Letter for Scholarship
A scholarship recommendation letter is written by an employer to recommend the individual for a scholarship program. While writing this letter, the employer must understand the requirements and consider his/her relationship to justify the recommendation of the employee.
A well-written letter helps the selection committee:
Understand the unique qualifications and extra- curricular activities of the employee

Analyze how the employee's qualities match with the requirements of the scholarship program.
But your recommendation letter can do these things only if it contains all the information that the selection committee is looking for. Read further to know exactly what you should include in the recommendation letter.
Things to Include in Scholarship Recommendation Letter
You might have a different experience with each employee asking for a recommendation letter. And as an employer, you need to make sure that your letter sounds authentic and not a ready-to-use template. However, still the best recommendation letters have a similar format. Below are the things you need to include in a recommendation letter:
Always write the recommendation letter on the company's letterhead.

An introductory paragraph that tells who you are, your relationship with the employee, and how long you've been in contact

Your general thoughts and observations about the employee's qualifications, personal qualities, and readiness for the scholarship.

A set of examples that support your thoughts and observations

A short summary that describes why you feel that the employee is suitable for the particular scholarship.

At the end, a closing statement that tells the receiver that you are open to being contacted if they need any further information about the scholarship applicant.
Integrate UBS – India's leading HRMS Software that will help you create and manage all your HR letters in less time and effort.
Scholarship Recommendation Letter Format
If you have a letterhead, it will be found on the top of the letter.

Date of sending the letter.

Recipient details include the name, organization name, and address.

The opening salutation.

The body of the letter with all the required information.

Closing Salutation.

Signature.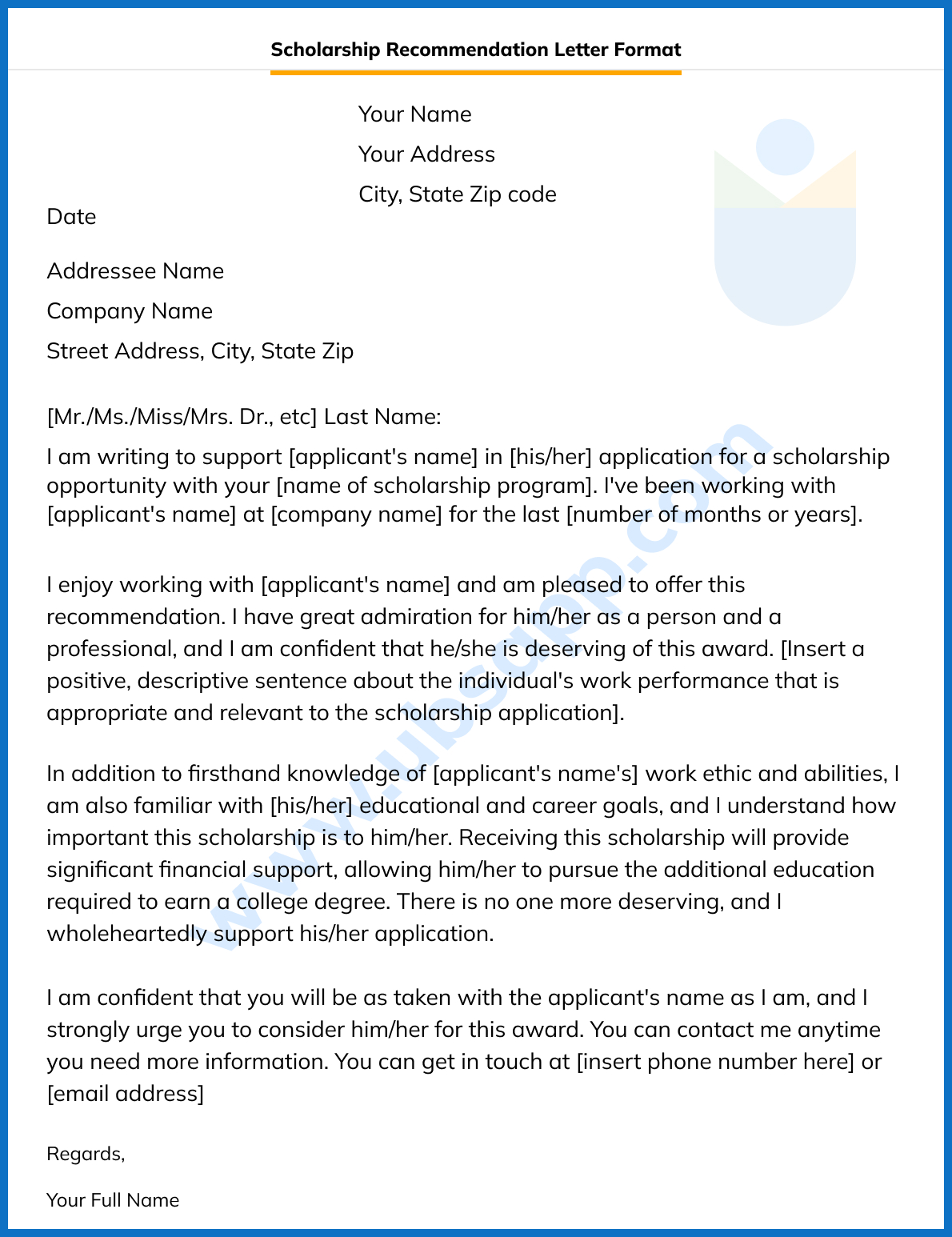 Scholarship Recommendation Letter Example
Points to Remember in Writing the Letter
Your priority should be to write an original letter of recommendation because it feels more personalized and tailored to the employee. If you're having trouble coming up with a good way to begin, you can always refer to the samples provided in this article.

Make sure to include examples of the employee's accomplishments in academics, work ethics, and leadership.

Concentrate on the employee. Avoid devoting time to topics that are deemed unnecessary.
Conclusion
Recommendation letters for scholarships are often asked by the employees when they want to apply for any scholarship program or university for educational growth. If you are looking for a Scholarship Recommendation Letter format or any other ready-to-use customized HR Letter, UBS HRMS Software India can help you.

We offer you an HR Toolkit that has all the well-written, customized letters that may be required throughout your employee's work journey. UBS Toolkit includes HR letters, HR Forms, Policies, and Job Descriptions. Get in touch to have access to the well-written and formatted HR Documents in one platform.