A No Objection Letter is a letter from your job or school/university stating that you have contractual commitments in your home country that you will fulfill when you return. You can submit a No Objection Letter in addition to booking your airline and hotel and presenting the reservations as proof.
The NOC, or No Objection Certificate for Visa, is another name for the No Objection Letter. It may be required in some nations, but it is usually not. Even though it is optional, you should submit it because it will expedite your visa processing and boost your chances of receiving a Schengen Visa.
What is a No-Objection Letter?
No-objection letter is a necessary document that is issued by an organization, university, or an individual to state that they have no objection to the details mentioned in the document. This letter can be used for litigation, trade, employment, immigration, and many other reasons to nullify any person's objection.

Types of No-Objection Letters
The type of no-objection letter depends on the status of the person asking for it. There are two types:
No-objection letter for employees

No-objection letter for students
No-objection letter otherwise known as a Non objection certificate (NOC) for an employee is written by the employer in which the employee works. NOC for students is written by the school or the university that the student attends.
When is a No Objection Letter Issued?
In India, a NOC may be issued by a university, organization, tenant, landlord, or individual. You can use this NOC while trading, doing a business of any kind, employment, immigration, and more.
This legal document is used against or for in a court of law. No-objection certificate usually contains the basic information of both the parties involved and is addressed to whosoever is concerned.
Let's take an example, An employee who is working in an organization and has got the opportunity to travel abroad for his/her, then he/she must carry a No-Objection Letter issued by the company. If there is no NOC found with the employee in another country, he/she may face some legal actions.
Therefore, before visiting any other country for personal or professional work, the employee must get the No-Objection letter to travel without any objection. An employee can directly apply for NOC by writing an application to the manager or the HR department of the company.
The standard NOC format can be used anywhere. You can download the No-Objection letter from the HR Toolkit offered by the best HRMS Software India.
Key Things to Include in a No Objection Letter
While writing a NOC, you must include the following information and also make the letter formal:
Name and designation of the employee hired by the company.

Purpose and duration of the international tour to the visiting company.

Annual/monthly salary of the employee.

Declaration statement of no objection against the employee's international visit.

Mention the leave approval for the complete duration of travel.
Closing the letter: Since the letter is to be verified by the immigration office, you will need to close the letter with the employer's signature and full name, address of the company, and finally the official seal of the company.
For easing your application for the visa process, below you can get the format and example for the No-Objection letter from the employer that an employee can use for reference. You can edit the document live on the website, download it and pass it to the employee.
No Objection Letter Format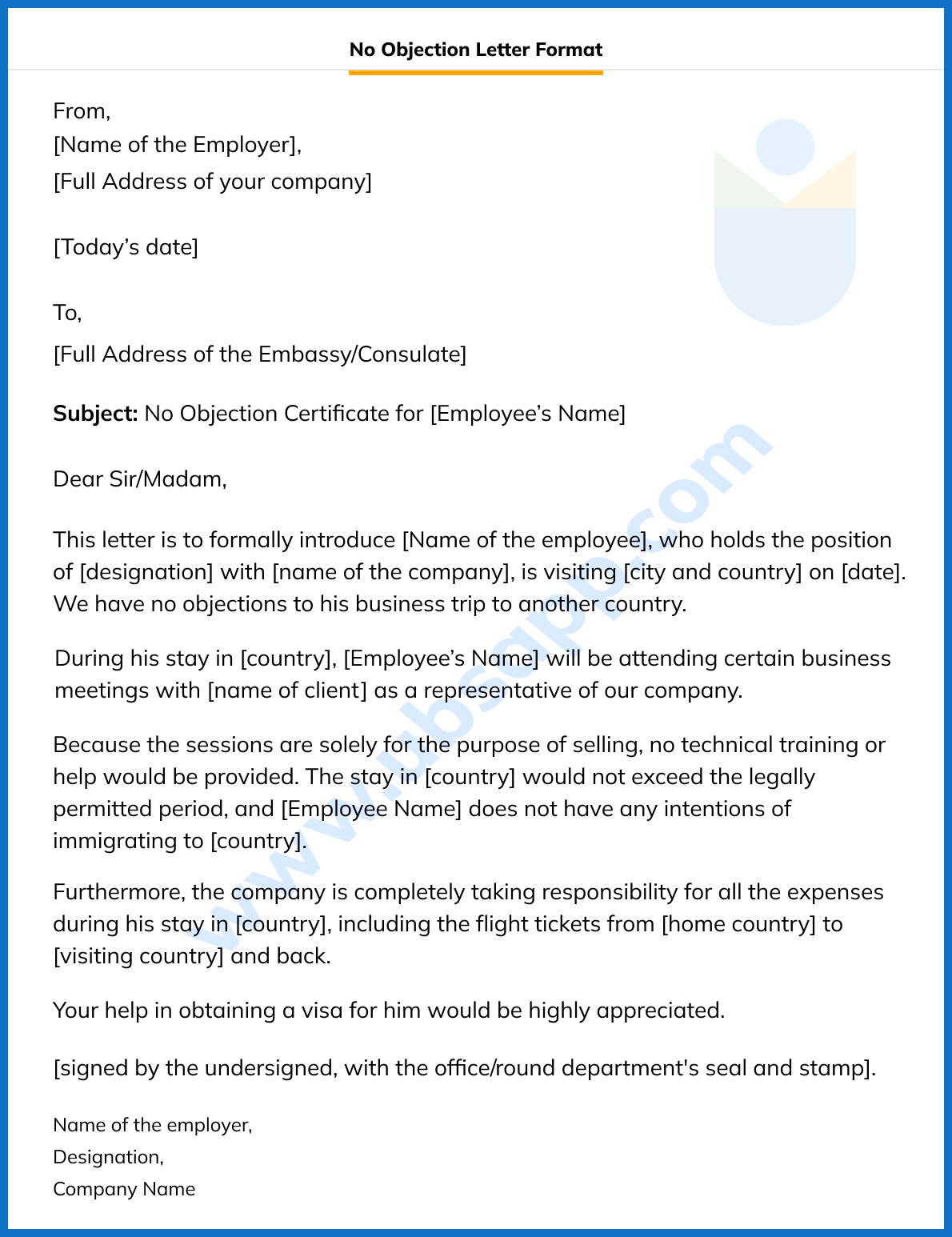 No Objection Letter Example
Conclusion
That's all there is to it. If you were worried about how tough it would be to discover sample templates for a No Objection Certificate, you'll be relieved to learn that it was actually quite straightforward!
In case you need a personalized No Objection Certificate from your employer, we have a complete HR Toolkit that can take care of it and your requirement for any other HR document like other HR letters, emails, policies, and JDs. You just have to simply inform us about it while selecting the right document package for your requirement. For more information, contact UBS HRMS Software right away!