An interview call letter is an official letter sent to a candidate by an employer or corporation asking him or her to an interview. This letter is sent to an applicant that has been shortlisted for a one-on-one interview. The applicant must bring along this letter on the day of the interview. It acts as an interview pass for them.
So, in this blog, we will discuss what is a Job Interview Call Letter, How to write one, the importance of the letter of Interview, the interview letter format, and examples.
Let's get started!!
What is an Interview Call Letter?
When a company has a lot of job opportunities, it usually starts by holding interviews to find people who are qualified for the job. The individual is sent an interview letter inviting him or her to a job interview. Because this interview letter is the primary means of communication for the organization, it should be written with care.
This letter is likely known as a call letter. After an applicant submits a resume, a corporate HR professional checks the individual to see if they meet the organization's employment requirements. The business will provide a job interview letter if they find the candidate profile appropriate or suitable for the necessary employment position.
Employers are more likely to send an interview email these days because it reaches the candidate faster and allows them to respond quickly. The date, time, and place of the interview will be included in the interview invitation email, just as they would be in a traditional interview invitation letter.
Mention the documents the candidate is required to bring and the person who will be conducting the interview when creating an Interview call email to schedule an interview. A request for an acknowledgment of receipt of the invitation and confirmation of the candidate's availability for the interview will always be included in both an interview call letter format in word and an interview call letter email.

How do you Write a Call Letter for an Interview?
Here are some formatting recommendations to keep in mind when writing an interview call letter:
The job interview's time, date, and location

The job description for the post for which the interview is being held must be included in the interview call letter.

Candidates must be supplied with contact information and an email address so that they can reach you if they have any problems.

It contains information on what documents are required for the job interview.
How Do I Schedule an Interview Via Email?
Include the below in the interview call letter email:
In the subject line, specify the name of the company.
Demonstrate a passion for the candidate you'll be interviewing.
Include important details such as the names of the interviewers and the location of the interview or meeting platform.
To book the interview, provide a range of dates and times.
Mention your contact details in your signature.
Interview Call Letter Format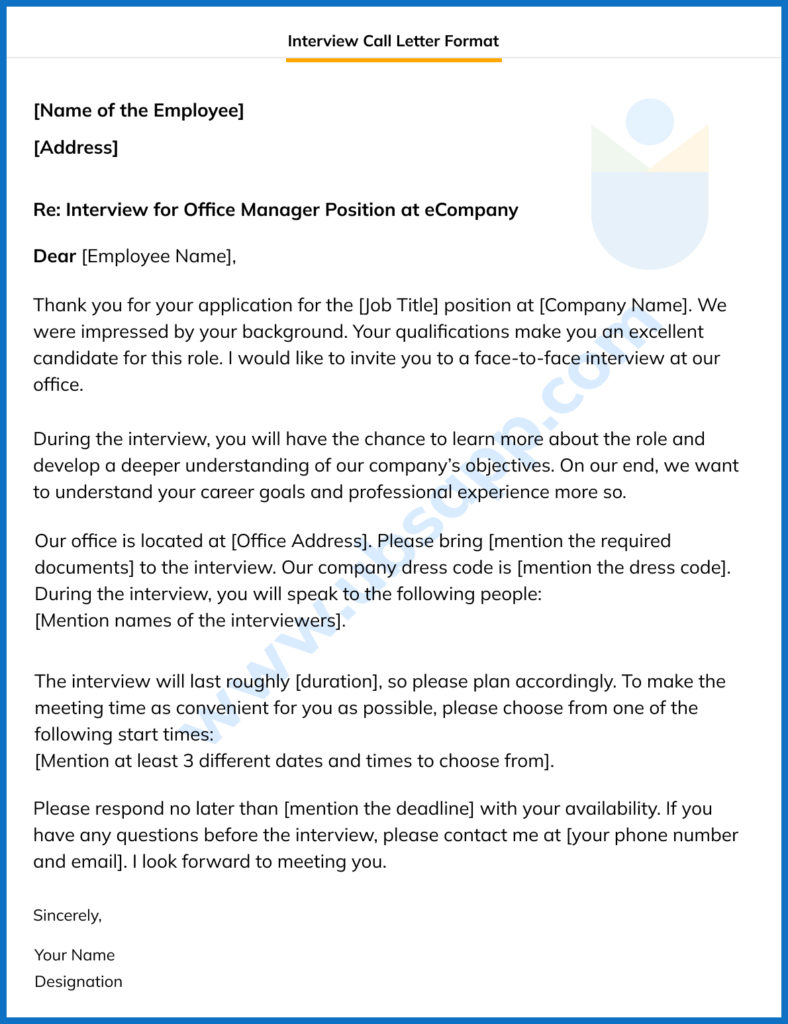 Interview Call Letter Example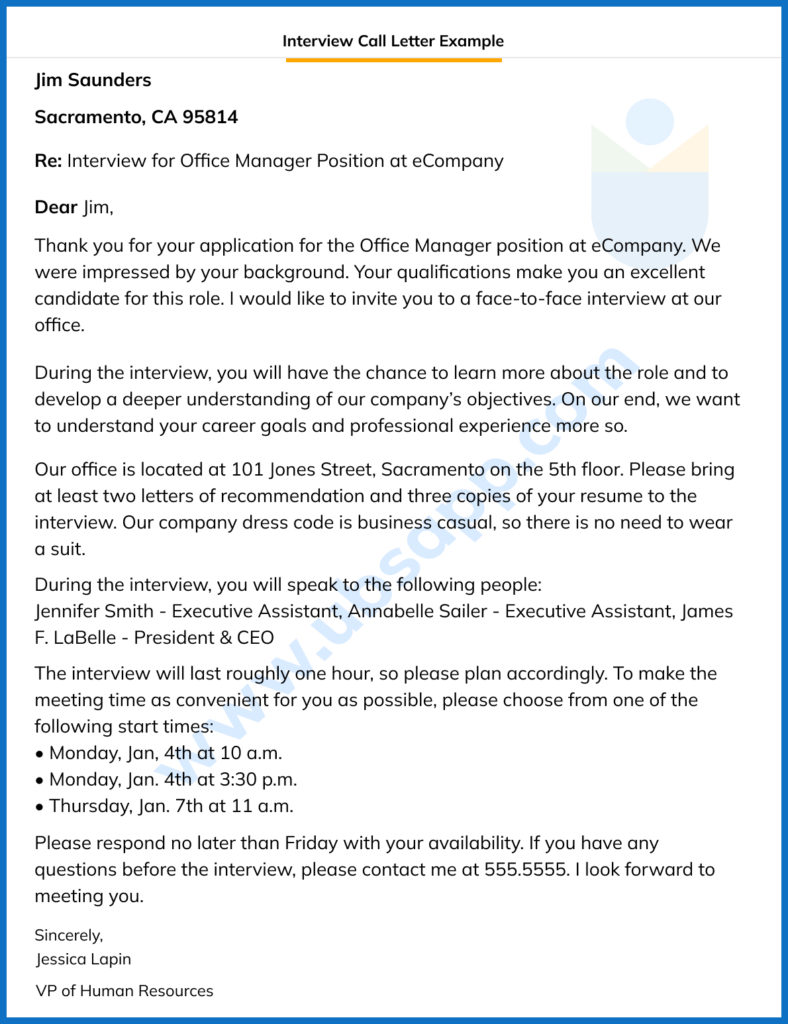 Interview Invitation Email Format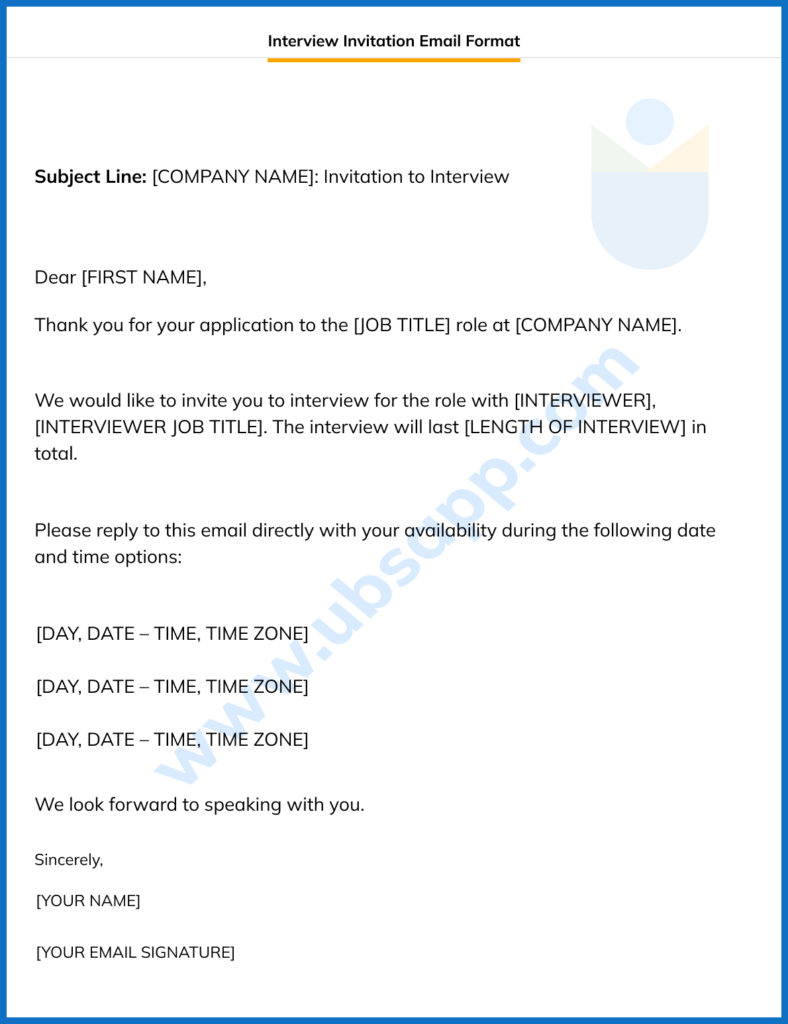 Interview Invitation Email Example
Wrapping Up
Remember to thoroughly customize and proofread these email templates. In most circumstances, an interview invitation email is your first official point of contact with the applicants, therefore it's critical to make a good first impression; typos or placeholder text appear unprofessional. Keep in mind that any candidates to whom you don't extend an offer can be added to your talent community, which will help you establish a talent pipeline for future openings.
Repeatedly writing the same letters for different candidates can be boring and therefore typos may happen. To avoid these small mistakes, join hands with Ultimate Business Systems. We are a leading HRMS Software in India offering an HR toolkit with all the necessary HR letters like Interview Call Letter formats, Appointment letters, Termination letters, Increment letters, and More. 
Being the best HRMS Software, we give you the facility to edit your required letters live on our platform itself. Just click on the letter you require, fill in all the essential details, and then click download. We will send the ready-to-use letter to your preferred source (email or phone number). Book a live demo to see how our highly efficient HRMS Software works.