Thinking about leaving your job? There's a proper protocol to provide your employer with a formal employee resignation letter for your employee file. Irrespective of the reason you've decided to leave the job, writing a formal letter will help you maintain a cordial relationship with your company.
Learn the basics of a resignation letter, also use the readymade employee resignation letter template from UBS HR Toolkit – Documents researched and created by the HR experts.
What is a Resignation Letter?
A resignation letter is an official document used by an employee to resign from a formal position. The letter of resignation usually contains the statement of resignation, the date of the last day of work, and a formal thanks to the employer for providing you the employment so far. Usually, an employer accepts the resignation letter and provides you with the final date of employment. It is always a good practice to ask for a resignation using a formal letter. This helps you maintain a good relationship with the company and help them with recording the documents.
Do you know how to write a Resignation Letter? Don't worry! This blog will help you.

Tips for Writing a Resignation Letter
The general agreement on the letter of resignation is, the shorter the better. There is no need to provide a long-winded explanation to the employer of your reason for quitting the job. Rather, it is good to be professional, to the point, and outline any useful information about the termination process.
Below are some useful tips to write a standard letter:
Be direct and to the point

– There is no reason to unnecessarily draw this letter beyond a page. Although you might have a lot to say, it is better to keep it simple. Mention that you are resigning in the first paragraph or even the first sentence itself. Keep your letter short and crisp.

Be professional

– It is never recommended to use your letter as an opportunity to complain, criticize, or insult the company or other colleagues.

Give notice of your last day

–  Always provide the last day and date you are agreeing to work until. This will help the employer have an idea about the timeline to find an ideal replacement and complete all your resignation formalities.

Provide information about the transition

– You may also offer help to find your replacement to the employer, or agree to finish certain projects and tasks before you leave.

Include only positive comments

–  The aim is to leave the company on good terms with your soon-to-be former company. Therefore, list a few things you loved and valued during your employment.

Make it personable

–  Making it personable means, being friendly and delivering the letter in person if possible. This will show your employer that you care and help avoid awkwardness in the future.

Proofread and spell check

– Be sure to proofread the letter before you submit it to make sure that all the information is accurate and does not include any typos.

Seek legal advice

–  Depending on the nature of your position, you may choose to seek professional legal advice about your resignation process.

Submit it in advance

–  You need to give your employer some time to find your replacement, so generally, two weeks' notice is the norm. Even if you give a few weeks' notice, you should be prepared as your employer may terminate you soon once you resign.
Resignation Letter Template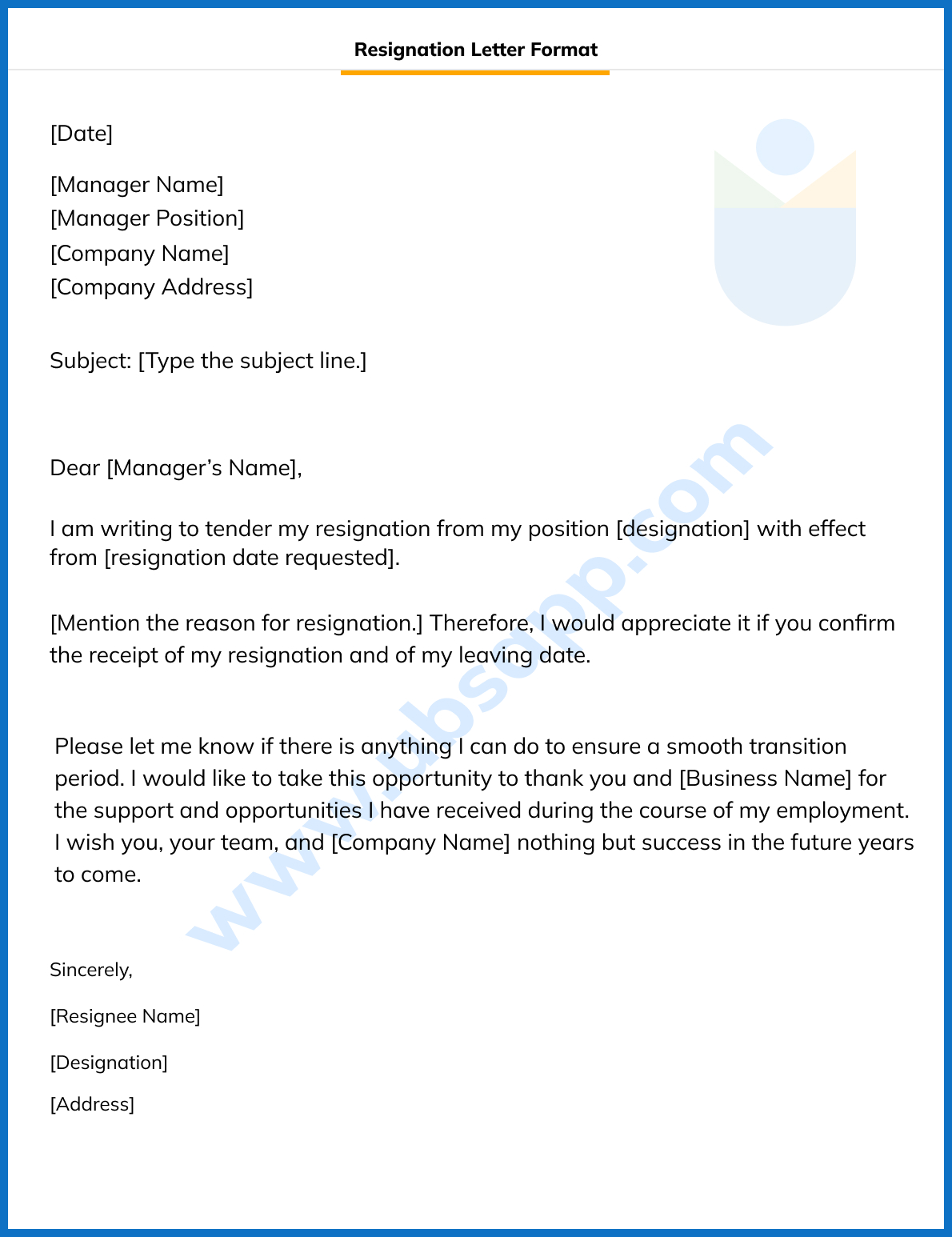 How to Use a Resignation Letter Template?
You may choose to use the readymade Resignation Letter Template to save time. Follow the steps for using the HR letters templates:
From the below "Resignation letter" button, you will get the editable document on your device.

Add all the details necessary.

Rewrite or add any other additional information you want to add in the letter according to your company norms.

Proofread and spell check.

Submit the letter through email or in person.
Resignation Acceptance Letter – Format, Meaning, Importance, and More
Also, you can live edit the resignation letter by clicking on the "Edit Resignation Letter" above. UBS also provides you with other relevant easy-to-use HR documents like HR letters, HR Forms, Emails, Policies, and Job Descriptions. Download the HR toolkit to reduce your workload.
Employee Resignation Letter – Best Practices to Follow
When you deliver your resignation letter to the employer, it is important to remember a few points that you should and should not include. We have created a list of do's and don'ts for you to remember.
Do's
Deliver a printed copy with your signature and also an email copy to the employer.

Discuss the final details about your employment with your employer.

Offer to help transition the role to someone else at the company or provide other references.

Provide the notice period (the number of days in your notice period will be listed in your employment agreement).

Organize your desk and personal events if the company asks you to leave immediately.
Don'ts
Try not to criticize the company or any other employee at work.

Spreading rumors or misinformation.

Do not try to convince your co-worker to resign too.

Do not refuse to come in and work for the days of the notice period.

Bragging about some good job opportunities you found.

Do not avoid your boss or refuse to talk about transition planning.
Resignation Letter Example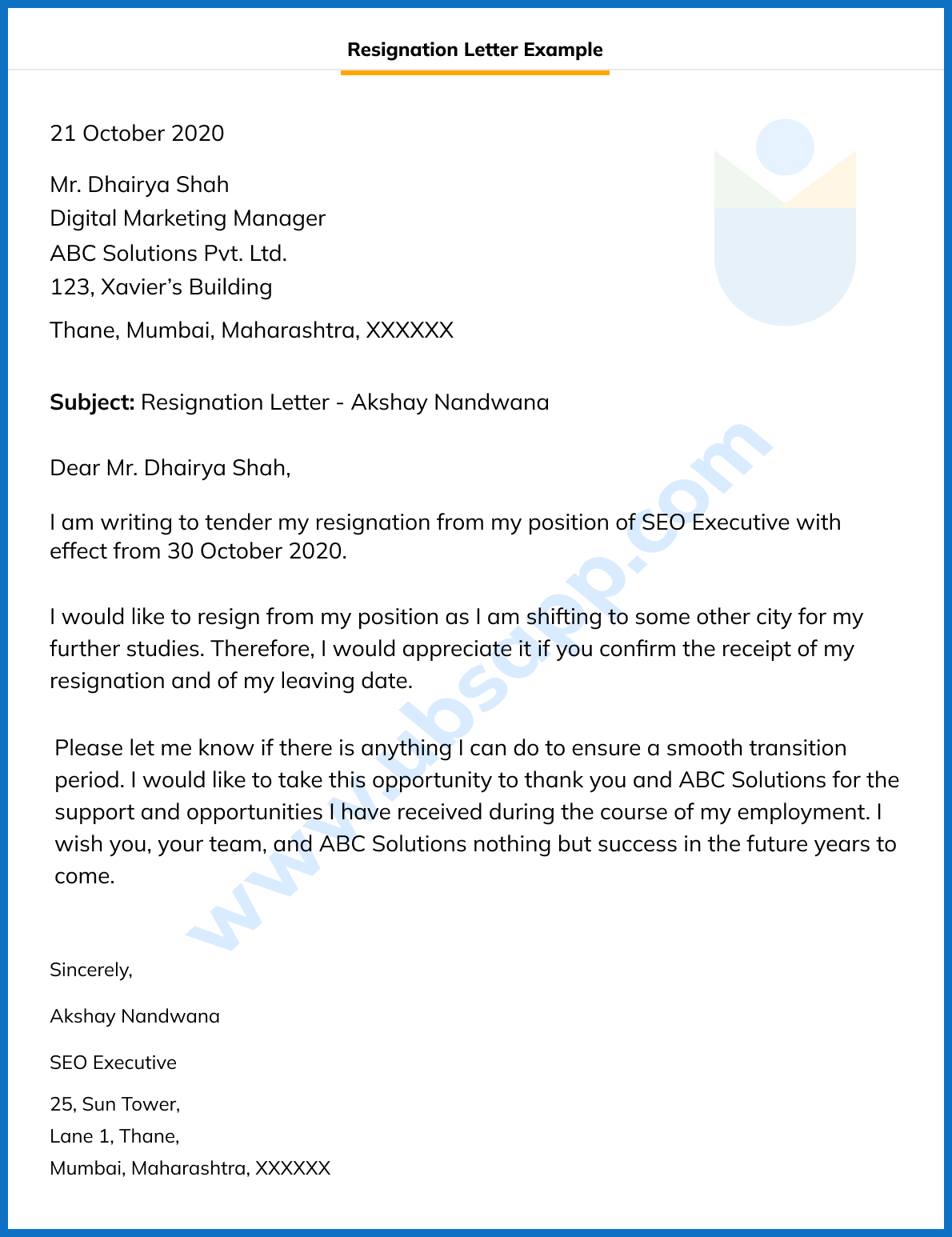 Over to You
Resignations are hard to face but are the reality. There can be many reasons for an employee to resign from their position and start all over again. One of the best ways to deliver a resignation is by drafting a resignation letter to your employer.
If you are confused about how to write an effective letter of resignation, this blog will help you write one. Also, if you want the customized resignation letter template, you can easily download the letter from UBS HR Toolkit. Get in touch to know how this toolkit works.