While you are applying for a new job or a college admission, you must have heard the term Bonafide Certificate. However, what is a bonafide certificate? How are Bonafide Certificates used? This blog will answer all your queries related to this letter.
What is a Bonafide Certificate?
It is a statement that proves that you are an employee of a particular company. It acts as proof that you are working in a company for a specific time duration. Your employees may ask you for a bonafide certificate if they are applying for a new job or any educational institutes.
Ultimate Business Systems is an HRMS Software that gives you access to a bonafide certificate letter and all the other HR letters and documents required to make your HR journey smooth.
What is the Use of a Bonafide Certificate?
A Bonafide Certificate is required if you are applying for a passport or a driving license where you want to prove that you are working for a particular organization.

This certificate is sometimes required on visa forms, particularly when a separate work visa is granted to an employee of a company.

Some lending institutions offer student loans at low-interest rates. To receive this benefit, the employee applying for further studies may be required to provide this certificate.

The certificates presented to various traffic authorities in order to obtain a driver's license may include a bonafide letter as additional ID proof.

Some conferences, seminars, or other similar events are managed solely for employees, and approaches to such events may be provided as part of the production of this document.

To use a variety of student applications for genuine certificate scholarships.

What Should You Include in a Bonafide Certificate for Working Professionals?
A Bonafide letter Format for a working professional may be different from that of a certificate for students as it contains the details about their working background and the organization they are associated with. Below are a few general details of the things to be included in a bonafide certificate for employees:
Company's Name on the Letterhead.

Details of the employee including joining date and work experience.

Date of Issuing of the Letter.

A statement proving that an individual is/was working for with a particular organization.

Head of the organization's signature.
Bonafide Certificate From Work
When it comes to employees, the certificate must entail information about the individual, their job description, and contact information for the firm or employer. In some cases, the certificate will also include the employee's date of birth, as well as any distinguishing characteristics or years of service. To obtain such a certificate, the employee must present the following documents to the administration:
Bonafide Certificate Format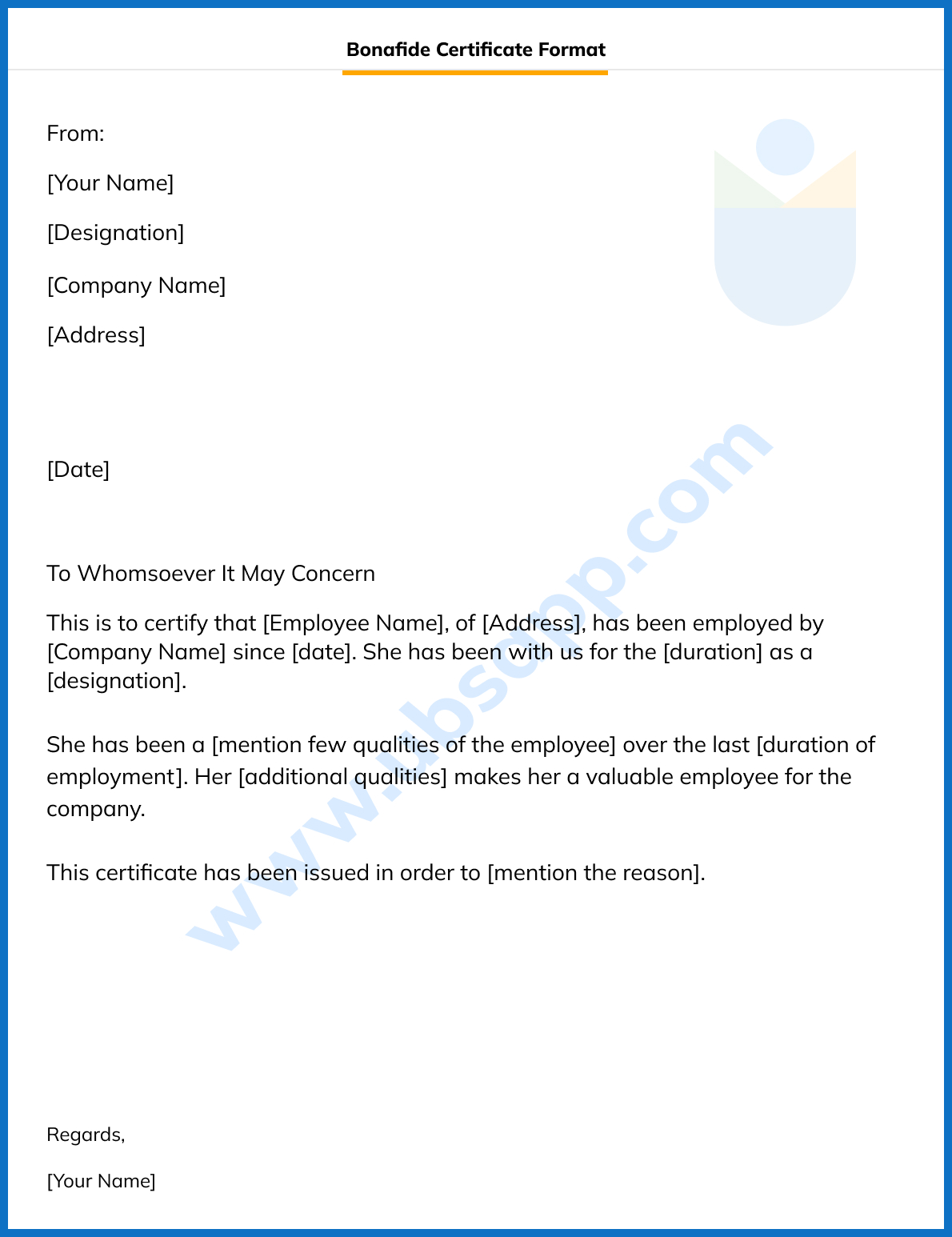 Bonafide Certificate Example
Conclusion
A Bonafide Certificate is an authentic document required by an employee who is applying for a new job or educational institute. This is a letter that gives a statement about your employment with a particular organization. If you are an HR professional or manager looking for a bonafide letter format, UBS HRMS Software India is the best pick.
This Software has an HR Toolkit with all the necessary HR Documents present in just one platform. To get access to this all-in-one HRMS Software, get in touch now!!