Have you ever felt the excitement of getting your first job confirmation letter? Be it a letter from your college or from your first ever job, no words can bring joy to the face of the candidate waiting for the letter of acceptance. It will definitely bring a joyous smile to your face.
Now it's time for you to write one for the employees of your company. And being at the receiving end of the letter someday before, you might be well aware of the fact that this letter is extremely important for the recipient and you should get its content right in the first place.
Now you might be wondering that writing this letter is not as exciting as getting one. That's probably why you've been here, which is great actually. This blog contains everything that you need to know about the letter of acceptance, from definition to tips on how to write a Job confirmation letter, format, examples, and more.
Additionally, there are many HRMS Softwares in India that provide you with ready-to-use HR letters to avoid the hustle of writing the letters repeatedly. Ultimate Business Systems is a top-notch HRMS software with ready-to-use letters for your convenience. Not only this, but we also provide you with a live letter editing feature that eliminates the need to download the template and then edit.
So, without waiting much, let's get started!!
What is a Job Confirmation Letter?
A job confirmation letter is a letter issued to an employee after he or she has completed his or her probation time with the company. The company confirms the employee's employment based on his or her performance during the probation phase. During this time, however, the employer has the right to terminate or cancel the employee's job due to poor performance or misconduct.

How to Write a Job Confirmation Letter?
Below are the very simple six steps following which you can learn how to write a letter of confirmation.
1. Use a Business Letter Format
The very important thing to consider while writing a job confirmation letter use the standard business format. By using a business format, we mean you should include:
Recipient's Name and Address

Date of issuing the letter

Include proper salutation to address the recipient

Write the subject line to draw the reader's attention

Write a body that contains a paragraph specifying the main details and another paragraph specifying other related details.
Remember to use a standard font and line spacing as this will help you give a professional tone to your letter.
2. Mention the Job Title and Details
Start your letter with an enthusiastic tone congratulating the candidate on his/her confirmation. Here you can write the job position or title with a brief summary of the job. This can contain the job duties, salary compensation, and also mention the start date.
3. Describe the Terms and Conditions
Next, you can include the details of the terms and conditions that are relevant to your company's offer. Here you can state the documents that an employee needs to sign or the deadline of important document submission, or any other requirement that needs to be fulfilled on a priority.
4. Add the Details About Benefits
Now you can explain the benefits that your company offers to your employees. In this section, you can list all the benefits including paid leaves, health insurance, retirement benefits, and more.
5. Conclude with Gratitude
Always conclude the letter by expressing gratitude to the employee. You can do this by ending on a positive note saying thank you for showing interest in the company and putting efforts to achieve the position. Don't forget to show the excitement of having them in your company.
6. Add your Name, Job Title, and Signature
Close the letter with a formal salutation like "Regards" or "Sincerely" and then put your signature under which you can write your full name, designation, and the name of the company. Also, you can add your contact details so that the employee can contact you for further details.
7. Proofread and Edit
Finally, proofread your letter to check if there are any grammatical or spelling errors. Ask someone from the HR department to cross verify whether you have added all the necessary details in your letter.
Once you are done with following these steps, your letter of acceptance is ready to be passed to the employee.
Job Application Letter – Meaning, Writing Tips, Format, and Sample
Are you curious to see the format and some examples of the job confirmation letter? Let's roll!!
Job Confirmation Letter Format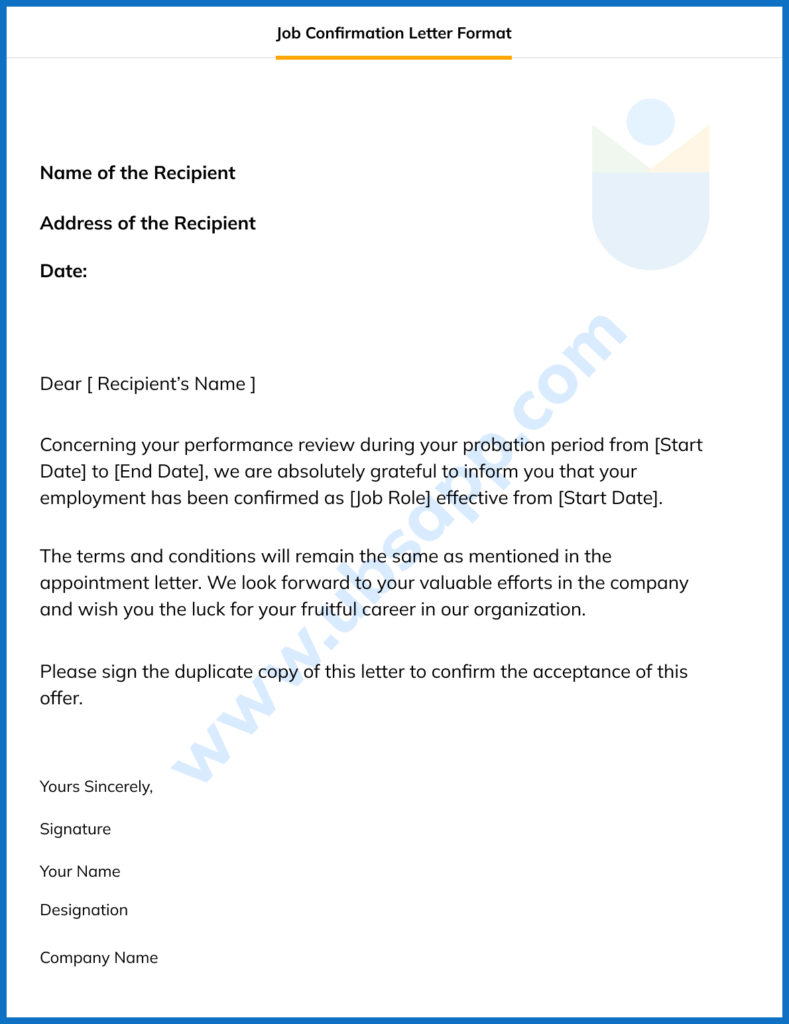 Job Confirmation Letter Example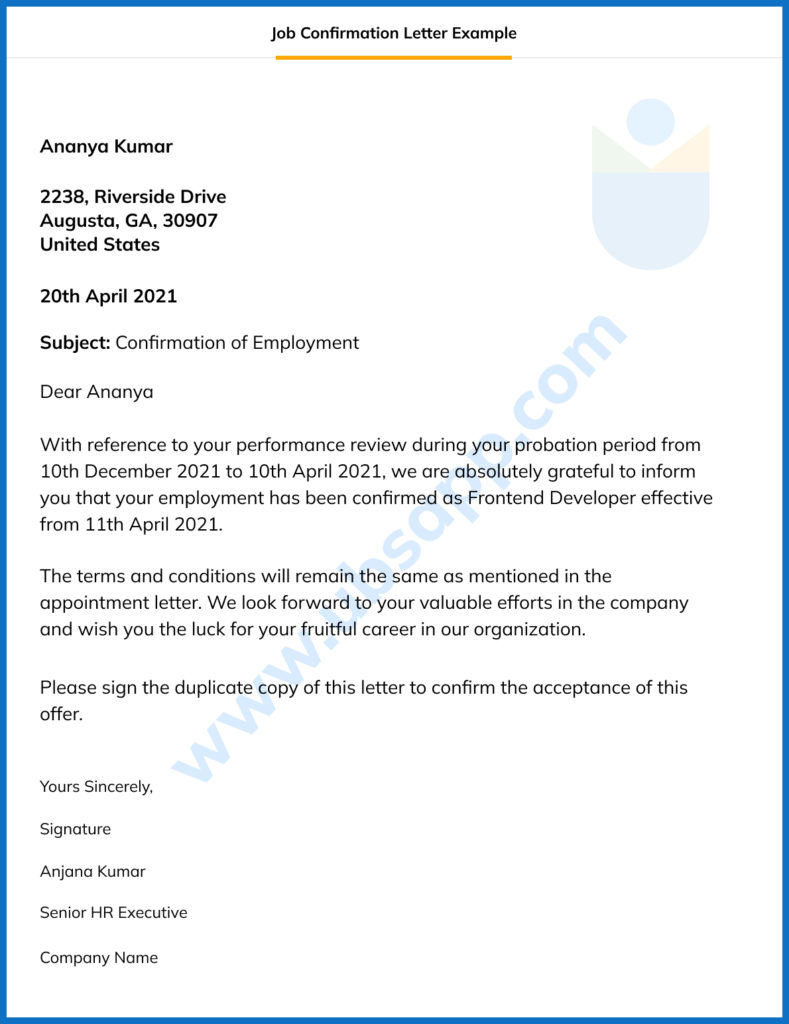 Final Words
If you are an employer welcoming a new hire you need to send the letter of confirmation to the employee once his probation period is over. When you send the letter of confirmation, employees place more trust in you because you've acknowledged their joining the company. When you can get the pre-written templates for your job confirmation letter and all HR-related letters like Offer letter, experience letter, application letter, and more; why take the hustle to write the letters repeatedly. 
Joining hands with Ultimate Business Systems, number one HRMS Software India will give you access to all the necessary letters. All you have to do is just live edit the letters, proofread, and issue them to your employees. Convenient, Right? If yes, then don't wait, get in touch soon to integrate this amazing HRMS, payroll, and chat software into your organization.